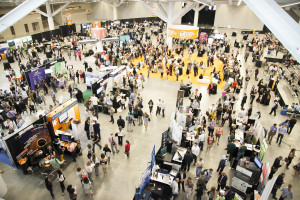 It's a small world, after all…especially when it comes to content marketing. That's why we're bringing together four highly qualified experts in the Global Strategy track at Content Marketing World 2015, so you can benefit from their global expertise.
From localization and translation to persona development on a global scale, these sessions will get you ready to take your content marketing skills globetrotting. So, make sure your passport is up-to-date and let's check them out:
Localizing Content for a Global Audience: What Every Content Marketer Should Know
If you want to learn about global strategy, you'll want to listen to someone who's lived on multiple continents. Someone who's worked exclusively in global markets for decades. Someone whose award-winning writing has been published in many different countries.
Ladies and gentlemen, that someone is Sarah Mitchell. She's also known on Twitter as @globalcopywrite and her blog can be found at globalcopywriting.com (I think I've made my point). Here's what she will be talking about at CMWorld 2015:
Too often, content marketers confuse localization with translation. Creating effective content for a global marketing exercise is more complicated than finding a way to put your words into a new language. Unfortunately, too many marketers take a 'one size fits all' approach, believing content they create in their home country will be suitable for every market.
Content marketers attending this talk come away with:
An understanding of how localization differs from translation
A checklist of areas needing special attention when marketing to a global audience
An appreciation for how context, cultural sensitivities and, colloquialisms impact global content
Practical advice and great examples any company can use to improve their global content marketing
*Please note: this session has limited seating capacity.
Content Marketing to Spanish Speakers
According to the smart folks over at Pew Research, some 40 million Americans will be speaking Spanish by 2020, to say nothing of the numbers in natively Spanish speaking countries. How'd you like to be the guy or gal who brings the boss the 411 on how to capture more of that business? Zeph Snapp can help.
He's CEO and founder of Altura Interactive, a digital marketing agency focused on helping international companies reach Spanish speakers in the US and Latin America. He's spoken about International SEO, marketing to Spanish speakers and mobile marketing at conferences like SMX Advanced, Mozcon and, of course, CMWorld. Here's what he'll be talking about at CMWorld 2015:
This session is designed to provide attendees with the building blocks to create campaigns that target Spanish speakers.
Attendee takeaways:
Understand if there is a market for your company's content in LATAM & Spain.
Decide the most effective content format for the market.
Repurpose existing content for maximum benefit.
Promote the content to interested audiences.
Understand and overcome technical issues (whether or not you need a country level domain, should you implement hreflang, how to avoid duplicate content, etc.).
*Please note: this session has limited seating capacity.
Do personas work in a global marketplace?
Don't concern yourself, dear reader, with details like whether the plural form of the word persona is personas or personae…because it just doesn't matter.
Instead, concern yourself with whether using them will make you a better content marketer on a global scale (hint: it totally will!). Val Swisher, CEO of Content Rules, Inc, is a recognized global content strategy thought leader and expert in making source English content global-ready. She also knows a great deal about the development of global personas (or is it personae?) and can help you understand how to use them to create great content. Here's what she will cover at CMWorld 2015:
A persona is a representation of your ideal customer. Personas are used to help you create content that matches your ideal customer's needs and expectations. If personas are generalizations about ideal customers, how useful are they for creating global content? How can we create personas that account for cultural differences in the ideal buyer? In this session, we discuss personas and their value for global content. We also examine Hofstede's cultural dimensions and talk about how you can apply them when developing global content.
Attendee takeaways:
What a persona is, how it is developed, and how it is used
Why personas cannot be one-size-fits-all in your global content strategy
What Hofstede's cultural dimensions are and how you can use them when creating global content
*Please note: this session has limited seating capacity.
Step-by-Step Planning to Extend Your Content Marketing Globally
We all know the 4 Ps of marketing: Preparation, Perspiration, Presentation and Punctuation. Okay, we're kidding about that. But seriously, did you know there were 4 different Ps for Global Content Marketing? It's true.
Global marketing veteran Pam Didner will be on-hand again this year to share the 4 Ps for global content marketing with you. She's helped global brands like Intel plan, produce and deliver global marketing success and efficiency and she can help you do it, too. Here's what she will be presenting at CMWorld 2015:
Using the 4 Ps framework, Pam will take you step-by-step through the process of creating and refining strategies to meet the challenges of scaling content across regions. A 'how-to' handout will also be shared at the session.
Attendee takeaways:
Create strategies to align your stakeholders
Understand the 4 P's of Global Content Marketing
Identify key actions and strategies to apply to your jobs
*Please note: this session has limited seating capacity.
Did we mention these sessions have limited seating capacity? Because they do. All of 'em. But it's no problem if you register for Content Marketing World 2015 in advance (like, now). Because when you do, you can pre-select your sessions to make sure you get into those you want. Like these.
For more information on these sessions, visit our Global Strategy Track page. And don't forget to use the code CMI100 to save $100 when you register. Do it today!
Posted August 6, 2015 in: Event by Mike Myers
---