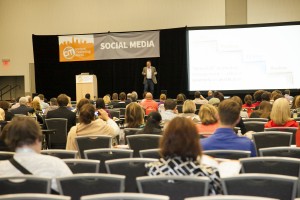 Okay, social media may not be everything, but it is lots of things, like a great way to interact with your audience, a great way to deliver content that's easy to use and a great way to meet friends and colleagues.
At Content Marketing World 2015, several of our speakers are also social media experts in their own right and they will be delivering the insights for you so you can become an even bigger deal in social (like that's even possible, right?). Here are the sessions in the social media track…good luck trying to choose!
Social SEO: Hacking the New Algorithms
If you're going to get SEO hacking tips, by all means get them from someone who describes herself as a velociraptor enthusiast. Erin Monday, also works for computer giant Lenovo as Marketing Manager, so she has the chops to be able to impart her wisdom and help you understand how SEO continues to adapt.
To address and convey the true "impact" of social, one needs to look no further than the traditional methodology of SEO. Algorithms are still in play – but the stage has changed.
Attendee takeaways:
Twitter, Facebook, Instagram, etc. all have their own algorithms, just like Google & Bing.
You can play the algorithms organically, just like traditional SEOs used to do with the search engines.
Tricks and tips for manipulating LinkedIn, Twitter, Facebook and other social media platforms with organic content.
How to Build a Brand Following with Online Video
Let's see, who could teach us about online video? Maybe the founder of a series on YouTube called Game Theory, which currently has 3.9 million subscribers, 35 million monthly views and is consistently one of the platform's 100 fastest-growing channels? Yeah, he'll do nicely. His name is Matthew Patrick and he's also an online audience development expert who has worked with 80+ brands and online channels to effectively build an audience and increase visibility through a savvy online video strategy. You've got to come hear his story.
With an overwhelming push toward buzzwords like, "Native Advertising," and "Content is King," brands know that advertising through online video is a critical step, but many struggle to find a voice and a content strategy that will win a broad following online. This session focuses on understanding how video has enabled brands to build an enormous, dedicated following, using real case studies and dissecting their content strategy as well as the nuts and bolts of their video content development.
Attendee takeaways:
Provide an overview of branded video trends and why branded video content matters for big and small brands alike
Take a tour through case studies that demonstrate why different types of content work online and why some brands fail to gain audience traction through their videos
Provide a list of key considerations and tools for developing a successful online video strategy across several of the major platforms
Participation marketing: How to co-create, optimize and socialize content with influencers
Discovering how to market through influencers has always been your dream. You know your content would perform much better if it could just hitch a ride with one of your industry's thought leaders. Alas, you don't have experience in this area and don't know where to begin. Let us hook you up. Lee Odden is one of the industry's top minds when it comes to influencer marketing and we're giving you the chance to reach your dream and learn from one of the best. What's not to love?
Admit it. You love the promise of content marketing, but maybe you're also challenged to create a variety of engaging content on a consistent basis? We all strive to create quality content, but the reality is, content isn't really great until your audience discovers, consumes and engages with it.
What if you could combine keyword-optimized, influencer-activated content with info-taining creative and inspiring messages that connect with buyers emotionally? Your content marketing would unstoppable!
That integration is exactly what this presentation is about. In it, Lee will provide you with a framework for partnering with internal and external influencers to co-create content that's optimized for search, shares and influencing customer action.
Attendee takeaways:
How to identify, qualify and recruit influencer content partners
A modular approach to co-created content
How to optimize, socialize and repurpose co-created content
Developing a Pinterest Strategy for your Content Marketing
Okay, so this Pinterest thing clearly isn't going away. But how can you gather the insights you need so you can come back from Content Marketing World ready to launch a full-blown Pinterest strategy for your brand? That's easy, just listen to Bob.
Bob Gilbreath is co-founder and President of Ahalogy, an inaugural member of the Pinterest Marketing Developers program (read: he knows the inside scoop) who will share his insights (that's another word for inside scoop) based on his experience working with some of the largest brands on the platform and billions of pins served.
Pinterest is continuing to become a powerful earned and paid media channel for content marketing, and the expansion of paid and earned products is continuing to drive excitement about the platform. The session will be co-led by a senior marketer from a brand that was early on the platform and has seen enough value to expand its investment.
Attendee takeaways:
Gather insights on how consumers are using Pinterest and what media they are switching away from, sourced by Ahalogy's second annual Pinterest Media Study.
Learn how Pinterest can be a powerful tool for scaling customer attention to content marketing efforts, both in the short term and years after a pin is launched.
Hear first hand how a large marketer started its approach to Pinterest, measures ROI, and is continuing to evolve and expand on the platform.
Come away with tips on how to Source, Optimize and Scale content on Pinterest in a way that Paid drives surprisingly powerful earned results.
For more information on the social media related sessions, find out more information on our website. Also, registrants have the first pick on session selection – so don't wait! Register today. Don't forget – CMI100 saves $100 off of your registration.
Posted July 9, 2015 in: Event by Mike Myers
---