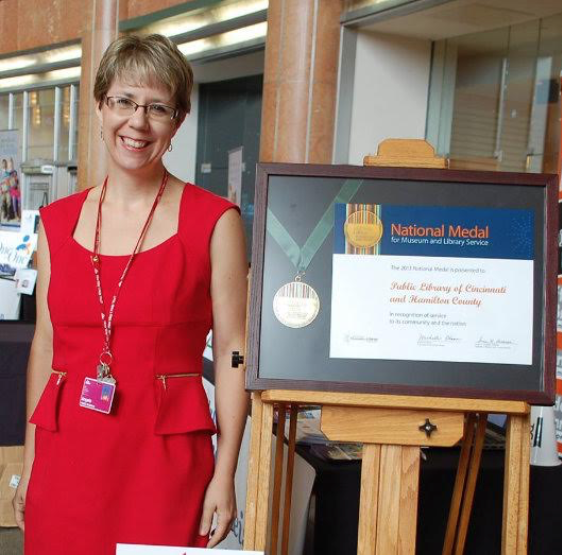 Content Marketing World 2015, with our Hollywood theme, was the first year that our Hollywood Squares game show graced the expo hall at the event. Over the course of our planning, two of our contestants were chosen through an online random drawing, and one of those big winners was Angela Hursh. I'd known Angela online – and if you're an avid #CMWorld Twitter chat participant, you know Angela best as @webmastergirl.
If you're working for a library, or are fascinated by library science and how many applications could be used in content marketing and content strategy, you're not alone. Angela is a staunch supporter of both marketing for libraries, as well as library-like systems and processes for marketers. It's been a great pleasure to know her better over the past few years, and I'm thrilled to offer our community the same chance to get to know Angela. Unfortunately, I didn't get a chance to give her more than a quick hug at CMWorld 2016, but thank goodness for Twitter and email so we can stay in touch!
Please be sure to find Angela online via LinkedIn or through her Twitter handle mentioned above. Without further ado, here's what Angela had to say:
Name: Angela Hursh
Title: Content Team Leader, Marketing
Company: Public Library of Cincinnati and Hamilton County
What brought you to CMWorld 2016? How many years does this make for you?
This was my third trip to CMWorld. Not long after I joined the library, my supervisor encouraged me to attend a conference for professional development and I ran across CMWorld in a Google search! Then I started listening to the This Old Marketing podcast and was convinced I had to get near these smart marketing minds. The organizers graciously extended the non-profit discount, and I was blown away by the experience that first year.   I was really just learning about marketing and searching for a way to market the library outside the traditional tactics and it was clear content marketing was the answer.
How did your career lead you to content marketing? 
I was a broadcast TV journalist for 20+ years before I left to work for the library so the thing I knew how to do really well was write stories. I knew the power of a well-executed story and I wanted to use that power to strengthen my library. Really, there is no better industry in which to implement content marketing—libraries are buildings overflowing with stories!  It was a natural transition.
If you switched careers today, what would you be doing? 
I've only been a marketer for three years so I'm not ready for another switch just yet! But I'd love to help other libraries figure out how to implement content marketing in their organizations through consulting or speaking at conferences. After that, I'd love to be a historical interpreter at Colonial Williamsburg or Greenfield Village!
What is your biggest content marketing challenge? 
Libraries are strapped for time and money—money, in particular. Because much of our funding comes from taxpayers, we have to be good stewards and sometimes it feels like spending on marketing isn't as noble a use of that money as growing the collection or hiring more staff. So we rarely spend on marketing, and that forces my staff to be creative about how they reach cardholders. It means that I often have to do project management manually and can't rely on content software to help me. It makes the job more difficult but also forces us to focus our efforts to make sure we get the most out of every promotional decision.
Where is one place in the world you'd like to visit? Why? 
England. I have a fascination with the country dating back to my childhood. My mother has a friend who lives there and she sent us letters and gifts. I'm a huge fan of Jane Austen and would love to see where she lived and wrote. I'm sure I've romanticized it, but I don't care! My daughter was able to visit the country several years ago as part of a hand bell concert tour and I was so jealous. She tells me my romantic notions are spot on!
Who was one person you met this year at CMWorld 2016 that impacted you – be it a speaker or attendee or CMWorld staff member? 
I see Joe Pulizzi every year and make a point to stop and talk with him. I'm amazed that he remembers who I am and thinks to ask about how content marketing is going at the library… he's so generous and sweet. This year, I'm blown away by Jay Acunzo. I went to three of his sessions and shook his hand afterward. He's a rising star, full of smart ideas, and I took a lot away from his future keynote session. I love his Unthinkable podcast!
What is one orange item in your life you can't live without?
Honey. I brought a jar with me to CMWorld so I could enjoy my tea before bed!
Who is someone you'd encourage to come to CMWorld 2017? 
Library marketers, of course! It's inspiring and I love how I left with 100 ideas for things that can be implemented in every area of my marketing. There are so many sessions that pertain to the work libraries are doing. I wish I could convince more libraries to send their marketing teams. I continue to spread the word about content marketing and the conference on my blog, Super Library Marketing
Stay tuned to the Content Marketing World blog each Monday to meet even more of our attendees. In the meantime, find us on Twitter on Tuesdays at 12pm Eastern for our Twitter chats, or check out the awesome discussions in our LinkedIn group, and watch the Content Marketing World website around November 1 when we open our call for speakers for CMWorld 2017!
Posted October 3, 2016 in: Event by Cathy McPhillips
---