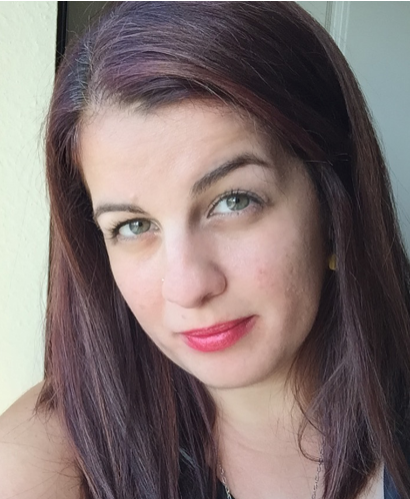 Our online community is a chatty bunch, and for that we are grateful. Even for the quieter weeks – which thankfully are few and far between – we can still count on a large gathering and fast-paced hour with some of the smartest content marketing practitioners on Tuesdays at 12pm Eastern for our #CMWorld Twitter chats. One of the best parts of our Twitter chats is that each week our guest brings incredible knowledge to the chats. Do you know what's equally as great? When 150+ other chat attendees share their own knowledge, case studies, ideas and so much more during the chats – making the whole conversation even better. Berrak has been a part of the #CMWorld community online for some time, and we were just thrilled to see her at CMWorld 2016. I wonder if she's sent in a submission in the CMWorld 2017 call for speakers?
You can find Berrak online via LinkedIn or Twitter. Read more about Berrak below:
Name: Berrak Sarikaya
Title: Content & Digital Marketing Strategist
Company: Amplify Your Biz
What brought you to CMWorld 2016? How many years does this make for you?
I had the chance to volunteer during the conference in 2015 and I was immediately hooked! As a solopreneur, my conference budget is limited but I knew that I would find myself in Cleveland one way or another every year. Honestly, my experience, even volunteering, made me feel like I was coming home. I've worn a lot of hats and worked on a lot of projects over the years, and nothing makes as much sense as content marketing. For CMWorld 2016, I was able to secure budget to attend the full conference and it was an even better experience.
How did your career lead you to content marketing? 
I've always been a writer. My mom taught me how to read and write when I was four and I joke that I haven't stopped since. My original path was law school but I got my first communications job back in 2008. I was writing under a pen name at the time. I couldn't even imagine a career in writing because I thought it would just be a hobby. My boss at that job encouraged me to switch my major to journalism and come out from the shadows online. That was my last full-time job and when I was thrust into the world of freelancing, I took on all sorts of projects related to social media, blogging, and community. Content marketing wasn't part of my vocabulary at the time. Then the web led me to the CMI website (I can't even remember when), all the pieces started coming together, and I found myself doing content strategy as a contractor for Google in 2014.  The rest of the story is still being written.
If you switched careers today, what would you be doing? 
It would still involve writing somehow. If I switched careers today, it would be to focus on the nonprofit I want to launch. Or who knows, maybe I'd finally go to law school.
What is your biggest content marketing challenge? 
Practicing what I teach and figuring out what I bring to the table. As successful as I am in making content marketing work for my clients, I can't seem to do the same for myself. That's my biggest challenge for 2017: treating myself as a client, dipping my toes in new areas (like inbound marketing) and figure out what I can offer to the industry to help move it forward.
Where is one place in the world you'd like to visit? Why? 
This is impossible to narrow down because the world is full of stories I'd love to explore and share. Iceland does pop into mind because of the Northern Lights.
And of course, Antarctica because penguins.
Who was one person you met this year at CMWorld 2016 that impacted you – be it a speaker or attendee or CMWorld staff member? 
Again with the impossible question! I came away from CMWorld 2016 with a whole new group of friends, who encouraged me to start the CMWorld Slack Community. It just proved, once again, how much of an impact CMWorld has made in my life.
What is one orange item in your life you can't live without?
The spray bottle I use to keep my cat away from food and climbing on the fridge.
Who is someone you'd encourage to come to CMWorld 2017? 
Product managers and sales professionals who don't quite understand content marketing. As much as I love engaging with other marketers, the burden is still on us to break down the silos and show the value of content marketing to our organizations. It's important for those outside of the marketing departments to interact with us to ask the right questions, and vice versa. CMWorld is the perfect place for that with the diversity of the sessions and the ample opportunities for networking.
Anything else you'd like to add?
If anyone's planning on following me on Twitter, you should know I have strong opinions about the Oxford comma and the correct pronunciation of GIF.
We loved seeing you at CMWorld again this year, Berrak! We can't wait until next year to see the next installment in the story of your content marketing journey.
Stay tuned to the Content Marketing World blog each Monday to meet even more of our attendees. In the meantime, find us on Twitter on Tuesdays at 12pm Eastern for our Twitter chats, or check out the awesome discussions in our LinkedIn group, and watch the Content Marketing World website in December when CMWorld 2017 registration opens! 
Posted November 28, 2016 in: Event by Cathy McPhillips
---