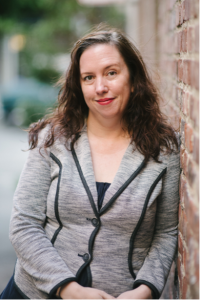 If you join us on our #CMWorld chats each week, then this next 2016 Content Marketing World 2016 attendee is no stranger to you. I first met Erika Heald in the summer of 2013, when our Twitter Chats started. She jumped in with two feet, and instantly became one of our chat community members that made the chats so much better. When she wasn't there, there was a noticeable void in the "smarts" of the chat. One of the things that impressed me the most about Erika was her processes and systems she had in place years ago – allowing time for great strategy and execution. Aside from all that, I've now had the pleasure to spend time with her at three events, and she's also very fun and sweet. So, without further ado, meet one of my favorite San Francisco friends, Erika Heald:
Erika Heald
VP, Head of Content
Highwire PR
Is 2016 your first trip to Content Marketing World?
No
What is bringing you back to CMWorld in 2016?
The amazing community. It's my once-a-year chance to reconnect with some of my favorite content marketers, and to get to meet the new friends I've made in the #CMworld Tuesday chats.
How did your career lead you to content marketing? 
As a recovering journalist, all my marketing jobs have had a big content component. But I didn't ever really have a concise way to explain it as my approach to marketing. That is until my boss came back from a BMA conference, having heard Joe talking about content marketing. After that, it was cake!
If you switched careers today, what would you be doing? 
I'd love to run a cafe where I could sell my baked treats, so that's a possibility. But if I did that I suspect I'd be developing content marketing courses for a platform like Udemy on the side…I can't imagine not being a content marketer.
What is your biggest content marketing challenge? 
Finding enough time to recruit enough writers throughout the agency to develop content for our blog and other channels. We're growing like crazy, so there's not always enough time for us to spend on creating content for ourselves.
Where is one place in the world you'd like to visit? Why? 
I want to eventually visit Japan, but I'm afraid of how the abundance of Hello Kitty may affect my carry-on baggage allowance and my credit card balance…
If you could sit down with one person in our industry, who would it be? What would you want to ask?
I'd want to grill Jay Baer on what's next for content marketing, and specifically where agencies can have a significant advantage.
What is one orange item in your life you can't live without?
I'm going to have to go with my BB8.
Look for Erika at CMWorld 2016 – she'll likely be wearing a trendy skirt and carrying a Hello Kitty bag (or two), and quite probably passing out baked goods that she brought across the country to share with you all. Find her on Twitter and tell her your favorite type of cookie – she might just surprise you in September!
To meet Erika and other members of our #CMWorld community in person, register now for Content Marketing World 2016! September will be here before we know it, and take advantage of great prices now! In fact, BLOG100 saves $100 off of current pricing! Questions? Please leave a comment here, or email cathy [at] contentinstitute.com. 
Posted March 1, 2016 in: Event by Cathy McPhillips
---