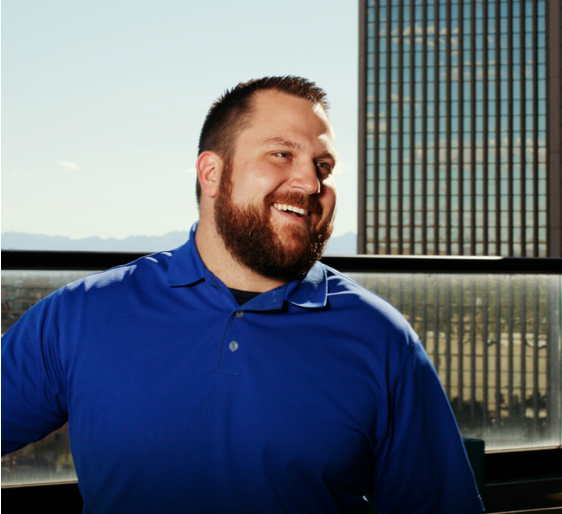 It's amazing to see how our past careers have led each of us to content marketing, but we have to say that Ken Schneider really impresses us with his fine arts background. From journalism to marketing to advertising to technology to art, each of us have an important role to play as part of a content marketing team, large or small. It's pretty great to see the journey our various community members have taken to get to their content marketing careers. We learn so much from not only our speakers each year, but also from our CMWorld attendees, our #CMWorld Twitter chat participants, and so many others. Can you believe CMWorld is only 2 weeks away? We can't wait! See you there! In the meantime, meet U-Haul's social media manager, Ken Schneider!
Please be sure to find Ken online now, and say hello when you see him in Cleveland!
Name: Ken Schneider
Title: Social Media Manager
Company: U-Haul
Is this your first CMWorld?
Yes
What brings you back?
I was registered to attend in 2014, but plans changed and had to cancel the trip so I'm really excited for this year.
How did your career lead you to content marketing?
One of my first jobs as a marketer I was working on a project and I wanted the company I worked for to get out of the way of itself. What I mean by that is that our customers were begging for information and how our services could help them. We were being bogged down with corporate speak and jargon that is was so frustrating. I built a case to humanize the content and see how it performed. If I was wrong, I would have been heartbroken. Instead my passion for content and providing customers what they want was born.
If you switched careers today, what would you be doing?
I would be directing movies. This was an early passion of mine in college and fell in love with the art. Funny how storytelling is still in the mix!
What is your biggest content marketing challenge?
In each of my career stops, the challenges were different. Currently the biggest challenge I have is getting people on board with this "content" thing and seeing its value.
Where is one place in the world you'd like to visit? Why?
Italy. What better stories are there than at one of the oldest civilizations in the world? I was a fine arts major and studying the great artists of Italy was fascinating. The art and architecture has always interested me and I would love to visit.
If you could sit down with one person in our industry, who would it be? What would you want to ask?
Off the top of my head I would have to say Scott Stratten. Several years ago I saw him at a conference and his delivery was awesome. I don't think anyone uses QR codes anymore, but we could and would definitely talk about killing kittens. (not literally!)
What is one orange item in your life you can't live without?
Working for a company where we bleed orange – I have a lot. But I love my orange plaid shirt though – I will most likely be wearing it one of the days at the conference. So come say hi if you see me!
Why do you think it's important for someone from your industry to attend CMWorld?
For me, its about gaining knowledge and insights from industry leaders, not just sales pitches on who they are. I know CMWorld is going to be great!
Thank you, Ken! We are so glad you'll be with us this September, and our team and community will welcome you…especially in orange plaid! Love it!
To meet Ken and other members of our #CMWorld community in person, register now for Content Marketing World 2016! September is just a few weeks away, so take advantage of great prices now! In fact, BLOG100 saves $100 off of current pricing! Questions? Please leave a comment here, or email cathy [at] contentinstitute.com.
Posted August 22, 2016 in: Event by Cathy McPhillips
---