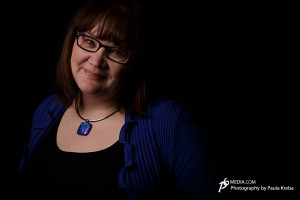 Each year at CMWorld it's invigorating to see new faces and heartwarming to see old friends. But, why should we have to wait until September to get to know some of our attendees? Each week we'll invite you to meet one of our Content Marketing World 2016 attendees. Next up is my friend Paula Kreba, who was our first registrant for Content Marketing World 2014 (the same year I had the pleasure to meet her). Let's meet Paula:
Paula Kreba
Senior Marketing Coordinator
C-FER Technologies
Is 2016 your first trip to Content Marketing World? 
No – My first Content Marketing World was in 2012 and I've been going ever since. 2016 will be my fifth year.
What is bringing you back to CMWorld in 2016?
I'm relatively new to content marketing and it's an opportunity to find solutions to some of the challenges facing marketing today. It's an intense week that gives you access to some of the best marketing minds and thought leaders. Everyone is approachable; you can get guidance and advice from these amazing leaders. It's also a place of encouragement and inspiration. You can go up to and talk with Joe, or Robert, or Jay, even if you are a bit of an introvert like me. You are in a room of like-minded individuals that are supportive. You come back excited about the possibilities; you are revitalized and look forward to conquering the challenges in your organization.
How did your career lead you to content marketing? 
My career has been a crazy journey. I started off in Human Resources for a software development company. I was recruiting, helping with benefits administration, and employee relations. During my time there, the internet was taking off (I'm dating myself big time!), and they asked who would be interested in helping develop the corporate intranet. I stuck up my hand, they put a computer on my desk and said "here you go." So, I bought some books, took a few classes and found I loved design and visual communication. I went to school, earned a multimedia developer certificate. I took graphic design classes part time.
Later on, the company hired a director who believed in internal communication and marketing communications, and he was a huge mentor. He encouraged me to continue in communications and design, and sought out opportunities to help be build my skills, and I ended up working in marketing and internal communications for him in several organizations.
My current organization and manager supported me in pursuing a public relations diploma on a part-time, evening basis. That was challenging but I graduated with distinction in 2014. During this time, I received an email from Content Marketing World. I actually was able to use a lot of what I learned from CMI and CMWorld in my papers during school.
But what made me notice CMWorld is a bit embarrassing. What initially caught my eye was Rick Springfield was the entertainment that year and I'm a HUGE fan. But then, I looked at the agenda and it made me sit up straight. Our company has struggled with content for our website and it seemed like content marketing would be really good fit for what we do and our challenges.
We are an engineering consulting company for the energy industry. We are one of a few companies that actually does the type of work we do. Our business is to help solve some of the most challenging problems facing industry. It's usually things that are new or have never been tried before. It seemed to me if we move our marketing away from being focus on marketing-speak, and if we could teach our employees how to create and provide useful and valuable content – to be thought leaders in not only our research papers and engineering reports but in our marketing as well – marketing could have a real huge positive impact for my company and our clients.
So I made a business case and went to my first conference in 2012 and came back convinced that we had to get on board with content marketing. (The concert ended up just being a happy bonus – I was the girl right at stage level, singing to every word all night long, and being 16 again). 😉
If you switched careers today, what would you be doing? 
I've been pretty lucky in my career; it's always open doors to a lot of different areas – from Human Resources to web design to graphic design and marketing to video editing; even photography. Today, I might be working on a new website, or designing a new marketing piece, tomorrow I might be working on a strategy for an internal communications for the company, or spending time in our lab, photographing these amazing experiments. I can't really imagine doing anything else. The down side is you get pulled in many different directions and things can take a long time.
But if I did do something else, it would probably be something in the visual art/visual design area. Along with my public relations diploma, C-FER has encouraged and supported me in learning about photography. It woke up a passion. I dove in head first and have taken some courses, got involved in our local photography, fashion and costume play (cosplay) communities, and my husband built me a small studio in our basement. If I could do anything else full-time, it would probably be in the area of photography coupled with graphic design. Right now, I'm happy meeting some great people, honing my skills, having a creative outlet and growing as a photographer. It's been an amazing journey. I've also recently rediscovered drawing and art, and been having a lot of fun exploring another creative avenue.
What is your biggest content marketing challenge? 
I think we have a couple.
Our first challenge is what we do is so specialized, and for a highly competitive industry, it's often very confidential. A lot of times we can't talk about the work or some of the amazing things we've learned because it is proprietary to that client. It makes it difficult to tell our story.
The concept of content marketing is new to my company and what we do is extremely technical. I'm not sure I've been effective in educating our engineers on how to write for content marketing. For example, it can be hard to see the value in writing an article comparing engineering design techniques – when they can be used and when they can't – but not writing how we are the best at these techniques. It's not what comes natural. The challenge is also to get the company on board with the concept that we can and should self-publish; we are no longer just tied to publishing papers for research journals.
I'm not an engineer and I'm more of a visual communicator than a writer. I listen to our employees talk about the work they do, I get ideas for stories. But because our audience is other engineers, it's often challenging for me to write to that audience because I don't have the technical background, and it's been a challenge for our employees to write pieces that aren't research papers. It's definitely not in my comfort zone and I understand the challenge.
I think we are starting to get there. We have a new website finally coming online soon. We've been writing articles for other magazines that have some traction and received some attention in our industry. It has shown the value of this type of content. I think it is starting to open the door for creating those types of content pieces for ourselves.
Where is one place in the world you'd like to visit? Why? 
Again, I have been very blessed both professionally and personally when it comes to travel. I love archeology. My husband and I took my dream trip to Egypt in 2007. We've been to Mexico, Belize, and Honduras. I worked in Ireland for three months, and have been able to travel to Italy and Amsterdam for work.
I went to Japan as a teenager and I'm not sure I appreciated as much as I should have. I would love to go back. I would love to see China and the Great Wall. Machu Picchu in Peru and Petra in Jordan are on my dream list of places to see. I want to go on an African Safari and take amazing photographs. I fell in love with Europe and would love to go Greece and Spain. But Italy stole a piece of my heart and my biggest dream is to spend an extended period of time there. That will probably have to wait until retirement.
If you could sit down with one person in our industry, who would it be? What would you want to ask?
Wow. Another hard question. I would love to spend some time with Anne Handley to talk about honing my writing skills, and how to teach others to write in a way that isn't a technical publication or not in someone's comfort area. I'd also like some advice on how to ensure consistency in style and tone when you have so many people contributing to content.
I would love to sit down with someone like Joe Pulizzi or Jay Baer or Marcus Sheridan, or someone who has done this job in a highly technical, research-driven, highly confidential industry. I'd ask for help on how I can bridge the gap between engineering and marketing and how to get over the confidentiality issues when you have contracts that limit what you can say.  I'd like to get some advice on how to not just get buy-in but teach my engineer colleagues how to think about creating valuable useful content in forms other than research papers or technical reports – for themselves and not just for others (magazines, engineering associations) to publish.
What is one orange item in your life you can't live without?
That's hard. I confess, until CMWorld, orange wasn't really in my wardrobe and I didn't own many orange things. I do have several pieces now that I love and bring to the conference. My favourite colour is blue. Being from Canada it's a bit of a cliché, but I guess I couldn't imagine not having our Edmonton Oilers hockey club jersey. Their colours are blue and orange! The best of both worlds.
To meet Paula and even more of our #CMWorld community in person, register now for Content Marketing World 2016! September will be here before we know it, and take advantage of great prices now! In fact, BLOG100 saves $100 off of current pricing! Questions? Please leave a comment here, or email cathy [at] contentinstitute.com. 
Posted February 2, 2016 in: Event by Cathy McPhillips
---