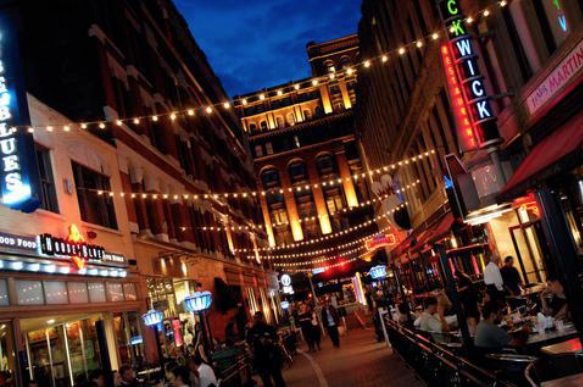 East 4th Street Photo Credit: Larry E. Highbaugh, Jr. for ThisisCleveland.com
Leave any downtown Cleveland hotel and within a 15-minute walk, you can find yourself surrounded by a plethora of gastropubs, bistros, and diners. I live in Northeast Ohio and have not yet had the pleasure of dining at all of them, but I am slowly working my way through the list.
Many people are only now discovering Cleveland as a culinary destination, and residents are more than happy to introduce visitors to our local restaurants. The area is home to world-renowned chefs, highly acclaimed restaurants, kitschy food trucks, and the perfect neighborhood dives. And downtown has become a thriving foodie epicenter of the city's diverse neighborhoods.
As we prepped for Content Marketing World last year, I wrote about four of my favorite Cleveland restaurants. I have to admit; the list remains unchanged. But I have found new hotspots and rediscovered some gems that you should hit while in town.
BOLD Food & Drink
(1121 West 10th Street, website)
You can't help but be drawn to the restaurant's sleek and vibrant atmosphere along the water. Not only does it boast a stylishly modern décor, but its New American cuisine is innovative, mixing texture with its namesake's bold flavors. Its menu includes 100% sustainably sourced ingredients, using local farms wherever possible.
Menu suggestion: Order the Colossal Gulf Shrimp 'n Grits. I would eat this dish every day if I could.
After dinner: Walk along the 1,200-foot riverfront boardwalk and take in spectacular views of the city and the industrial landscape that defines Cleveland's past.
Mabel's BBQ
(2050 East 4th Street, website)
Nationally recognized chef Michael Symon gives his take on barbeque at his latest restaurant. He calls it "Cleveland-style," proudly using local ballpark mustard in his sauce. All of his meats are house-smoked. Get there early; Mabel's does not accept reservations, and once they sell out, you'll have to make another selection from the menu.
Menu suggestion: You can't go wrong with the This is Cleveland plate. Feast on a meal of kielbasa and ribs under the restaurant's iconic "Eat More Meat" sign. Just don't forget to ask for extra napkins.
After dinner: Indulge in a patio crawl along East 4th Street. Jumping from bar to bar is easy because the narrow street is closed to traffic. And be sure to bring your camera – White lights line East 4th, making it a popular spot for nighttime photos.
Noodlecat
(234 Euclid Avenue, website)
This isn't your college dorm room ramen. Quick and inexpensive but funky and fun, this Japanese-inspired spot is owned by Jonathan Sawyer, a James Beard Foundation winner. Pick your noodle then personalize it with flavors like Coconut Curry Tonkatsu.
Menu suggestion: Start with a Fresh Bacon Steam Bun before a bowl of Crispy Beef Short Rib Udon noodles. And yes, there's sake.
After dinner: See the newly renovated Public Square. The center of town recently underwent a $50 million facelift. Enjoy an outdoor art installation, visit the Soldiers and Sailors Monument, or simply sit on the lawn and people watch.
West Side Market
(1979 West 25th Street, website)
This foodie hotspot is not walking distance from downtown, but I'd be remiss to not include it on the list. The public market is a culinary landmark and should be on the top of your to-go list. With over 100 vendors, the West Side Market has been featured in numerous publications and on the Food Network and Travel Channel.
My suggestion: For a true Cleveland experience, grab a Jambon et Brie crêpe from Crêpes de Luxe or a tamale from Orale! then enjoy a meal with a view by climbing the stairs just above the market's main entrance.
After lunch: Check out Glass Bubble Project just a short walk from the market where artists create one-of-a-kind hand-blown "Clevetion" glass art. You might even get to meet Morty, the rooster-in-residence.
From artisan ice cream to ethnic eateries, Cleveland has much to offer. Still can't decide where to eat? Have a taste for Vietnamese? Want to know what a Parmageddon grilled cheese sandwich is? Tweet me (@MoninaW). You never know. You may end up with me as your dinner date.
Visit Destination Cleveland's online restaurant guide for a more comprehensive list.
With so many amazing restaurants around town, you're bound to have your own favorites, whether you're a local or a CMI alum. What do you recommend? Be sure to leave a comment! Not yet registered for Content Marketing World? Take a bite out of your registration fee and save $100 with code BLOG100.
Posted July 28, 2016 in: Event by Monina Wagner
---