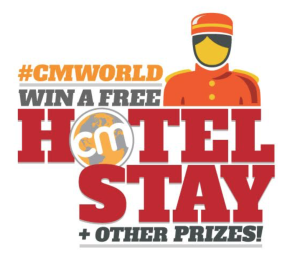 We're back for the 6th annual Content Marketing World! The largest content marketing event in the world, and by far the largest collection of the best and brightest minds in the business, will be back in Cleveland, September 6-9, 2016. We want you here, and have some ways to make that happen!
We'd love to have you involved for the next few weeks as we give away some fantastic prizes and spread the word about our big event happening this September!
A Look Back on Content Marketing World 2015
Do you have 90 seconds? Take a quick look back on CMWorld 2015 – and what we have in store for 2016!
Who Will Be There?
4,000+ attendees. 200+ speakers. Some of the biggest brands and best content marketing practitioners in the world. And hopefully you! 
Presenters include David Beebe, Andy Crestodina, Joe Chernov, Vince Giorgi, Amanda Todorovich, and marketing leaders from brands such as Bank of America, LEGO, REI, Cisco, Avery Dennison, Microsoft, Hanley Wood, and many others.
Now, the fun part. A chance to win great prizes!
What is up for grabs? 
One person registered between 12/1/15 and 2/29/16 that participates in this month's fun and games will win free hotel accommodations at CMWorld 2016 – a 3-night stay in one of the CMWorld hotels*
Other fun prizes such as shirts, books and other CMWorld flair will be given on each of these Tuesdays at the end of our #CMWorld Twitter chats: 2/16, 2/23 and 3/1. Anyone that registered between 12/1/15 and 2/29/16 that participates in February can win!
But how can you win? Easy!

#1: Twitter Entry
Tweet up to three times a day – and we've made it easy and have even written the tweets for you!
Every tweet is one entry! Be sure it includes the #CMWorld hashtag. Every time you tweet any of these messages between 2/8-2/29/16, we'll count each tweet as one entry.

#2: Blog Comments
We know you. We know you have awesome ideas and have much to say! Any comment on the CMI blog or the CMWorld blog between 2/8/16 – 2/29/16 will count as one entry. Visit our blogs or better yet subscribe to receive them so you get your daily reminder!

#3 Facebook Comments
Every comment (likes don't count – we're making you work for it!) on our CMI and CMWorld Facebook pages from 2/8/16 – 2/29/16 will count as an entry! Shares don't count because of certain followers' privacy settings, so we want to keep it fair.

#4 Instagram
Find us on Instagram and join in the #CMWorld fun! Whether it is a photo of you donning orange clothing, posting a photo from a past CMWorld, or Instagramming a photo of a speaker you can't wait to hear, hashtag #CMWorld! Each Instagram including #CMWorld or tagging @CMIContent counts!
The Fine Print:
You MUST be registered for Content Marketing World 2016 to qualify for a weekly prize or for the grand prize! See the "Registration" section below for the link and for a discount code!
Each platform is a little different. Plan accordingly. If in doubt, hashtag #CMWorld.
One person will win the hotel stay and three others will win weekly prizes.
Timeframe is going to be 2/10 – 2/29/16 – tweet, post and comment to your heart's content!
We'll announce weekly winners each Tuesday, then one grand prize winner will be announced on our CMWorld Facebook page on Wednesday, March 2. See below for more details.
Schedule: 
Wed 2/10 – Mon 2/15 8pm ET: Weekly winner announced 2/16 at 1pm ET on Twitter
Mon 2/15 8pm ET – Mon 2/22 8pm ET: Weekly winner announced 2/23 at 1pm ET on Twitter
Mon 2/22 8pm ET – Mon 2/29 8pm ET: Weekly winner announced 3/1 at 1PM ET on Twitter
Anyone participating between Wednesday 2/10 and Monday 2/29 – who is also registered for Content Marketing World – will be entered into a drawing for a 3-night hotel stay in Cleveland during #CMWorld! We'll announce our hotel winner on Wednesday, March 2.
Registration:
You want to be sure to get registered for CMWorld 2016 so your tweets, comments and posts count for a chance to win the 3-night hotel accommodations or any other prizes listed above. Visit our registration page to register now. Use discount code CONTEST to save an additional $100 off of your super early bird registration, now through February 29, 2016!
Ready, set, GO!
*Must be a registered attendee of CMWorld to claim the free hotel accommodations or other prizes.
Posted February 10, 2016 in: Event by Cathy McPhillips
---