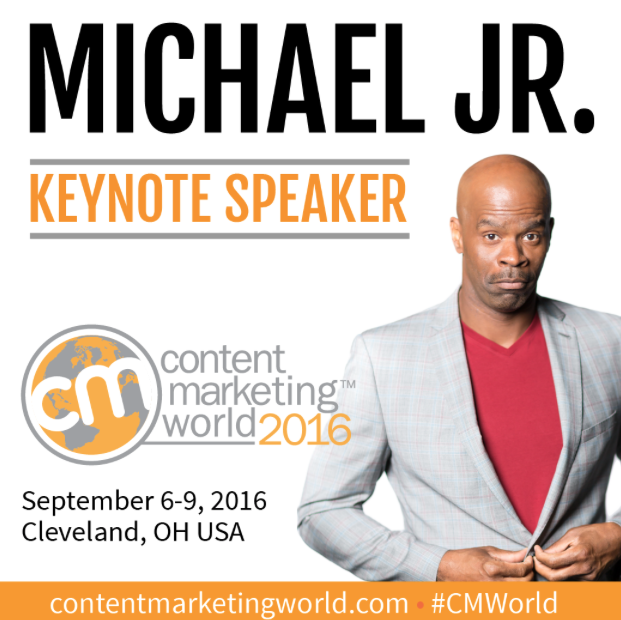 Our newest addition to our agenda is an inspiring comedian Joe saw on YouTube. He was struck by the words below and knew that Michael Jr. would be a great addition to Content Marketing World.
"When you know your 'why', your "what' has more impact – because you're walking in, or toward, your purpose."
Here is the full video:
Wow. What a great message for us all, with a message content marketers can get behind!
Michael Jr. is a man at ease – with himself, his audience, and his message. Listen to his voice and you'll detect a comfortable, conversational style that hides a sly sense of mischief. Hear stage. When the theater manager tried to usher him out, the audience demanded he his words and you'll laugh at the universal themes that connect us all.
Michael's entry into comedy was almost preordained. Years ago in a crowded Grand Rapids, Michigan movie theater, the projector malfunctioned. The film snapped, the house lights came on, and acting on a dare, young Michael jumped in front of the restless crowd and took center stay…and Michael Jr. discovered his gift.
Comedian George Wallace offered Michael his first break when he took him to the legendary Comedy & Magic Club in Hermosa Beach, home of Jay Leno and "The Tonight Show" staff. The club's owner slipped Michael onstage…and a week later Michael was performing at the "Just for Laughs" comedy festival in Montreal, where he became the first comedian to ever appear live via satellite on "The Tonight Show."
That performance catapulted Michael's career and has resulted in additional appearances on The Tonight Show, Comedy Central, TV One, The Late, Late Show, BET's ComicView, Jimmy Kimmel Live, SiTV, CNN, The Tom Joyner Show, The Bob and Tom Show , DayBreak USA and Byron Allen's Comic Unleashed and ComedyTV. He has also performed at the most prestigious comedy clubs across the nation, including The Improv, The Laugh Factory, The Comedy Store, The Punchline, The Comic Strip, and Zanies Comedy Club. Notre Dame, the University of Massachusetts, the University of Alabama, and church events ranging from the 60,000-member Willow Creek Church in Chicago, the 17,000-member West Angeles Church in L.A and the 10,000 member New Life Church in Colorado Springs have all heard Michael Jr.'s message.
As you can see, Michael Jr. knows his audiences – and there are plenty of them. From the heartland and the inner city, from churches and prisons, and from corporate events and youth rallies. Michael Jr. says, "If I'm in a club, my material has to be clean enough to work in a church. If I'm in a pulpit, it has to be funny enough to work in a club."
Michael has also authored a children's book in 2007, The Parts We Play, was featured in the comedy DVD Thou Shalt Laugh, and made his directorial debut with the documentary Comedy: The Road Less Traveled.
He's also got a great community on social. Follow him on Twitter!
Be sure to join us at Content Marketing World Thursday morning, September 8 for his keynote. Mark your agenda for 8:45, right after Robert Rose kicks off the day.
Still haven't registered? Don't worry – there's still time! Visit our website to find out all of the details, email us if you have any questions, and don't forget to use code BLOG100 to save $100 off of main event and all-access registrations! Register by 5/31/16 to take advantage of early bird pricing, too!
Posted May 18, 2016 in: Event by Cathy McPhillips
---