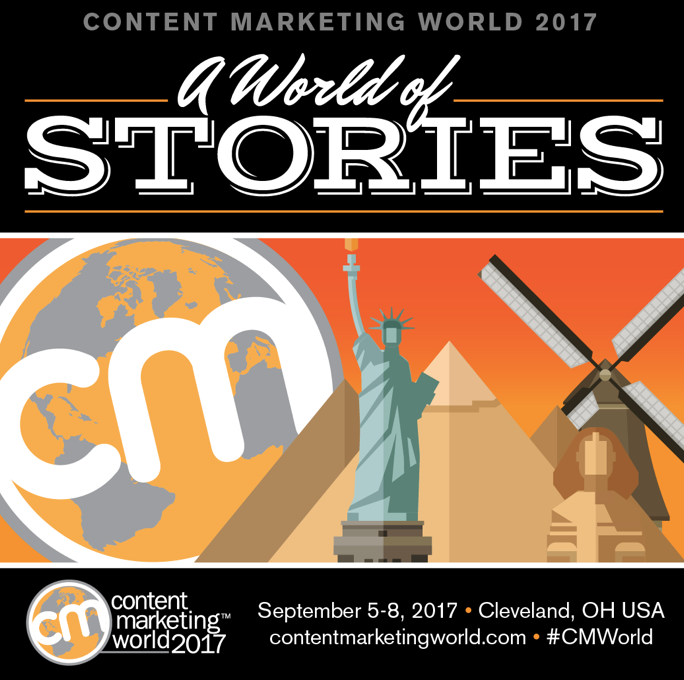 Content Marketing World's 7th annual conference and expo returns to Cleveland September 5-8, 2017. Each year, the CMI and CMWorld teams develops a theme for the event – one that we can carry through in our graphics and promotional materials, one that Joe Pulizzi integrates into his opening keynote, and one that our sponsors, speakers and friends can use as they prepare for September.
This year, A World of Stories, came to us quickly in our brainstorming, because of some very timely reasons.
Speakers and diversity
Diversity is very important to us, and has been brought to the forefront in much of what we are doing this year. Joe Pulizzi talked about tackling this important topic last November on the CMI blog and challenged himself to ensure that CMWorld 2017 had a 50/50 male/female speaker ratio. Additionally, as Scott Abel mentions in the blog post comments, "Diversity comes in all flavors. Inclusion is about more than race and gender. It also involves sexuality, gender-identity, age, culture, disability, and other categories."
We, as marketers, storytellers and communicators, learn and grow by listening to others from various cultures, ages, genders, and so much more. We're excited to bring this to our CMWorld attendees this year. Check out our speaker lineup to see what we have in store.
Note: As a follow-up to his November post, Joe gave an update in February on major event changes for 2017.
Global representation
Content Marketing World's delegates reached an all-time high in 2016, with over 70 countries represented. Wow! We truly are a world of content marketers, and we learn so much from our counterparts from across the globe.
With large groups coming from Slovenia to Australia, Brazil to Germany, South Africa to Ireland, and individuals coming from 60+ countries in between, we are so grateful for this international reunion each year.
Breakout Session Focuses
With authorities Tequia Burt speaking on "Is Diversity Really Important for Content Marketing Success?", Tamsen Webster showing us "How Our Most Powerful Stories Hide in Plain Sight" and so many other women and international speakers sharing their expertise and experiences with us, this year's event will be the most in-depth CMWorld yet.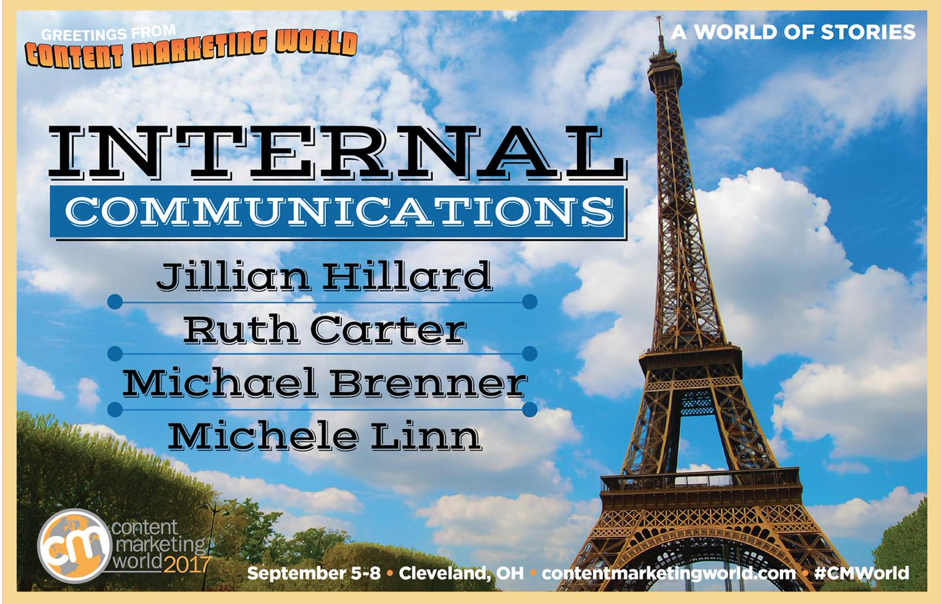 With that, we hope you enjoyed some of our graphics for this year's event, from our personalized speaker images to use on their social platforms, our graphics showcasing landmarks from countries from around the globe, and our track poster series this year in the form of large postcards. This will be an event like no other, and we "wish you were here!"
Spoiler alert: If you follow the CMI Facebook page and Twitter account – as well as the #CMWorld hashtag – you'll see more of our World of Stories images over the course of the next 13 weeks.
Lastly, we're again working with the TopRank Marketing Team to bring you our conference ebooks. Visit our SlideShare page to see these In-Flight Content Guides to read great advice from some of our Content Marketing World 2017 speakers.
There's still time to register for Content Marketing World 2017. Register now with code BLOG100 to save $100 off current rates. Need more information? Visit our website and let us know if you have any questions. We're here to help!
Posted June 5, 2017 in: Event by Cathy McPhillips
---