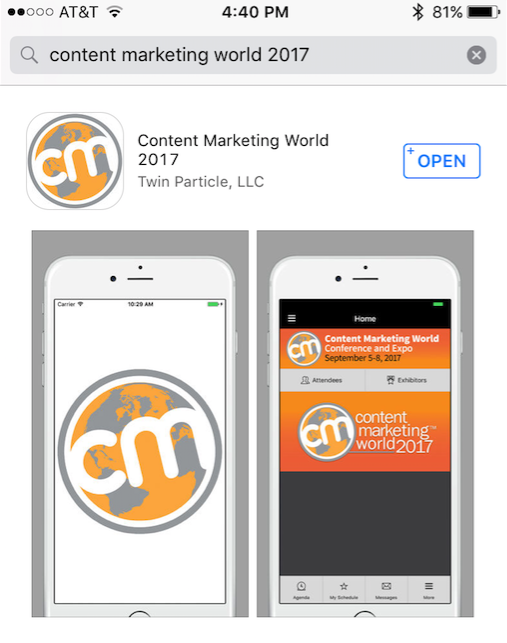 Post written by Angie Sloan, the Director of Marketing Communications at Gather Digital. Gather Digital is a leading provider of mobile app software for conferences, meetings and events, and we're pleased to have Gather Digital power the #CMWorld 2017 mobile app.
CMWorld 2017 is almost here! This year's event app is filled with exciting features and ways for you to stay on top of everything that's happening. It will help you schedule sessions, connect with other attendees, find your way around the Huntington Convention Center of Cleveland and so much more.
First things first, download the app. You haven't yet? Here's a quick refresher
It's easy to do. Visit iTunes or Google Play, search Content Marketing World 2017 and download. Log in to the app using the email address you used at registration and your confirmation number as your password.
To navigate the app, click the three lines or "hamburger" at the top left of the home screen. The full menu displays down the side.
Now you're ready to discover all the fun and excitement that CMWorld has in store for us this year. Following are some of the many features that are available in the app.
Make your session selections.
You'll be able to choose and update your breakout session choices right in the app. There are limited spaces in some of the sessions, so be sure to save your seat soon!
My Schedule – Scroll through the agenda, click on the specific session you want and click the button in the top left called My Schedule. The box turns orange and voilà! you are registered for that session. If the session is already full, you'll receive a notification. If that happens, choose another session, but be sure to check back later in case a spot opens.
You don't need to reserve a spot for general sessions or networking breaks, but you can add them to your personal schedule so that your full agenda is available at a glance under My Schedule.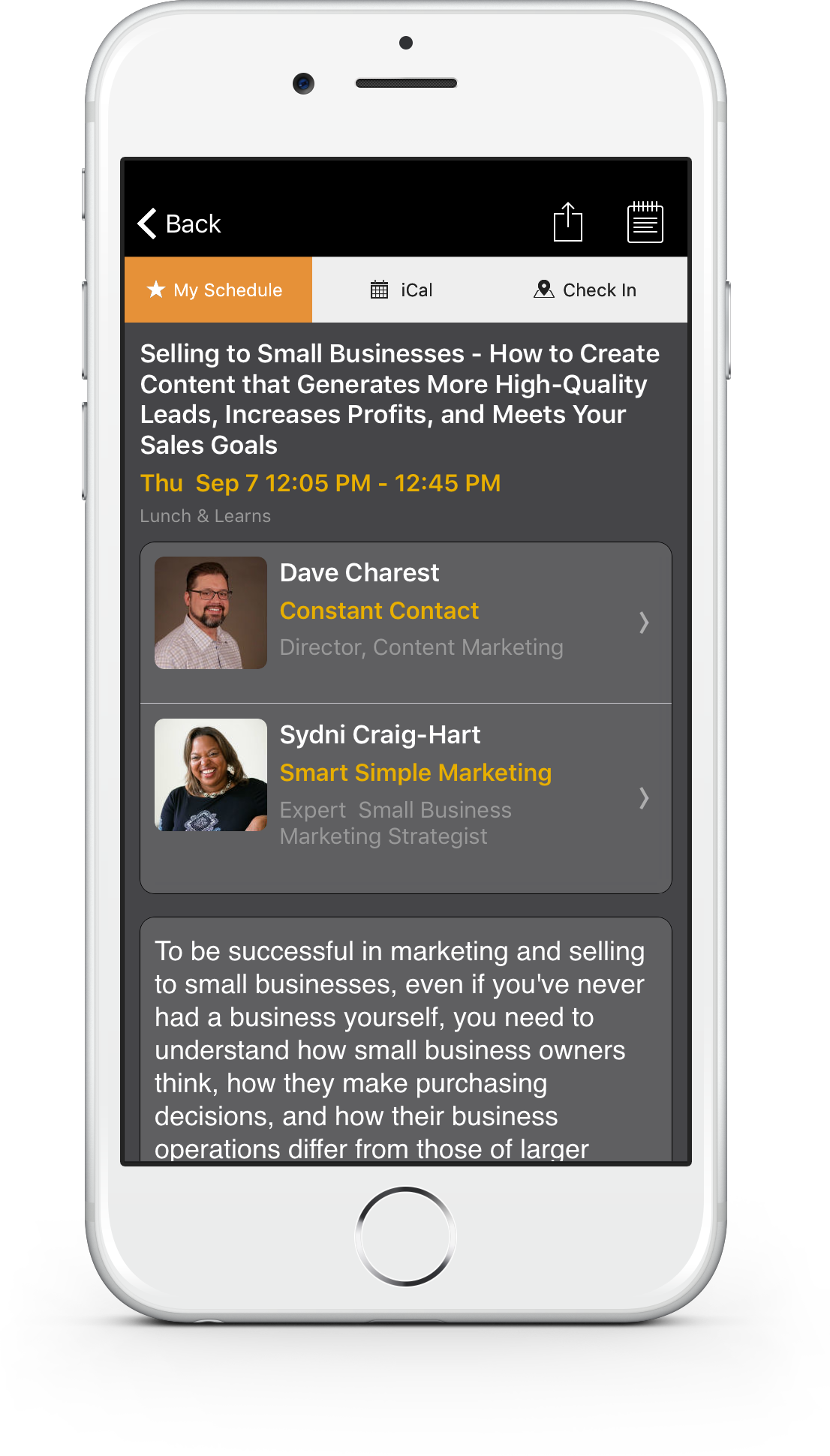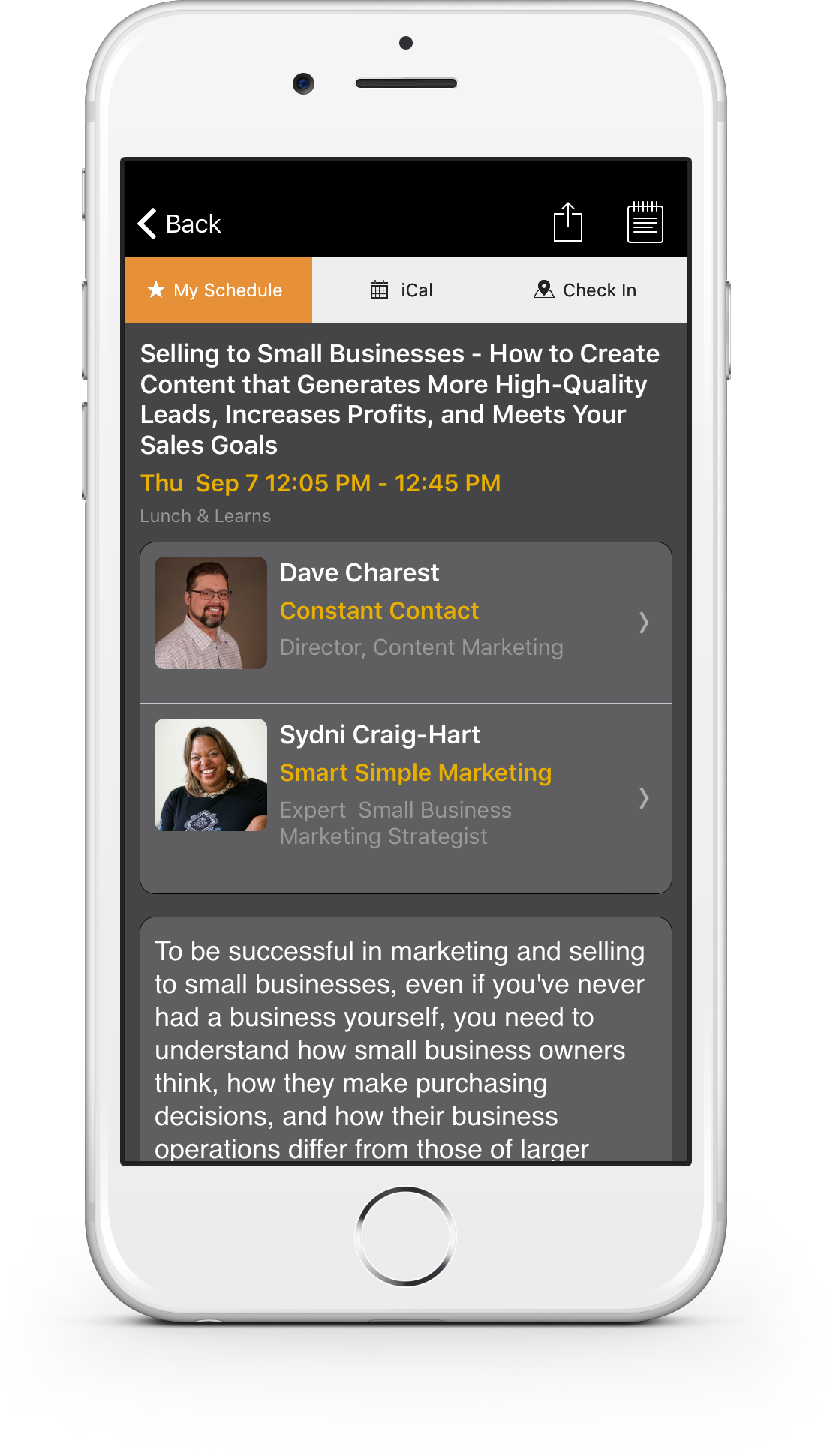 Reconnect with old friends and make new ones
We all love this conference and know that it's one of the best places to make great connections with other marketing professionals. With the app, you can network to your heart's content by creating a full and rich profile, messaging with other attendees and swapping contact info with the click of a button.
Messaging – Go to Attendees and click on the person's name to whom you'd like to send a message. (There'll be an envelope beside their name if they've logged into the app and want to participate in messaging.) You don't need to know anyone's email address. This is a great way to plan a quick coffee during a break or ask a question of a speaker.
Attendee Profiles – Add your photo, bio, website, social media info and more! It will be displayed in the app. And you can update it at any time. Just click on your email address at the top of the menu to get to your account page and click Edit. So easy!
Contacts – Swap virtual business cards with fellow attendees! Under Contacts, click My Card, then Edit to update your info; be sure to add your photo, company logo and color choice for your card. Click Save. Retrieving someone else's business card is easy, too. Tap the "+" icon in the upper right to activate the scanning interface. Point the camera to your contact's QR code and their info is automatically added as a card to your list.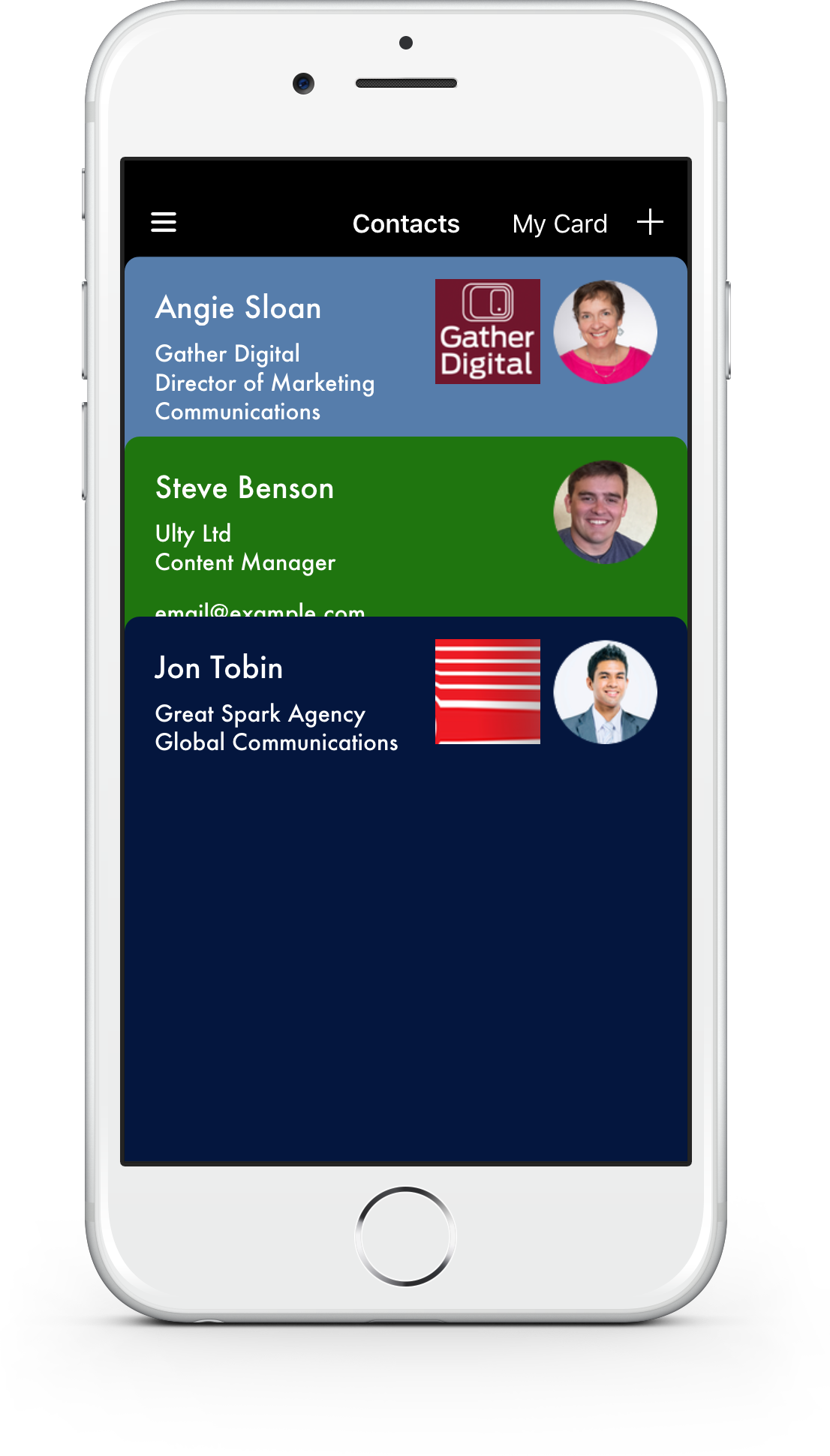 Join the conversation
Discussion Board – Start a new topic by clicking the paper & pencil icon at the top right. Or post a comment on someone else's thread by clicking that post, going to the bottom of the page and entering your thoughts. Let's get talking!
Photos – Share your CMWorld photos with everyone! Click the "+" icon at the top right to add a new photo. Chime in about others' photos by clicking the photo, then entering your comment at the bottom.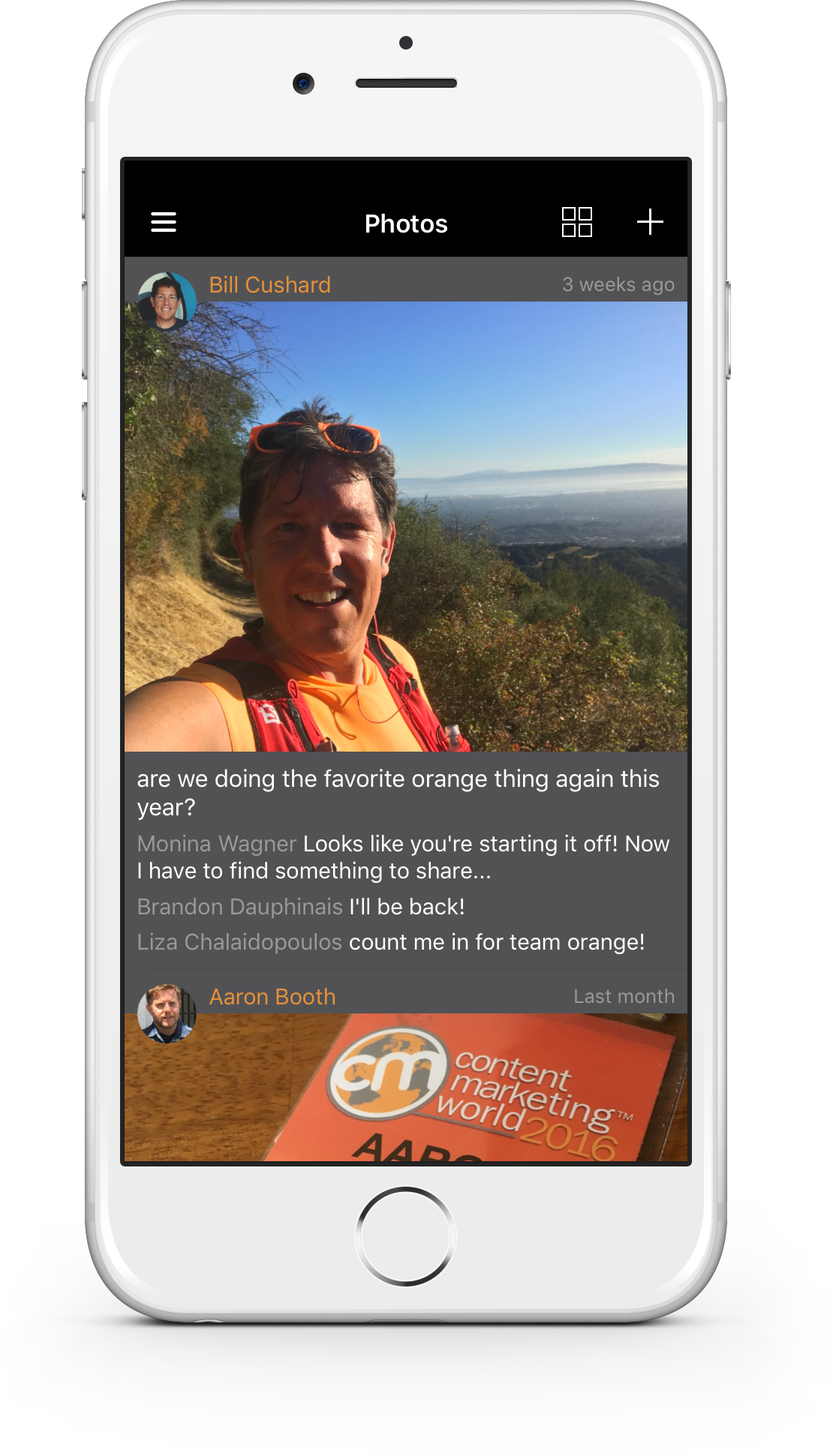 Share your views
Pulse – Take quick polls and watch the results live. It's a great way to gauge opinions of the group in real time!
Surveys – Complete in-app surveys by clicking the survey button inside an agenda session or Surveys on the main menu. You'll be giving valuable feedback to the CMWorld staff about agenda sessions, speakers and more. Your input helps Content Marketing World continue to get better and better.
Enjoy the hunt
Badge Game – Earn badges by posting photos, commenting on discussion boards, responding to surveys, visiting exhibitor booths and other activities. Win valuable prizes. More to follow about this fun game!
So many cool things, so little time …
Notes – Take notes in the app on speakers, exhibitors, agenda sessions and other attendees. In the specific section where you want to take a note, just click the notepad icon in the top right. At any time, you can click on All Notes and Collect to view and email notes to yourself for reference.
File Cabinet – Download documents from agenda sessions and save them locally on your device. This way you can review them at your leisure even if there's no internet connection — perhaps on your flight home.
Get info on Speakers and Exhibitors, utilize interactive Maps, watch Videos and stay up to date by receiving important push notifications from conference organizers.
CMWorld 2017 is going to be great! The app was designed to help you navigate and enjoy the event even more. See you soon in Cleveland!*
*Not yet registered? Fear not, there is still time. Visit our registration page and get signed up today. As a bonus, use code BLOG100 to save $100!
Posted August 15, 2017 in: Event by Cathy McPhillips
---