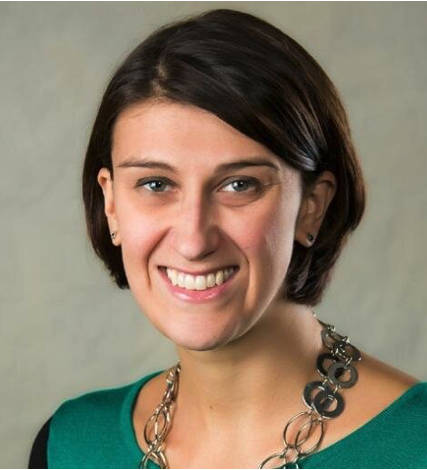 This week we meet Becky Goplin, a life-long writer, first-time CMWorld attendee, and part-time event marketer, on top of her usual responsibilities. Becky represents many content marketers – who excel in one area (writing, in her case) and need some guidance in another (measurement). Content Marketing World and our great speakers and industry authorities are ready to help! Without further ado, meet this week's attendee in the hot seat.
Name: Becky Goplin
Title: Marketing Manager
Company: Tea Leaves Health
Find Becky on LinkedIn and Twitter and learn more about her below.
What is your main reason for attending, and how many years will this make for you?
This will be my very first year at CMWorld and I couldn't be more excited! I've been dying to come for years and when I finally got approval this year, I just about jumped out of my chair!
My main reason for attending is to hone my skills. I know there will be fabulous networking opportunities and lots of fun events, but I'm heading there to work. I especially want to further develop my social media savvy, so I'll be attending the Social Media & Content Creation for B2B Workshop on Tuesday before the conference officially kicks off.
How has your career path led you to content marketing?
Oh what a whirlwind it's been. I've been a writer since the moment I could put pen to paper. As soon as I learned to spell I was writing short stories. There was just no other path for me. I got to college and majored in Creative Writing because I was going to write fiction, of course. Well, a couple of years into that major the "reality" sunk in that my chances of being the next Stephen King were slim. So I dropped Creative Writing to a minor, and picked up Mass Communications, Public Relations as a major. I wanted something broad and marketable that would still incorporate writing, and I thought I might actually be able to get a job after college. I graduated in December of 2005 and went to work at a PR agency. Six months later I was laid off. Then I went to work at an advertising agency, and two years later lost my job. I was unemployed for seven months and had to take a good hard look at where I wanted to be and what I wanted to be doing. But I needed a job…badly. So I interviewed for an Account Coordinator position at a healthcare CRM company and got hired. I didn't even know what CRM was. Surprisingly, I thrived at it. But it was all client and project management with very little opportunity for writing. While I was in that role, the tiny voice in my head kept saying, "…you have this talent and you're wasting it…" Then in 2011 that company was acquired by a larger one, and under new leadership my role changed three times. I was lost. It got to the point where I didn't even recognize who I was or what I was doing with my life anymore. That's when an opportunity came my way to work for a healthcare design-build firm as a Content Marketing Specialist, and accepting that role was the catalyst for my career change. I've never looked back — I've been writing healthcare marketing content ever since and feel as though I've finally found my niche.
If you had the opportunity for a do–over, what career would you be in today?
I'd be one of three things: either a screenplay writer for a major movie studio, a travel writer, or I'd be the next Stephen King, obviously 😉
What is your biggest content marketing challenge? 
MEASUREMENT. Isn't it everyone's? I'm a creative type, so when it comes to benchmarking and analyzing and measuring, the struggle is real — even if I have technology that does most of the work for me.
What is your favorite book and why?   
Jane Eyre. I read that book roughly once a year, and depending on what I'm going through in my life at that moment, it speaks to me differently each time. Putting the eloquence of the prose itself aside, I think I love it so much because Bronte wrote a character (Jane) that was light years ahead of her time.
If you could meet one person at CMWorld 2017, who would it be?
Joe Pulizzi. He's the mastermind behind it all!
Who is someone you'd encourage to come to CMWorld 2017?
If I could I'd bring the rest of Tea Leaves Marketing team, as well as the Squad & Mafia. You know who you are.
Are you working on any fun projects you'd like to share with our community? 
Well aside from counting down the days to CMWorld, our team is currently preparing for our Client Summit, coming up in July. This is the first time Tea Leaves has done a client conference, and I'm thrilled to be a part of the planning. We're making arrangements to host our partners in Chicago for two jam-packed days of networking, user groups, educational presentations (and in true Tea Leaves fashion) lots of fun. I'm just busy writing materials to promote the Summit and get as many clients in attendance as possible.
We're excited to see you in Cleveland in just a few short months, Becky. And let us know if any of your colleagues want to join, we can work out a group discount! Thanks for taking time to participate in our interview – we love your enthusiasm for the event as well as the industry. And we'll work on that meeting with Joe!
Meet Becky and other smart content marketers at Content Marketing World 2017, taking place September 5-8, 2017 in Cleveland. If you haven't registered, there is still time. Even better, early bird rates are in effect until June 2, 2017. And as an added bonus, code BLOG100 saves $100 off of main event and all–access pricing, so register today! See you in September!
Posted April 25, 2017 in: Event by Cathy McPhillips
---