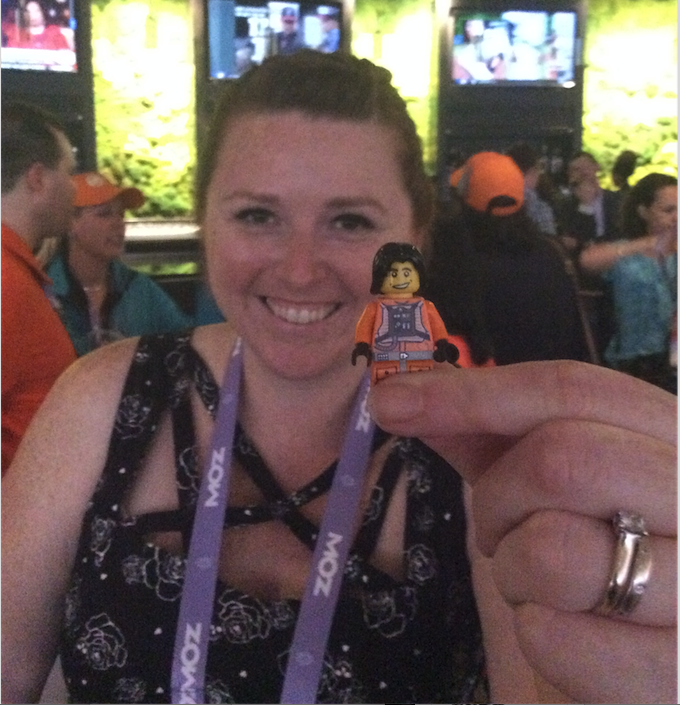 As we've mentioned many times over, our #CMWorld friends that we chat with every week on Twitter (and beyond) is the glue that holds our community together. Not only is this group very kind and fun, they're also really, really smart. Maureen Jann happened upon the #CMWorld chat awhile back, and has become a steady force – regularly offering us great advice, counsel and support in our chats, and sometimes even commiseration when she can relate to a particular content marketing challenge.
Maureen came to CMWorld 2016 armed and ready to make some friends. No spoiler alerts here, you'll need to keep reading to see how Maureen jumped right into the action at Content Marketing World beginning at a small get-together before our workshop day. Monina Wagner and I gave a curious look as Maureen came armed with cards…well, OK, now I'm spoling it, so you'll just have to read below.
Introducing the lovely and brilliant Maureen Jann. Enjoy getting to know her!
Name: Maureen Jann
Title: Director of Marketing
Company: Point It
What brought you to Content Marketing World 2016?
In 2013, I was given an opportunity to dive deeply into content marketing and as soon as I had a real taste of it, I knew this was the type of marketing I wanted to do. I needed to be where other people were doing amazing content marketing work so I could learn.  And there's really only one place where the best in content marketing come and that's CMWorld. When I started tweeting along with the hashtag as a way to connect with that community, I was even more convinced. So, when an opportunity appeared last year, I jumped at the chance.
We know you're all about networking. Could you tell our community (for those that weren't there) the two fun things you did to prepare for CMWorld 2016?
So, I actually did three things to prepare for CMWorld:
Create a networking bingo card! I was really coming to this event without knowing anyone in person and I was a little nervous. So, as I like to do, I came prepared with a framework for success in the form of a game. The bingo game included boxes with notable traits of people around me and the goal was to meet them, take a picture and mark them off. I brought enough of them to hand out and it doubled as a fun little marketing piece for Point It. I had prizes too! Ultimately, it was a lot of fun and people sought me out to get their own card.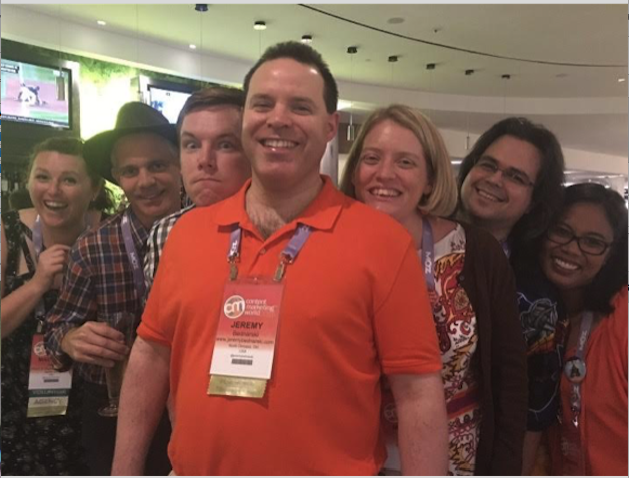 Put together a twitter meetup. I had met so many incredible people in the Twitter world that Content Marketing Institute had put together and I thought would be the perfect opportunity to meet those folks IRL. So, about 12 of us gathered at a hotel bar and then grabbed some dinner after. It gave us all an incredible opportunity to connect, solidify budding friendships and learn more about work, families, pets, and aspirations. I came away with new friends that I've stayed in contact with all year long.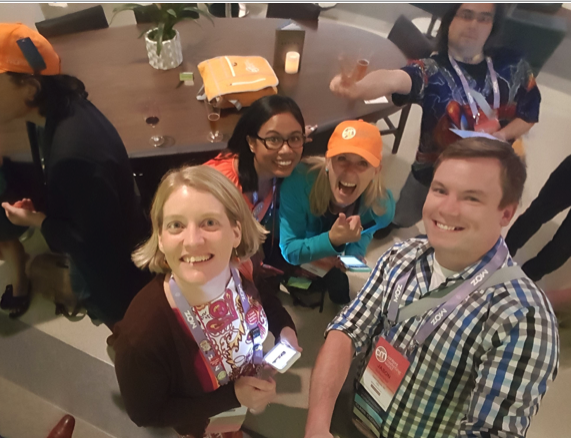 Shop for orange pants. I saw pictures of the event and was delighted to see so many people embracing the brand's orange color and it dawned on me that I just didn't have enough orange to rock. #orangeproblems I've been collecting more orange things.
At the risk of having your answer be "everyone!" who was someone or some people that made your time in Cleveland worthwhile?
It's tough to narrow it, but these folks made a serious impression:
Ben Rome – Ben went outside of his comfort zone to join us at our tweetup and I'm so delighted he did. He brought his lego self-portrait, took some amazing pictures and shared stories and experiences about his life and family. He's had some lovely successes this year, and it's been a pleasure to celebrate with him.
Jeff Renoe – I remember Jeff best for celebrating my strong personality and helping this herd of cats from place to place. He's most memorable for his incredibly good nature and his dedication to his family. As I've learned about his work over this past year, I've been delighted to see how talented he is to boot!
Monina Wagner – Monina was on the top of my list to meet at CMWorld this year. She's the hostess with the mostess on our tweetchats and I was so excited to meet the woman who has crafted this close-knit community. She personally invited me to their early cocktail hour and she was my life raft that first day!  It's been delightful to get to know her better!
Jason Schemmel – Jason and I met in person and it was like I had found another sibling. He was funny, open and smart. So far this year, we've collaborated several times on a pitch we were doing for CMWorld 2017. That means, we've gotten to chat face to face via Skype and bring our collective knowledge together.  It's been such a pleasure to build both a working and personal relationship with him!
Berrak Sarikaya – I went all the way to Cleveland to meet Berrak even though we live and work in Seattle! We found each other to be kindred spirits over related (and delicious) cocktails at a bar in Cleveland. Not only was she great company, but she's also a very talented writer. We're now doing business together and enjoy the occasional happy hour!
Cathy McPhillips – I met Cathy in the #CMWorld tweetchat, and she was at the top of my list of awesome people to meet in real life. It turns out she's an amazing content marketer, dedicated mom, and overall truly nice person. It's been so much fun to follow her and her family's shenanigans on Facebook. I'm also excited to be involved in more Content Marketing Institute stuff this year because that means I get to work with her more!
Generally speaking, which sessions did you prefer the most based on your content marketing needs last September? The tactical tracks and breakout sessions, or the future content keynotes? (I know…how do you even choose?)
The session that really stuck with me was Gini Dietrich's "Email DRIP Campaigns that Work". Not only was she engaging, but she introduced me to the topic of "onboarding" a prospect when they sign up for your mailing list and that's proven to be a piece of the puzzle that is going to be critical to engaging with my particular demographic.
How did you prepare for CMWorld 2016, and how would you prepare differently for CMWorld 2017?
Last year, I spent a lot of time boning up my courage as a lone traveler to a place where I had never been with people I didn't know.  This year, I'll be coming with metaphorical "guns blazing" bringing fresh energy and aiming to get a collective of tweet-chatters together for another year of fun at "#CMWorld Tweetup, Episode 2".
Last year, I was a volunteer. This year, I'm manifesting a rather significant change. I am hoping to join the Content Marketing crew as a speaker! I imagine that a good portion of my time will be putting the finishing touches on on my talk and ensuring that the follow-up materials serve to bring that community together after the session!
What was your favorite part about Cleveland, and was this your first visit here?
Definitely the humidity. Ha!
But really, the people were incredibly helpful and kind. I wish I had gotten out a little more, but the event and the humidity kept me in check.  Next year, I'm going to make a little checklist for myself so I can truly explore and enjoy a little more of what Cleveland has to offer!
If you could have one wish for CMWorld 2017, what would it be?
I'd love to see us get into the nitty gritty of the Advanced sessions. I propose we break up the advanced sessions into two parts:
Introducing a topic – short lecture: You shouldn't need to do a lot here, the abstract will have already sold it. People who are choosing advanced sessions already understand the concepts and are likely to be looking for either forward-thinking topics or advanced skill building
Application – how to apply it to common situations: Let's put it into practice. Maybe it's a technical application of an email nurture strategy, or perhaps it's a quick workshop on how to uplevel your writing, or maybe you're talking about marketing automation variables in content… no matter what those topics are, let's do a demo of how to apply it to give people some real meat to bring home with them.
Thank you so much for being so awesome, Maureen!
We hope to see YOU at Content Marketing World 2017. Registration is now open, and our super early bird rates are in effect until Friday, March 2. Don't forget, February is a short month, and 3/2 will be here before you know it. Use code BLOG100 to save an additional $100 off of these super early bird rates!
Posted February 10, 2017 in: Event by Cathy McPhillips
---