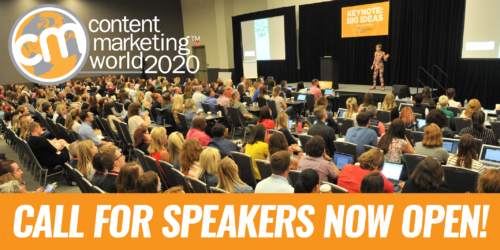 Ticket to Content Marketing World – $899
Airfare – $250
Hotel – $300
Orange clothes – $75
Hearing a speaker with solid, actionable, measurable advice that you can actually use: Priceless
It's what we hear every year from our attendees.
They love the big names that we bring to the keynote stage. But what really differentiates CMWorld from other marketing events are our speakers who come from all over the world from big brands to small brands, B2B, B2C, every industry and more. It's the speakers who share innovative practices, detailed case studies, new stories, inspiration and trends in the content marketing space that help CMWorld stand out.
Do you know what the most rewarding moment is for us as part of the Content Marketing World event team? When someone submits an incredible proposal, and our event team finds out that their entire success story is based on learnings from the CMI blog or a previous Content Marketing World. It happens every year, and it's incredible to see. These learnings each year turn into award-winning content marketing programs for our attendees.
Our goal for CMWorld is simple: We want to send our attendees back to the office after #CMWorld smiling and armed with the latest tools and advice to help them do better, smarter work.
What makes a great presentation and what wows the Content Marketing World audience? Here is some feedback from attendees about some of our CMWorld 2019 presenters:
Amanda Lordy, NASCAR– "Really great speaker. Very engaging. Transparent and tactical. Good examples. Good cadence."
Amanda Todorovich, Cleveland Clinic– "Amazing speaker. Incredible insight. She's so transparent and engaging. I would come back to this conference just to attend her sessions."
Wally Koval, Accidentally Wes Anderson –"Great talk. He was entertaining and told a compelling story while sharing a lot of relevant and useful information."
Tim Schmoyer, Video Creators– "Unbelievably helpful and insightful, and I really felt like he provided a wealth of knowledge that is going to aid in the way we move forward as a company."
Michelle Park Lazette, Federal Reserve Bank of Cleveland– "The most inspiring speech I witnessed at Content Marketing World packed full of tools that I can apply the moment I'm back in the office!"
So, what do you say? Are you ready to submit your proposal to speak at CMWorld 2020? If you think you've got what it takes, we want to hear from you! Just make sure you follow these two very important details: YOU MUST USE THE ONLINE SUBMISSION FORM AND A VIDEO SAMPLE IS REQUIRED.
Here are some tips for wowing our review committee:
Be specific – The more you can focus on your craft, the better. General content marketing submissions will not be selected.
Skip the basics – Don't waste precious minutes defining content marketing terms. Jump right into the good stuff!
Share your stories – Attendees want case studies, measurable outcomes, specific how-to sessions that have immediate takeaways.
Bring the right people – Are you an agency or tech provider? Submit/co-present with a client so we can see how your amazing work impacted a brand.
Follow the rules – Use the official submission form and include the required video! This form to submit is the only way submissions will be reviewed.
Essentially, we want our attendees to learn, grow, and be ready to return home after CMWorld prepared to do better and smarter work for themselves, their brand and/or their clients.
And lastly, diversity is of utmost importance to us. We learn the most when we hear from content marketers from all backgrounds. We want our speakers to represent our community.
How can you help? Send in your submission by 12/20, and we would be grateful if you forwarded this to someone who has a great story to tell who may not know about CMWorld or our Call for Speakers.
You have until December 20 at 11:55pm EST to submit your speaker proposal.  And if you're procrastinator, just keep in mind: NO LATE SUBMISSIONS WILL BE ACCEPTED.
So please apply now!  SUBMIT YOUR PROPOSAL
If you still have a question about your speaker submission, please email: [email protected].
Just please remember, that actual speaker submissions will not be accepted at this email address, you must use the online submission form to apply.
And if speaking isn't for you, and you just want to attend #CMWorld, registration officially opens for Content Marketing World 2019 on December 2, 2019.  Either way, we hope to see you at #CMWorld.
Posted November 5, 2019 in: Event by Cathy McPhillips
---