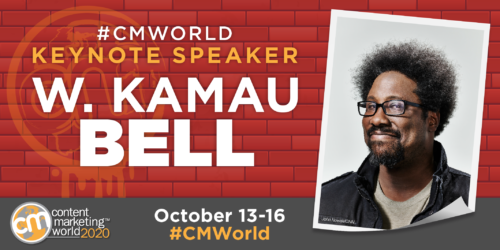 According to babynames.com, Kamau means "quiet warrior." I was searching for information on W. Kamau Bell as I prepared to write this post, and "What is the meaning of Kamau?" came up as a recommended search. As I've learned more about W. Kamau Bell over the past few weeks, the word warrior seems like a perfect fit, with the strength and persistence of a truly dedicated pioneer. But quiet? Hardly.
Bell's career is a winding and storied one, as the best always are.
Kamau Bell is a sociopolitical comedian who is the host and executive producer of the Emmy Award winning CNN docu-series United Shades of America with W. Kamau Bell. He recently made his Netflix debut with the stand-up comedy special, Private School Negro. Kamau has a book with the easy-to-remember title The Awkward Thoughts of W. Kamau Bell: Tales of a 6′ 4″, African American, Heterosexual, Cisgender, Left-Leaning, Asthmatic, Black and Proud Blerd, Mama's Boy, Dad, and Stand-Up Comedian.
He is the director of the critically-acclaimed documentary Cultureshock: Chris Rock's Bring the Pain. Kamau has hosted three critically acclaimed podcasts: Kamau Right Now!, Politically Re-Active, and Denzel Washington is The Greatest Actor of All Time Period. The New York Times called Kamau "the most promising new talent in political comedy in many years."
Kamau has been nominated for multiple NAACP Image Awards and a GLAAD award, and he was featured on Conde Nast's 'Daring 25' list for 2016. The SF Weekly called Kamau "smart, stylish, and very much in the mold of politically outspoken comedians like Dave Chappelle," though he was mostly just excited that they called him "handsome." The New Yorker said, "Bell's gimmick is intersectional progressivism: he treats racial, gay, and women's issues as inseparable." Kamau is also known for his criminally short-lived FX & FXX comedy series, Totally Biased with W. Kamau Bell.
Kamau still finds time to travel to college campuses around the country, performing his one man show that inspired Totally Biased, The W. Kamau Bell Curve: Ending Racism in About an Hour. Kamau's writing has been featured in The New York Times, Vanity Fair, The Hollywood Reporter, CNN.com, Salon, The LA Review of Books, The Establishment.
So, let's count the content that Bell has created or been a part of:
Podcasts
Books
Film/documentaries
In-person events
Video
Articles
…and that's just scratching the surface. Like great content creators, Bell is pushing the envelope, having hard conversations, and listening to his audience as he tackles topics on United Shades of America that his audience is craving: White supremacy, the gig economy, public schools in 2020, American farming, and more. Spoiler: The public schools episode is really, really excellent. I also listened to him a few weeks ago on Conan O'Brien's podcast "Conan O'Brien Needs a Friend," and had as many laughs as I did moments of inspiration.
We look forward to his keynote at Content Marketing World 2020, and we'd love to have you there with us. In the meantime, to hear more from W. Kamau Bell, visit the W. Kamau Bell website or follow him on Twitter.
Posted August 25, 2020 in: Event by Cathy McPhillips
---