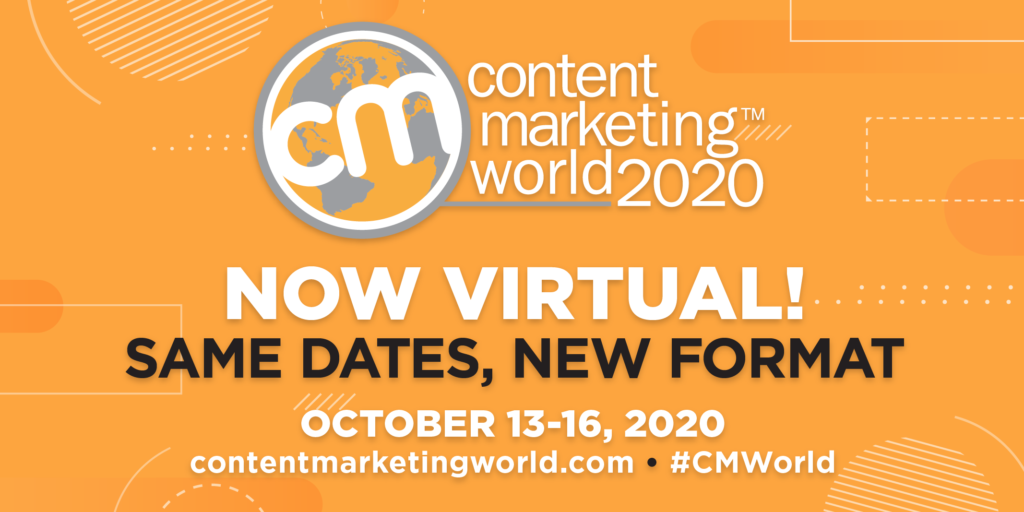 It's official – Content Marketing World 2020 is going online! In Content Marketing World form, we're planning the most educational and fun virtual event you've ever seen, and also planning to deliver more education, networking and information to our community online throughout the second half of the year than ever before. Please keep these dates on your calendar – October 13-16, 2020 – for the main event and stay tuned for additional learning and networking opportunities before and after.
We'll miss seeing our community members in person, but we are very excited that we can gather together online for a one-of-a-kind experience, CMI-style.
We now have three virtual options:
All-Access – Main Conference including keynotes, plus ALL workshops and ALL industry forums, and an opportunity to connect, share and learn with your industry peers. This All-Access virtual pass will give you access to the entire week's event content and additional educational opportunities throughout the rest of 2020
Main Conference Plus – Main Conference including keynotes, plus one workshop or industry forum, and the ability to connect, share and learn with your industry peers
Main Conference – Access to breakout sessions and keynotes all week long, and the ability to network with fellow attendees and meet with our technology vendors. This does not include workshops or industry forums.
The idea is for us to all gather in October, but the conference sessions, keynotes and workshops will all be accessible on demand for 12 months following the big event. Additionally, we will have great content in forums and workshops leading up to and following the event and following which you can be a part of.
Our speakers are on board, and our sponsors and exhibitors are on board. We're so excited for what's to come. We're seeing things through our orange-colored glasses and are finding the joy in the opportunity to connect with you more than ever before, and at a time when we are all craving community, friendship and growth. Hugs will be back soon enough, but in the meantime, let's learn and laugh together, get practical, get inspired, find new connections, and so much more. We might also talk about our pets, play games, and dance, just like we do when we're together.
Current passholders: check your email! Didn't receive it? Please email us.
Not yet registered? We can help! Head over to our registration page and use code CMWBLOG100 to save $100 off virtual pass prices.
Posted June 24, 2020 in: Event by Cathy McPhillips
---