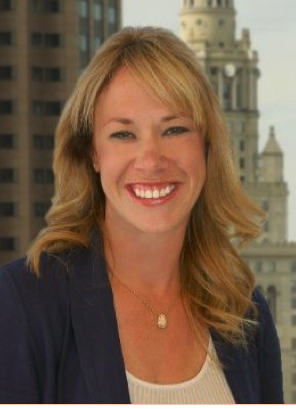 Colleen O'Hara is a member of elite squad known as…our Content Marketing World Wall of Fame members. Our first CMWorld was in 2011 in Cleveland with 600 marketers, Colleen was at that event, and has been at every one since then. Currently Marketing Director at Britton Gallagher, we've enjoyed speaking with and learning from Colleen at all six CMWorlds so far, and we've also crossed paths online on our #CMWorld Twitter chats and offline at industry events in Cleveland.
What brings someone back to an event year after year, someone whose role has evolved into a leadership and strategic role? We sat down with Colleen to ask a few questions. We hope you enjoy it.
How many years have you been coming to Content Marketing World?
Since the beginning! 6 years and counting!
Why is it important for your company or your role to attend CMWorld each year?
This conference offers so much, but I think the most important take away is the connections we make with other marketers. After going year after year, you see the same people who I have built friendships with and who are a great support throughout the entire year. With the event growing, there are always new people who bring new ideas, experiences and resources for me to learn from. Those connections are worth the investment alone. This group really is my tribe, they understand exactly the kind of challenges I face and are there to celebrate when I have a success with a project. They are always willing to take time out of their own day to help brainstorm or evaluate a piece of content. No one is afraid of giving any secrets away and are always willing to offer advice, their own experiences and what has worked for them.
What is your biggest content marketing challenge?
As a small marketing department, our biggest challenge is time and resources. It always seems like there are fires to put out that can interrupt planning and execution for a long-term content strategy. Once it's in place, however, its rewarding to see things starting to happen, qualified leads coming in and the light bulbs going off for our sales people that this actually works!
What do you do to prepare for the Big Show each year?
Research the speakers and identify the sessions that are addressing areas we are working on or need more insight. We also look at the sessions that are talking about the future of content marketing, whether its related to technologies or best practices.
Do you feel the event changes each year and grows with your needs? Could you cite any specific examples?
Absolutely. That's why I come back each year and no two years have ever been the same. Content marketing is always changing and the tracks and topics offered during the event always reflect those advancements. As a long-time attendee, I still find sessions that teach me something new, especially with analytics. The last few years, Andy Crestodina's sessions have become a must-attend. He gives insights and tips on how to actually use your analytics to create and measure content so you support and achieve your business objectives. At the end of the day, our job is to create more revenue opportunities and his sessions always bring everything full circle for me.
What has been your favorite moment of any CMWorld you've attended?
I met Rick Springfield in Columbus, along with Jack Hanna, which were cool fan girl moments! I loved listening to Kevin Spacey, since I'm a huge House of Cards fan. All the speakers have a way of relating their stories and their seemingly unrelated connections to content marketing and our struggle as marketers.
What is one thing you'd like to see in a future CMWorld, whether it be speaker, session topic, networking event?
Continue to offer the advanced classes and more female speakers. I would like to see more smaller B2B companies or brands that are a little more relatable to my situation and challenges.
Great ideas, Colleen! We are working on diversity in many areas for CMWorld 2017, as Joe Pulizzi wrote about in a recent CMI blog post. We also love the idea of some small businesses sharing their stories and successes. Vishal Khanna is someone who has really mastered his small team and their work.
We look forward to an incredible Content Marketing World 2017, and are just thrilled that you will be there! It wouldn't be the same without you!
For those of you that haven't committed to CMWorld 2017, feel free to spend time on our website learning more, or please ask us questions! We're here to help. Registration is now open, and the best rates are available through December 31, 2016.
Posted December 16, 2016 in: Event by Cathy McPhillips
---