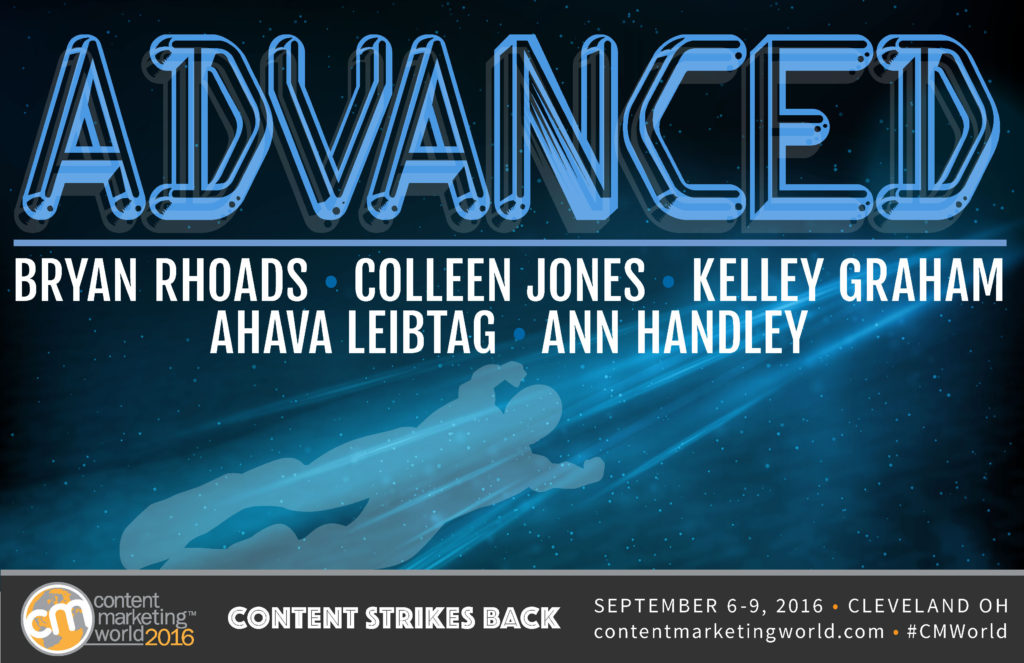 Within the Advanced Projects Laboratory at Content Marketing World, there are experts who can help you take your content marketing up to hyperspeed. From strategic audience targeting and content intelligence to mobile design and ludicrous writing, our content masters will elevate your content marketing game to the point where your competitors will think you're using a cloaking device. These classes aren't for beginners, folks. Are you ready for the next level? Check out the specifics:
Audience Building through Strategic Targeting, Retargeting & Sequencing
Bryan Rhoads
Building the right audience is central to earning a return on your content investment. Advances in things like media technology, cookie pooling, content syndication, look-a-like audiences, retargeting and more allow for highly targeted content and messages aimed at building audiences for your business and brand. But not if you don't know how to use them. Attend this session to learn:
A media technology primer
Mapping content strategies to media targets
Content franchises, lenses and sequencing
Strategic Audience building – Intel, Vice and the Creators Project
Intel iQ's strategy and examples
Leveraging Content Intelligence: Lessons Learned at American Cancer Society
Colleen Jones and Kelley Graham
Brands and agencies can work together to do more than create great content. Learn how the American Cancer Society and Content Science partnered to modernize the renowned nonprofit's approach to content and analytics and gain insights into transforming a mix of analytics and data into actionable content intelligence. Attend this session and you'll:
Learn the difference between content measurement and content intelligence
Understand the impact of giving more content creators and stakeholders access to content intelligence
Get tips for overcoming the challenges of assembling a mix of analytics and data
See examples for how content intelligence can unlock the potential of content to make a difference
Content Design and the Mobile Device
Ahava Leibtag
Since this mobile thing looks like it may stick around, now would be a good time to understand how your content displays on a mobile device. But seriously, as mobile becomes ever more important and mobile traffic rises into the stratosphere, it's more than one person's job — everyone on your team needs to understand it. The good news is, well, this session! Join this conversation and you will be able to:
Hear the latest trends and techniques for developing mobile content strategies that will effectively get your content to the right people at the right time
Learn to work with designers and developers to achieve your vision
How to Level-Up Your Writing and Make it Ludicrously Spectacular
Ann Handley
Most everyone hates writing. But most everyone loves to have written (and everyone loves to hear Ann Handley talk about writing). Come to this fun session to hear her take on how you can level-up your own marketing writing. And don't worry, this isn't a warmed-over version of stuff she's covered in Everybody Writes, her most recent book. This is brand-new material based on insights she's gleaned since her bestseller was published nearly two years ago. In this new talk, Ann will share three key insights into how you can take your writing:
From second-rate to spectacular
From mediocre to remarkable
From boring to brilliant
Please consider joining one or more of these great sessions at Content Marketing World 2016 as the content strikes back! And if you haven't registered yet, there's still time. Use the code ADV100 to save $100 today! And the first five people to comment on this post will win an autographed poster at #CMWorld 2016!
Posted July 28, 2016 in: Event by Mike Myers
---