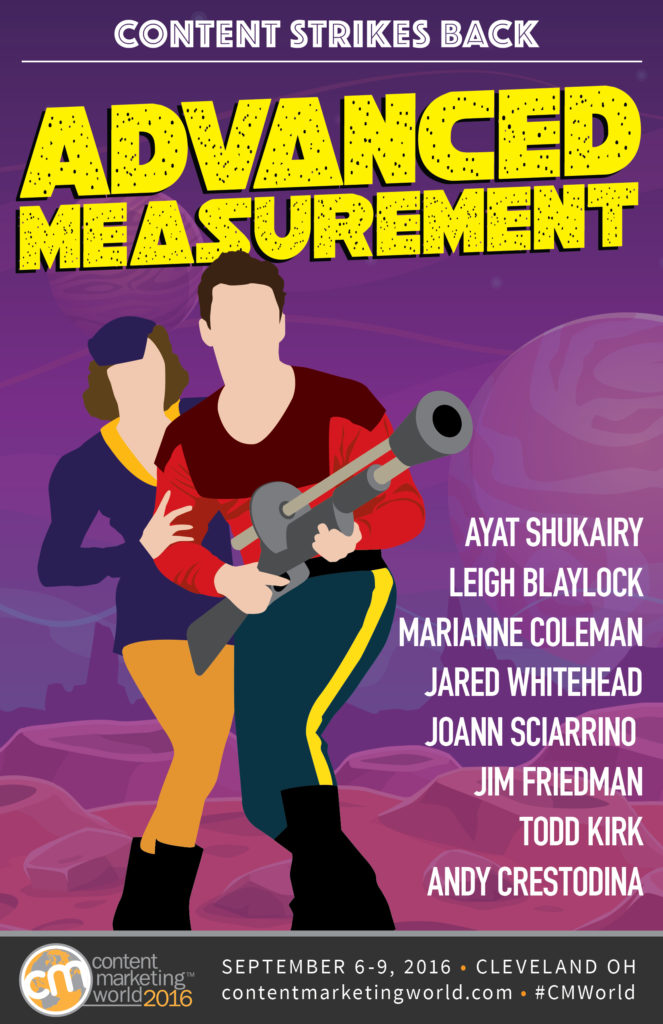 Advanced Measurement
Across the galaxy, there are different ways to measure distance — nanometers, millimeters, Trogan meters, Glekks — but there's only one way to learn about advanced measurement and that's to attend these sessions! Here, you can learn how to navigate data, differentiate between valuable content and bloat, trace content to revenue and make future measurement easier and more effective. That's better than 500 Glekks. Check out the specifics:
Beyond Simple Numbers: ROI through Data and Analytics
Ayat Shukairy
Creating amazing content is important, but it's only effective if your audience thinks it's amazing. So, how do you track that content and its effectiveness on your audience and how can you determine whether or not your content is helping you make sales? Easy, attend this session. Here, you'll learn how to:
Navigate quantitative data
Use data to solve problems on your website
Combine qualitative and quantitative data for the greatest ROI
From Content Bloat to Content Gloat
Leigh Blaylock, Maryanne Coleman and Jared Whitehead
What happened when content became king? Everyone wanted a piece of the king. Everyone created content (and everyone became a writer). There was too much marketing content and an infographic for every topic. Attend this session to learn how a small team convinced a company of nearly 10,000 to stop drinking the content Kool-aid and start making healthier content choices. Here's what you'll learn:
How to differentiate between valuable content and content bloat
And how to convince your company that difference matters
A content scoring methodology, dashboard, audit, and ROI analysis to prove it
How to Tie (and Trace) Content to Revenue – a Panel 
Jim Friedman, Todd Kirk and Joann Sciarrino
Most of us don't sell only online. So, what's the best way to approach an evaluation for brands that market through both online and offline channels? Can owned content be objectively tied and traced directly to ROI when the brand simultaneous manages clicks and bricks? Is there a measurable difference in ROI with higher levels of brand attachment for the owned content? Whoa, lots of questions. Good news: you can get the answers to these questions and your own (hey, it's a panel discussion, right?) by attending this session. You can learn:
An objective approach to link owned content to demand and describe the ROI in terms of both revenue and brand attachment
How to enable more appropriate marketing allocation and budget setting, as well as accurate message and content insights
Web Design vs. Analytics Setup: 5 Little Design Decisions That Cause Big Analytics Problems
Andy Crestodina
When your website was designed, hundreds of little decisions were made. Those design decisions have a big impact on how you use analytics, but too many people forget to ask simple questions early enough to improve results down the road. By attending this session, you can gain a new perspective on how you should approach web development, analytics setup and collaborating with your team around data. Through explicit and relevant case histories, this session will outline and answer three critical questions:
Are goals and conversions easy to track? Learn how to set them up right
Is the performance of content easy to measure? Learn proper URL structure
Is your site listening for the topics your visitors want?
Please consider joining one or more of these great sessions at Content Marketing World 2016 as the content strikes back! And if you haven't registered yet, there's still time. Use the code MEAS100 to save $100 today! And the first five people to comment on this post will win an autographed poster at #CMWorld 2016!
Posted July 21, 2016 in: Event by Mike Myers
---