Content Marketing World is part of the Informa Connect Division of Informa PLC
This site is operated by a business or businesses owned by Informa PLC and all copyright resides with them. Informa PLC's registered office is 5 Howick Place, London SW1P 1WG. Registered in England and Wales. Number 3099067.
#CMWorld – Ask Us Your Questions!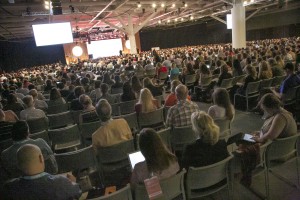 Content Marketing World 2015 is 6 weeks away! Wow! Of course there are so many small details for the CMWorld and CMI team to wrap up, but we're so excited for our biggest – and what is sure to be best – CMWorld yet! Did you know this is the 5-year anniversary of the event?
This is going to be a short blog post from us, because we're looking for questions from you. Here are some ideas – but of course ask anything else as well!
What questions do you have for the CMWorld event team?
Are you still not registered? What questions can we answer for you to help you decide?
Who are you most looking forward to seeing and hearing? What questions do you want to ask them?
What are you hoping to take from the event, and how can we help make that happen?
If you could ask Joe Pulizzi one question, what would it be?
Leave your questions and comments in the comments section below and we'll answer them right away!
And just in case…register here, and use code CMI100 to save $100! If you're bringing a group, let us know so we can fill you in on group rates!
Posted July 27, 2015 in: Event by Cathy McPhillips
---
UP