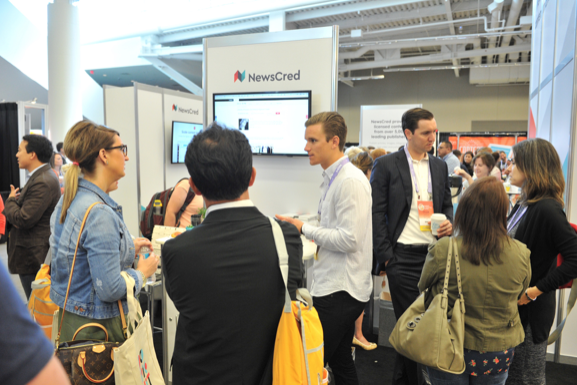 One of the best ways to continue the conversation after Content Marketing World…and also to find some big takeaways is to read the blog posts of others. Many times it validates what you've  been thinking and what you could use for your own needs, and other times it takes all your notes, scribbles and tweets and puts them all into a beautiful blog post. These three attendees wrote about everything from creativity, myth busting and research.
Some takeaways happen on the expo floor talking to a sponsor at a booth, others take place over breakfast with a new friend or at the evening entertainment, and others, obviously, take place in the informative sessions.
Enjoy these excerpts from these three blog posts, and be sure to click on the links to read their entire posts. Thanks Gary, Ellen, Jon and Linsey for taking time to put your thoughts and learnings into blog posts!
The Line Between Data-Driven Marketing and Creative Content Marketing
by Gary Parkinson
Says Gary, "Creativity doesn't need to take a back seat to data, and a data-driven marketing strategy shouldn't prevent you as a content marketer from flexing your creative muscles. As with many things in life, there's a thin line between the two practices that you must walk to achieve success.
Consult with your team from the C-levels to your fellow producers in order to find an agreement on the line between data and creativity. It's best to keep your entire team on the same page. Then you can feel comfortable expressing your creative ideas when new demands are placed on the table.
Use your data to conduct the background research and determine who you need to reach. Analyze what triggers led existing clients to purchase your products, and what messaging brought them into the fold. Then you can brainstorm creative ideas with your team and extend the reach of your content to a whole new pool of potential buyers.
This process will take time to pay off but remember that your primary job as a content marketer is not to sell. Your job is to build awareness, gain respect, develop trust, and establish authority to help convince those who are interested in your solutions become users of your solutions."
Legos, Lightsabers, and ROI: 3 Big Takeaways from Content Marketing World
By Ellen Gomes
Rand Fishkin spent much of his time debunking marketing myths:
•Marketing Myth #1: Amplification starts after you hit the publish button.
◦This is pretty close to being 100% false. Why? Because success should be set up well ahead of publication. Creating an amplification plan, whether it's through influencers or public relations, is a thoughtful part of any content strategy. This can simply mean doing a bit of research about who the movers and shakers are for a specific topic, making a list of people, and then asking them to contribute and review. At your base, you will have their amplification to count on.
•Marketing Myth #2: Paid channels are how you boost your content's reach.
◦This has some grains of truth since paid channels definitely do help amplify your posts. However, paid amplification works best on pieces that already do well organically. The caution here is to be wary of pouring dollars into short-term, one-off returns and have a deep understanding of what works well organically.
•Marketing Myth #3: Best practices are recommendations, not requirements.
◦Most best practices are taken from correlation of data. Correlation is a recommendation and should be used as a path for inquiry and experimentation…not as a set of rules to follow.
Skyword's Top Takeaways from Content Marketing World 2016
By Jon Simmons & Linsey Morse
In a recent CMI study, only 20 percent of marketers said they are fully committed to a content marketing approach. Pulizzi questioned how marketers are able to be successful with this lack of commitment. "I believe that mediocre content will actually hurt your brand more than doing nothing at all."
It felt like a dare. "This purgatory is killing us right now, and I want you to be successful," he said.
Pulizzi urged marketers to target one audience at a time, with one mission and message, telling a different story and publishing consistently. He left us by telling the story of Loot Crate's success, and how the company grew to be worth over 100 million dollars in just a few years—all through the power of its content marketing efforts.
What makes a piece of content great? For Crestodina, the keys are:
Original research. This can come from observation (choosing a data set and analyzing/repackaging it), aggregation (bringing existing data points together into one central place to answer a question or solve a need), and surveys (ask yourself what people in your industry often say, but rarely support—then find that missing stat and report on it. As Crestodina said, that will make you "the primary source for an important piece of data in your industry").
What else did you learn at CMWorld this year? We know that some of you are now pouring over the post-show video access you purchased. Any new nuggets that you've learned or want to share? Leave us a comment!
Posted October 7, 2016 in: Event by Cathy McPhillips
---