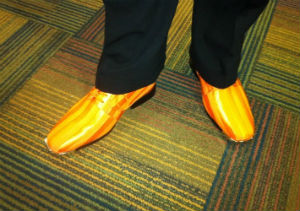 Photo credit: TopRank Marketing/Lee Odden.
We know you have many choices for how you spend your time and money as you continue to advance your content marketing prowess and we appreciate that you'll be spending some of it with us this fall. To ensure you're putting your best foot forward as you prepare, we've gathered a variety of resources to help, so let's get started!
PRO TIP #1:Download the CMWorld app and get familiar
The Content Marketing World mobile app is a must have and will be available for download soon! Keep watching the blog – we'll announce here when it will go live! You can earmark the sessions you'd like to attend so your schedule is built in advance (please note that sessions are not secured in advance; it's first come, first served, but we've made sure the most popular tracks and speaker have large rooms.) The app becomes your calendar for the week. It will help you know where to go next and always keep you one step ahead. And you can chat with other attendees, plan meet-ups and more. Did we mention it was free? Done.
PRO TIP #2:'Meet' people in advance on a CMWorld Twitter chat
Many of the participants in our weekly CMWorld Twitter chat also attend CMWorld in September. Find out when people are going to arrive, which parties and events they're going to attend – all the good stuff. Just follow the #CMWorld hashtag at noon ET every Tuesday and you'll have a leg up.
PRO TIP #3:You'll want to bring something orange to wear
Those who are new to CMWorld may not know, but experienced attendees will tell you that orange is the color at CMWorld. It's the favorite color of our founder, Joe Pulizzi, and it's simply everywhere at the show – from what people are wearing to signs and drinks – even the snacks! Bring something orange with you and you'll feel right at home (and, if you dare, you can join the orange pants society).
PRO TIP #4:Download CMWorld lists from Twitter
On the CMI Twitter account, we've created lists you can download as you prepare for what will almost certainly be the single best content marketing experience of your life (well, at least since last September). We have a list featuring each of the speakers for this year's show and a list for all of our valued sponsors so you can see who you'll be learning from during the week, follow along during the show and even reach out in advance!
PRO TIP #5:Check out everything else you can do in your free time
There are so many sessions and events that you won't have a ton of it, but be sure you're ready to use your free time in Cleveland well by checking out this well-curated list of cool things to do in northeast Ohio.Want to see the angel of death weep black tears,visit the incredible Cleveland Museum of Art for the Yayoi Kusama: Infinity Mirrors exhibit – in town until September 30! –  or visit the actual house from the Christmas Story movie? Yeah, we've got that. And more. The awesome people who live and work here built this list and it's definitely worth your time.
PRO TIP #6:Attend the Getting the most out of CMWorld session
As if all of these tips weren't enough, the first official session of CMWorld happens the afternoon before the show starts, where you can hear all kinds of tips and tricks for getting the most out of your (or your company's) investment. In this not-to-be-missed session, VP of Marketing for CMI Cathy McPhillips and I will share our insight and do our level best to make sure you are ready to roll.
Maybe you can tell, but we are beyond excited to see you in Cleveland September 5-8 and we're committed to helping you get your best foot – orange sock and all – forward so you'll learn a lot and have a great time.
And if you haven't registered yet, it's not too late! And code CMWBLOG saves $100! Here's something to think about: if we do all of this while helping people get ready before CMWorld, just imagine how awesome it is to attend! We hope to see you all soon!
Posted July 13, 2018 in: Event by Mike Myers
---