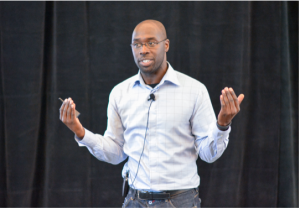 Ever have trouble visualizing a strategy? It's really not that hard, first you just…yeah, okay, that's a tough one. We've all been there.
All of us, that is, except Cleve Gibbon.
Cleve is a content strategist, marketing technologist, digital marketer and content architecturalist (okay, we made that last one up). Suffice it to say, Cleve Gibbon knows about the structure and strategy of content.
But he knows something else — something far more important to the rest of us — he knows how to explain all of this stuff so it makes sense. And thank goodness for that. As Chief Marketing Technology Officer at Cognifide in the UK, Cleve helps people apply technology to simplify their lives, and who's not up for that?
As an example, Cleve sees a brand's digital properties as real estate. This philosophy helps him to quite literally pull up and visualize all of the different assets on a map, showing their interactions and how they all can be managed effectively.
Check out the video below from Content Marketing World 2015 where Cleve talks about this concept as well as the six things he thinks about when managing a digital estate.
Go ahead, we'll wait:
Now you can see what we mean. Cleve takes the seemingly impossible task of talking about a digital estate that may include a thousand properties — from a website, down to individual pages, down to elements on a page, down to placeholders — and somehow makes it understandable.
He also talks about how no brand can actually do all of this by itself, which is refreshing.
Many presenters are so concerned with delivering their solution that they may over-sell it. Not Cleve. He's upfront about the fact that there will be hard work to do, but it's necessary work and it needs to be done if we're going to deliver the broader, deeper experiences people expect.
Just imagine the power your brand could have if you were able to manage all of your digital properties in this way.
Of course, we know you may not be able to travel all the way to the UK to hear Cleve speak, so we're once again bringing him to Content Marketing World in Cleveland so you can come and be inspired. Rest assured, we will be, too.
Let's be inspired together this September as we learn how to visualize a digital content strategy. Just try to tell us your boss won't be impressed with that!
To connect with Cleve, you can find him on Twitter, check out his LinkedIn profile or visit his company's website today!
And, while you're here, why don't we just jump on over to the Content Marketing World 2016 registration page to learn more and get started…sound good? Of course it sounds good. Let's go! Don't forget – code BLOG100 saves $100!
Posted February 25, 2016 in: Event by Mike Myers
---