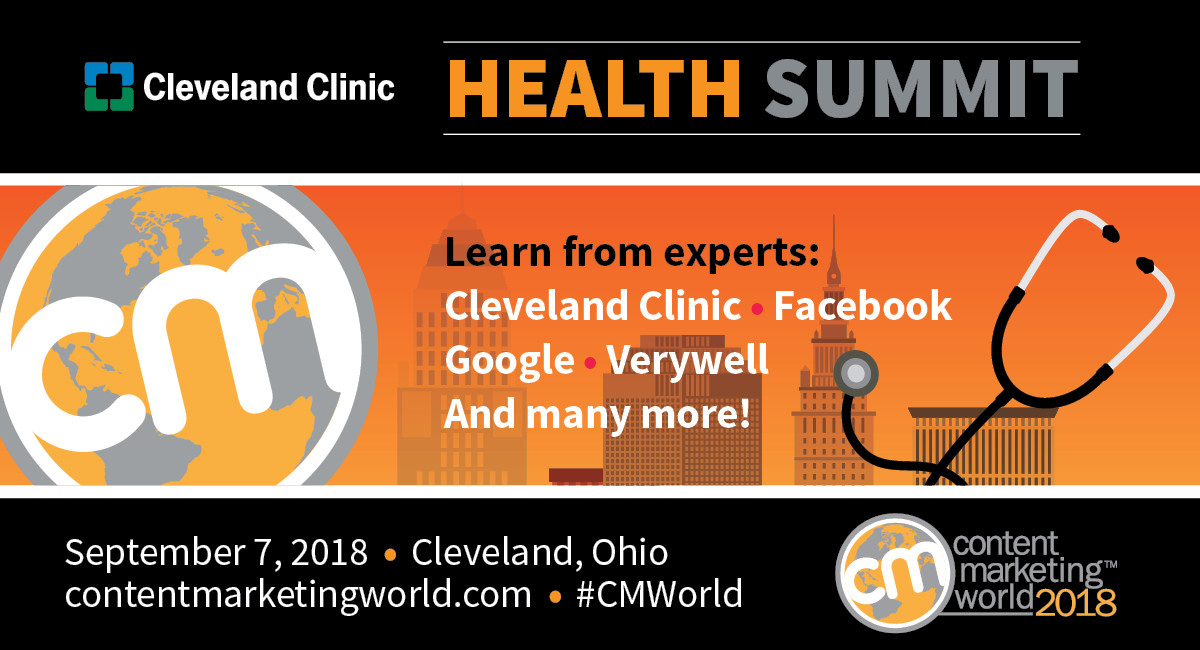 The CMWorld Cleveland Clinic Health Summit returns for a 2ndyear! This year the Health Summit (replacing/combining our Healthcare and Pharma labs from previous years) will again be an "event within an event" where there will be opening and closing general sessions, and also a choice of two breakouts throughout the day (Friday, September 7).
Running from 8:30am – 3:45pm, the CMWorld Cleveland Clinic Health Summit includes many amazing marketers, content marketers and communications professionals from the Cleveland Clinic, their partners, and other leaders in the healthcare space. Speaker include:
Amanda Todorovich (Content Marketing Director, Cleveland Clinic)
Buddy Scalera (Associate Director, Social Media Safeguarding and Solutions, Novartis Pharmaceuticals Company)
Ahava Leibtag (President, www.ahamediagroup.com)
Nathan David (Digital Marketing Manager, Cleveland Clinic)
Mary Beth Pate (Executive Director, Marketing Communications, Cleveland Clinic)
Matt Bakaitis (Director, Digital Marketing, Cleveland Clinic)
Loren Chylla (Executive Vice President, Marketing Strategy and Media, The Adcom Group)
Brian Gresh (President, Loyal)
Emily Babbitt (Account Executive, Google Health Systems)
Rob Parisi (SVP/General Manager, Verywell)
Amanda Todorovich, Content Marketing Director for the Cleveland Clinic, and our partner in this collaboration, explains why she's so excited for our 2ndyear both on LinkedIn, as well as in this video:
Speakers and industry leaders will dissect the many facets of healthcare content marketing. Learn from content marketing leaders who won't let regulations, HIPAA, or enterprise-based challenges get in the way of connecting with customers and growing their businesses through epic content.
The agenda for the day includes:
7:30am – 8:30am Continental Breakfast
8:30am – 8:35am Welcome
8:35am – 9:00am Opening Remarks
9:00am – 9:45am Keynote Presentation
10:00am – 10:45am Breakout Sessions (2)
11:00am – 11:45pm Breakout Sessions (2)
11:45am – 12:45pm Lunch
1:00pm – 1:45pm Breakout Sessions (2)
2:00pm – 2:45pm Breakout Sessions (2)
3:00pm – 3:45pm Keynote Presentation
Here is just a sampling of some of the great breakout sessions:
Mary Beth Pate & Loren Chylla will help us explore how Cleveland Clinic has worked with partners such as the New York Times and Washington Post to deliver highly engaging and creative native content using the latest digital technologies. They'll share cases involving the use of 360 video, interactive timelines, and fully integrated programs utilizing social, content and earned media.
Ahava Leibtag, longtime CMWorld speaker, will demystify plain language. The healthcare customer journey is complex. We want to meet our customers where they are and help them understand the steps they need to take to get better and achieve wellness. But often, our stakeholders want our content to sound like The New England Journal of Medicine when we know our customers don't respond to that type of language. In this session you'll learn the realities of plain language, how to talk to your stakeholders about it, what "dumbing down" is really all about and how to write better for healthcare audiences.
Matt Bakaitis and his partners from Falls Digital will talk about the challenges – and opportunities! – of working with an agency. As an extension of your team, your agency partner wants to understand your expectations and deliver successful outcomes – but effective communication is key. In this session, we'll discuss how to communicate effectively with your agency partner by providing the right context and information they need to help you achieve your desired results, and how to learn from missteps along the way to make every new project better than the last.
Nathan David & Emily Babbitt will discuss Google customer insights, and how this can help your healthcare content marketing. Impactful marketing insights don't have to come with a high price tag. As care affordability initiatives have squeezed healthcare marketing budgets, data driven marketing has become more imperative. Data drives effective marketing efforts that can be measured and defended. Learn about Google Trends, Google Analytics, Data Studio, Keyword Planner, Consumer Surveys, and other free Google tools that are invaluable for healthcare marketers.
Not registered? There's still time! The CMWorld Cleveland Clinic Health Summit can be purchased as a stand-alone day (September 7), or as part of Content Marketing World's main conference plus package (main conference PLUS the healthcare summit), or Content Marketing World's all-access pass, which includes a workshop on September 4, as well as post-show video access to the entire main conference. Ready to register? Visit our website. Need help deciding what's right for you? Email us and we can help!




Posted July 26, 2018 in: Event by Cathy McPhillips
---