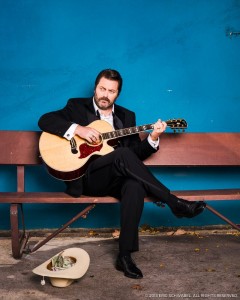 There is so much about Nick Offerman that the CMI and CMWorld team loves – from the deadpan humor so characteristic of his role as Ron Swanson on NBC's hit TV series Parks & Recreation, to his serious accomplishments on stage, to his carpentry talents (seriously, who doesn't love that?), and to his series of performances at college campuses offering practical advice to the future of our nation.
That's why we're so thrilled to announce that Offerman will be taking the stage at Content Marketing World 2015 as our closing keynote on September 10, 2015.
Not only are we sure that Offerman will deliver up some great improv while on the CMWorld stage, we're most looking forward to learning about how creativity has impacted his role in Hollywood and how he's gotten the attention of so many. Much like us marketers, we're all striving to get the attention of the right audiences, and with Offerman having built a huge cult-like following of fans, we can all learn a little something from him.
Why Nick Offerman?
"Every year for our closing keynote at Content Marketing World, we like to highlight creative people that are a bit, let's say, unconventional, from Kevin Smith, to William Shatner to Kevin Spacey," explains Joe Pulizzi, founder, Content Marketing Institute, and author of Epic Content Marketing and the upcoming book for entrepreneurs, Content Inc. "As an actor, writer, producer and entrepreneur, Nick Offerman has developed the reputation as one of the most creative artists in Hollywood. He has a unique take on storytelling, and what it takes to get attention in a smartphone world."
"We're beyond excited to add Offerman to our already-all-star lineup for Content Marketing World 2015," says Pulizzi.  "Offerman will share insights into what makes a great story, how to stand out in a world of sameness, and why those who take risks and have "gumption" make all the difference. I can't wait to hear about his creative process and his take on what brands should do with their content." 
More about Content Marketing World!
This is the fifth and biggest year yet for Content Marketing World, with an expected 3,500 marketers from 50 countries in attendance. Offerman will deliver the closing keynote speech on day two of the main event, Thursday, September 10 at the Cleveland Convention Center.  For this year's Hollywood-inspired theme, "Bright Lights, Big Content" we are also rolling out the orange carpet for actor, comedian, and creative mastermind John Cleese as the closing keynote speaker on day one of Content Marketing World, Wednesday, September 9. Additionally, one of the world's most entertaining musical acts, Barenaked Ladies, will be the performing on September 9. 
Check out the Content Marketing World website to see the agenda and all the speakers.  You can also check out this video  to see what CMWorld is all about. Then register today for the best content marketing event on the planet! Don't forget to use code CMI100 to save $100 off your registration. 
Posted July 6, 2015 in: Event by Cathy McPhillips
---