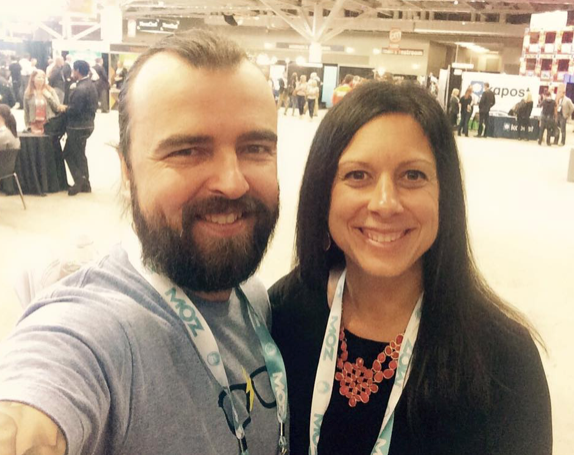 Going on four years now, I took over the reins at CMI for our marketing, social and community efforts. Roles have shifted and our thankfully our marketing team has grown. But, who knew that along the way, while doing my job, I'd pick up such valuable lessons from our Content Marketing World community? I thought I'd share a few with you.
Make time to connect in person
Yes – I'm guilty – really guilty – of being online all day long and barely talking to a human. By being online, you *think* you really know someone, know about their likes, dislikes, their job, and so on. And you may very well be able to do a lot of that online, but truly, there's NOTHING better than seeing someone in person. The online presence gives us the benefit of not having to say, "What have you been doing for the past 12 months?" We can ask more meaningful questions and have better conversations and skip all of the small talk. The in-person presence lets us look at each other, learn more, and have fun.
Scott Stratten was one of the first people I followed on Twitter way back in the late 2000s, and we continued to connect online through marketing, mutual friends, and a shared interest in the nonprofit Share our Strength. I had the pleasure of meeting him in person at People Report's Summer Brand Camp in 2011 after his presentation. I walked up to the stage, he gave me a hug, and was just awesome to spend time talking to him. I introduced myself and he said, "I know who you are!" So yes – there's totally a value to meeting people online and developing a relationship – but Scott helped show me how much cooler it is to do it in person. The photo in this blog post is from CMWorld 2015, when we were able to catch up again, which I now know will happen at least once a year – hopefully more. There's just nothing quite like it.
Christoph Trappe and Leah Ingram both have come to Cleveland in the past few months, both on pretty busy days for all of us, but I eked out a couple hours to see them both. I Skyped with Erika Heald and had an hour-long phone conversation with Traci Browne. It was wonderful to learn more about them, chat on work-related stuff, and talk outside of the hustle and bustle of an event. It propelled our friendship from online connection to event connection to friend, very simply and easily. I'm certain  – or I hope at least – that it has helped them feel more welcome and feel like a valued member of our community.
Find out what matters to someone
Friends of mine, Jim and Laura Kozak (some of you may know Laura as CMI's e-media manager), 20 years ago, lost their daughter shortly after birth. My friend and her husband donated her heart to a young girl in need. An incredible story of selflessness and the beauty of life. Fast forward 20 years, the recipient (with whom they are still in contact) has taught my friends grace and determination. Each year, to honor their daughter's memory and beautiful gift she gave to another family, they participate in a walk/run with Lifebanc. This is the first year I'm able to participate, and I'm happy that I can finally support my friends through actions as well as donations. Being in marketing, I tweeted out that I was participating in this event. That's what we do, right? Within 10 minutes, Jeff Julian, an industry friend, speaker at CMI events, and someone I spent time with in person in Las Vegas at our Intelligent Content Conference, donated to this great cause. I sent him a private message on Twitter thanking him for his very generous and unexpected donation, and he said, "I love the cause. So many lives are saved through transplants. We will be cheering you on!" What a kind gesture from someone who took time to learn more about me, and in turn my friends, outside of our marketing world.
These gestures don't need to be that big or financial in nature…it could be a simple "this reminded me of you" or "I thought you'd like this." It is entertaining as well as heartwarming to see when and why people may think of me. I try hard to return those gestures or let someone else know I'm thinking of them. As Monina Wagner and I discussed in our session last year at #CMWorld, taking time to know our community is much like nurturing a friendship. Relationships are the essence of our business.
A little fun goes a long way
The marketing, social, communication and marketing worlds don't exactly fit into an 8-hour day. Our best writing might happen at the wee hours of the morning or late at night…or sometimes, when you're on a roll, it happens over the course of many days at an intense pace. And don't forget the other hours spent online growing and nurturing a community. Or the time spent traveling to and from client meetings, and so on. Phew! And while much of that IS entertaining, it's nice to get out a bit and have a little time to unwind, relax, and have fun. A couple years ago we danced the night away at CMWorld 2014 with our attendees with an 80s rock band, and in CMWorld 2015  we belted out tunes with one of the best bands to sing along with – Barenaked Ladies. Other years we've toured the Rock & Roll Hall of Fame, and did a pub crawl through Ohio City. Suffice it to say, fun was had, and we make sure all CMI events are fun for our attendees. The daytime sessions and networking are what you pay for, but the evening events allow our minds to take a little breather. So, it's always important to make time for the fun.
Focus on the important stuff.
Sure. We're all here to grow our businesses, and content marketing is helping us do all of that. But somewhere along the way, we've developed relationships, made friends, had a blast, learned more about each other, and helped our community out as much as we possibly could.
And that, my friends, is what Content Marketing World means to me. I can't wait to see you all in Cleveland in September.
To meet me and other members of our #CMWorld community in person, register now for Content Marketing World 2016! September will be here before we know it, so take advantage of great prices now! In fact, BLOG100 saves $100 off of current pricing! Questions? Please leave a comment here, or email me at cathy [at] contentinstitute.com.
Posted June 7, 2016 in: Event by Cathy McPhillips
---