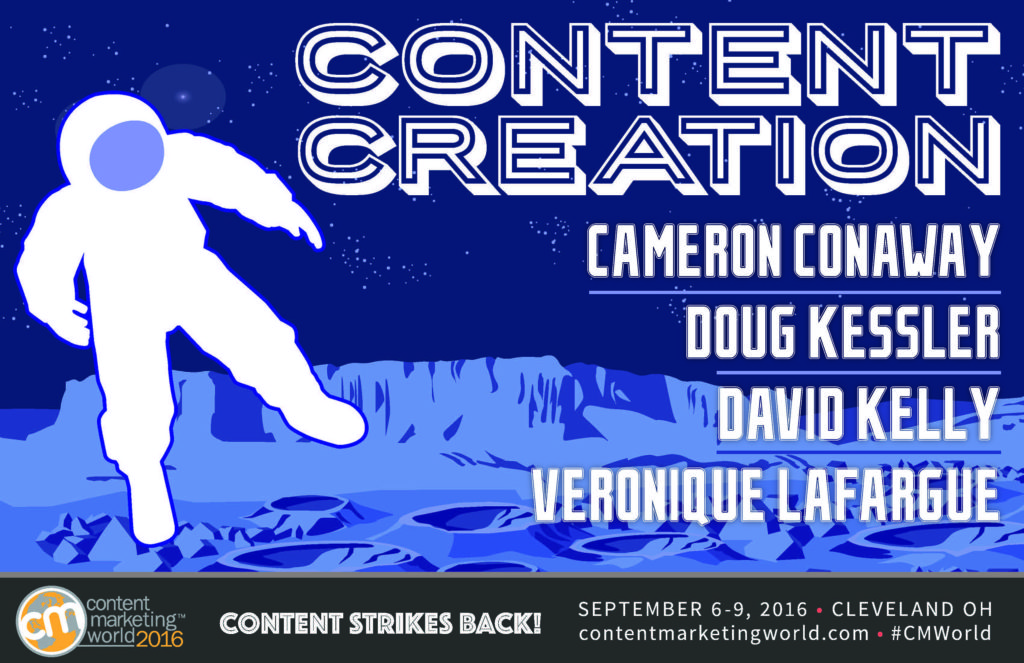 Content creation
Planning and strategy are vitally important; just ask Vader. But, at the end of the day, if your message doesn't inspire and motivate your audience to take action, you've wasted your time and money. Don't be a buckethead, come learn from this diverse set of content creation masters and put the content creation force with you and your brand.
What Great Content Looks Like: The Power of Insight 
Doug Kessler
The best content – content that really resonates – is always built on a crystal of insight: a fresh understanding of a specific, discrete truth about the audience. Learn how to:
Listen for the kinds of insight that drives better content
Brainstorm to grow insights into ideas
Make the 'little leaps' that add up to big impact
Journalism, Content Marketing & the Shared Wor(l)ds Between 
Cameron Conaway
The fields of journalism and content marketing certainly have their differences, but there's much to learn from where their lines blur. You will learn:
    What are journalists learning from content marketers?
    What do journalists think content marketers need to know?
    What can both fields teach us about creating valuable content?
How to Evangelize Your Community to Create Content for You (User-Generated Content) 
David Kelly
Creating a regular stream of content can be extremely challenging and a major drain on time and resources. But what if we were able to get members of our community to create our content for us?  You'll discover:
Ways to engage your community into creating content for your brand
The community content value proposition from the viewpoint of both the community and the brand
How curated community content can make community members evangelize your brand
How To Create Content with the Big Three (Personal, Local, Experiential) in Mind
Veronique Lafargue
In a world of listicles, tweets, and infographics, we often demand that our readers ingest vital information in under a minute. But there's a whole audience out there hungry for content that's beautiful, well-crafted, and genuinely informative. Here, you'll learn:
How to be authentic and memorable, with new formats that will engage audiences better
Three content types that are personal, local, and experiential
Including examples of fresh, meaningful content that sticks
Please consider joining one or more of these great sessions at Content Marketing World 2016 as the content strikes back! And if you haven't registered yet, there's still time. Use the code CREATION100 to save $100 today when you register! And the first 5 people to leave a comment on this post will win an autographed copy of this poster at #CMWorld 2016!
Posted June 17, 2016 in: Event by Mike Myers
---