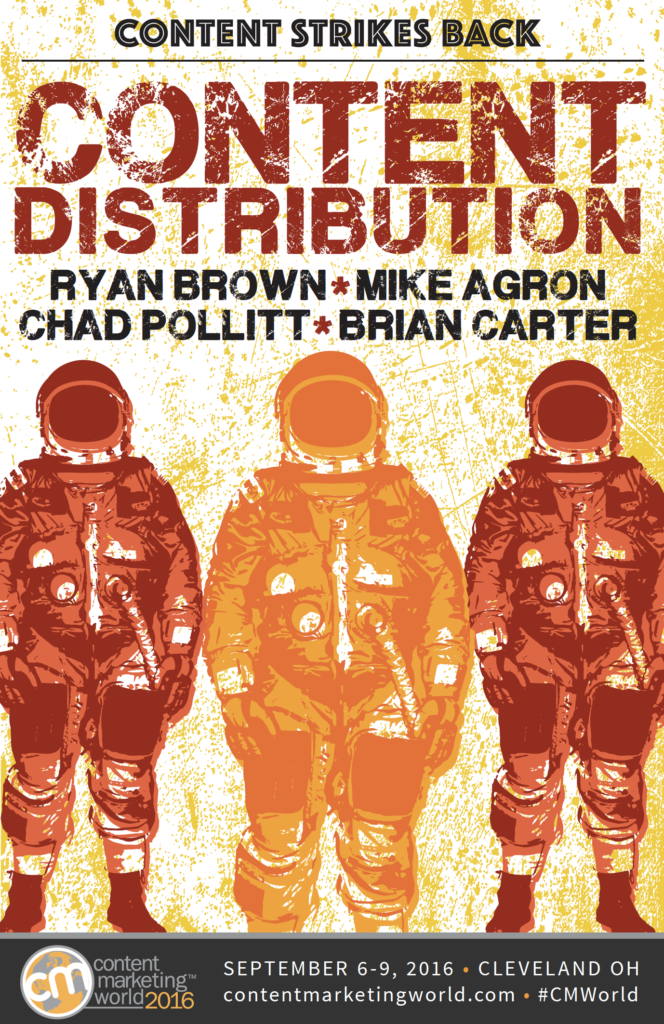 Content Distribution
Like the Stratos Distribution, an area deep in the Unknown Regions, content distribution can be somewhat mysterious and dark. But it doesn't have to be! Come learn how to do everything from using webinars in creative ways and inspiring people to follow your brand to promoting your content successfully and mastering advertising on Facebook. See, thanks to these sessions, content distribution isn't so dark and scary after all. Check out the details:
Webinars and Demand Generation: How 3 brands use webinars for demand generation and market research
Mike Agron
Using webinars to generate leads makes a lot of sense. But have you thought about how webinars can be used in other ways? For the same investment, you can be using webinars as a powerful way to collect valuable life-cycle intelligence that can help you better understand the market's readiness for a particular offering. Attend this session to hear how three brands have used webinars in different ways and learn how you can:
Generate ideas and be creative again with how we use webinars — they aren't just for demand generation
Drive new leads and as a market research tool
Discover the key metrics and analytics to use before, during, and after a webinar to measure the mood of your buyers' readiness and familiarity with your offering
Moving Businesses By Moving People 
Ryan Brown
There's just something about inspiration. People who are inspired can do great things. And, if you can position your brand as a source of inspiration, people will follow. This session is about the story of how one brand leverages travel industry expertise and a special client partnership to decommoditize the travel booking experience and move business by moving people. Attend this session and you'll be moved to:
Learn how a content strategy that's inspirational and rich in nature, paired with experience design and crafted with distribution in mind, can garner results for your brand
Understand Lean Marketing and how can it create operational efficiencies in your content strategy
Paid and Unpaid Content Promotion and Distribution Methods that Actually Work
Chad Pollitt
The internet is a crowded and noisy place for content to be able to stand out — and it's only getting worse. No longer can most brands rely on a build-it-and-they-will-come strategy to drive the content visibility and engagement they so desire. This session features advanced methodologies to help content marketers have successful and measurable efforts consistently over time, while simultaneously building a lasting and profitable audience. Sound good? You bet it does. Here's what you'll learn:
Why both earned and paid content promotion adoption is on the rise
A proven process for discovering the best earned and paid content promotion channels
Which promotion and distribution channels actually work for top-funnel content
Budget expectations for content promotion and distribution
Facebook Advertising Lead Generation and Content That Sells
Brian Carter
What would be better, to walk away with powerful actionable tips or laugh all along the way. How about both? This session will help you learn how to hack your customer's brain, grab attention, create content that sells and get affordable, high-quality leads from Facebook. And, as if that weren't enough, the presenter has a background in improv and stand up comedy so you know it's going to be a blast! It's a match made in content marketing heaven. Here's what you'll get:
Highly-effective Facebook advertising targeting, images and copywriting for Content Marketing
How to get $10,000 of market research for free and uncover the difference between your best buyers, your competition's customers and the average Joe Schmo so you can laser-target your best customers and get them to buy
"The 4 Basic Marketing Strategies" in The Persuasion Grid™ to ensure you're marketing and selling at full power. Many companies are missing out on customers and revenue because they're ignoring one or more of these basic strategies
The "7 Types of Social Content That Convert", so you can get into the customer's consideration set, build brand authority and customer trust, make you their #1 choice, and activate buyer emotions to trigger them to buy from you
Please consider joining one or more of these great sessions at Content Marketing World 2016 as the content strikes back! And if you haven't registered yet, there's still time. Use the code DIST100 to save $100 today! And the first five people to comment on this post will win an autographed poster at #CMWorld 2016!
Posted July 26, 2016 in: Event by Mike Myers
---