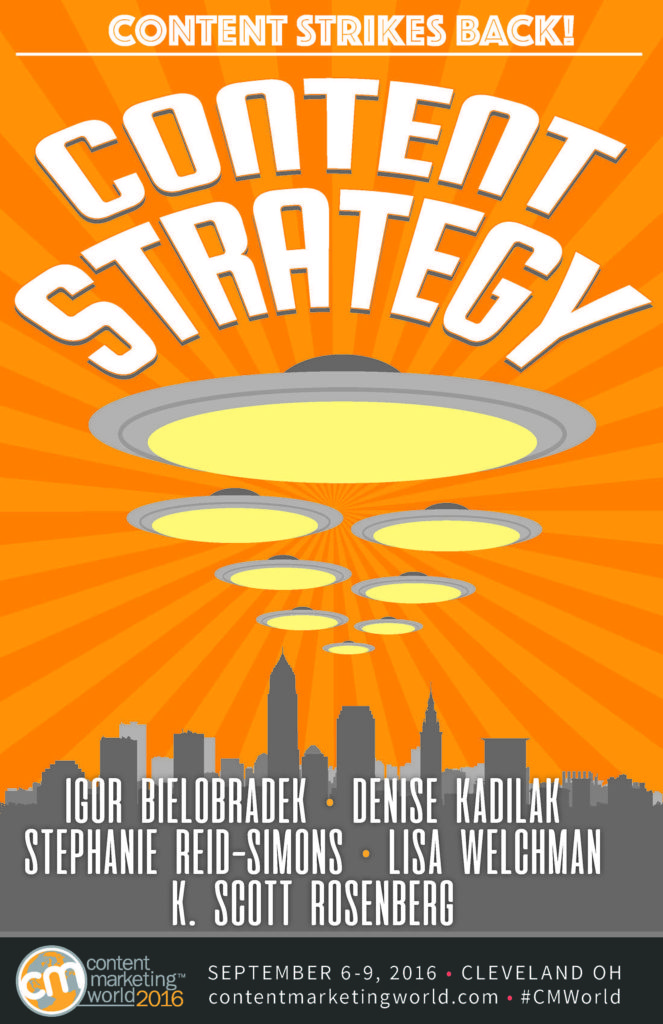 Content Strategy
Think of these sessions as the Strategy Center of Content Marketing World. Formerly the War Room, the Strategy Center is the place where the Rebel Alliance (I mean, your brand) can hear from content strategy experts and create a plan of action that the Imperial forces (I mean, your competitors) simply won't have an answer for. Check it out:
Editorial Calendar – How to Manage Content Effectively in a Complex Organization
 Igor Bielobradek
Wouldn't it be great to have a content calendar that would help you do things like develop a content planning process, create a content life-cycle management process, build a content distribution process, oh, and foster employee advocacy and support along the way? Deloitte actually created an app for that…in Poland. Come to this session to check it out and learn how to:
Plan for the whole content life-cycle and use your resources effectively
Identify content at the earliest stage of planning to avoid competing streams of content fighting for your audience's attention
Use an editorial calendar to promote employee advocacy in social media
How to Document and Architect Your Content Strategy
Denise Kadilak
To build a successful architecture around your content, you need to have a clear understanding of the difference between Information Architecture (IA) and Content Strategy (CS). This session takes a look at the relationship between the two and address some of the complexities involved in satisfying the requirements of this relationship. Specifically you'll learn:
What the relationship is between IA and CS
How to plan your navigation and content to successfully:
-Prioritize for your users
-Control the stories your content tells
Review samples, both successful and unsuccessful
COPE with Hungry Content Channels: What the 'Create Once, Publish Everywhere' approach is and how it can maximize everything you create – in social and beyond
Stephanie Reid-Simons
Your great content is not a tasty snack, it's a full-on feast – if you know how to COPE. From articles to videos to photo galleries, it's easier than you think to increase the impact of your work via social media, email and syndication to a content-hungry world. Here's what you'll learn:
How COPE works whether you're a team of one or running a team of many
How to think like a French chef, using the whole pig; let nothing you create go to waste
What You Are Doing Wrong with Digital Governance and How to Fix It
K. Scott Rosenberg and Lisa Welchman
If you think digital governance is a dry topic, you need to attend this session! Digital governance is the backbone that gives content professionals the support they need to drive their strategies through the business. Now, doesn't that sound like something you have to see? Check this one out to learn:
How Intel put digital governance theory into practice
A proven implementation strategy used to implement a governing framework that supports the delivery of better content online
Understand best practices you can use today
Please consider joining one or more of these great sessions at Content Marketing World 2016 as the content strikes back! And if you haven't registered yet, there's still time. Use the code STRAT100 to save $100 today! And the first five people to comment on this post will win an autographed poster at #CMWorld 2016!
Posted July 9, 2016 in: Event by Mike Myers
---