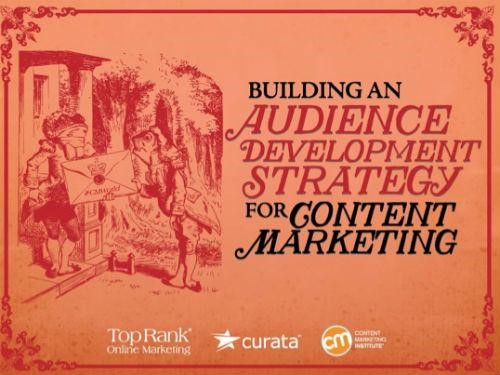 Joe Pulizzi has often said "Content without strategy is just stuff." A big component of that strategy is your audience. From buyer personas to audience input to community engagement and beyond, audience development is key to a successful content marketing strategy. 
The 2nd ebook in the #CMWorld series, Building an Audience Development Strategy for Content Marketing, 10 experts share their advice on this topic as we prepare for Content Marketing World in September. 
The content marketing storytellers in the Audience Development eBook include:
Building An Audience Development Strategy for Content Marketing is the second in the series of 4 Content Marketing eBooks featuring a selection of the 2014 #CMWorld speakers. These eBooks cover Strategy, Audience Development, Visual Content and ROI.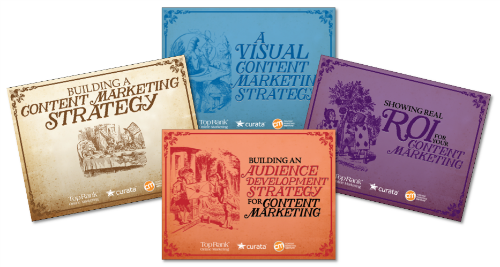 You can find the first eBook here: Building a Content Marketing Strategy. This series of eBooks is produced by TopRank Online Marketing and sponsored by Curata. 
The next eBook in the series to publish will be A Visual Content Marketing Strategy featuring content marketing insights from experts that include: Maggie Burke from EMC, Tim Washer from Cisco, Brant McLean from Tumblr, Carla Johnson from Type A, Steve Clayton from Microsoft, Mark Schaefer, Lee Odden from TopRank, Jim Kukral, Jason Miller from LinkedIn and Pam Didner, author of the new book Global Content Marketing. Watch for the Visual Content eBook next Monday August 18th. 
Find TopRank represented at CMWorld!
Lee Odden will be giving a presentation at Content Marketing World September 9th at 3:30pm (Content + Influencer Marketing = A Powerful Way to Grow Your Business) on how to connect with industry influencers to co-create amazing content to grow your business. 
Susan Misukanis and Lee Odden are also giving an industry lab workshop: Content Marketing for Technology and Software companies on September 11 with guest speakers from Dell (Connie Bensen), LinkedIn (Koka Sexton and Jason Miller) and Pam Didner, previously with Intel and author of the new book, Global Content Marketing. 
We'll see you at Content Marketing World in Cleveland, September 8-11. Not registered? Use code "TopRank" for $100 off your registration.
Posted August 13, 2014 in: Event by Cathy McPhillips
---