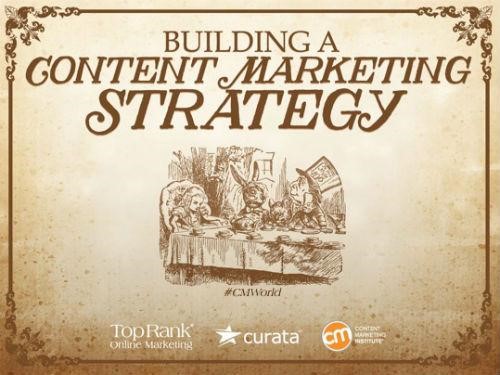 Content Marketing World 2014 is going Beyond Storytelling. So, it only seemed fitting to create this year's ebook series around one of the most quintessential stories of all time – Alice in Wonderland. 
How are your content marketing efforts going? Are you on a content marketing path without a documented content marketing strategy? Do you feel like you're Alice, living Content Marketing in Wonderland? 
Lee Odden and the TopRank Online Marketing team connected with 12 content marketing experts – both industry thought leaders as well as leading brand practitioners (and not coincidentally, also Content Marketing World 2014 speakers) to offer their advice on building a content marketing strategy. 
We enlisted the expertise of these leaders:
Jeff Charney @jeffcharney, Chief Marketing Officer, Progressive Insurance
Jen Dennis @jendennis2000, Content Strategy and Marketing Consultant
Gurdeep Dhillon @gurdeepd, Vice President, Customer LoB Marketing, SAP
David Jones, Publications Manager, John Deere
Brian Kardon @bkardon, CMO, Lattice Engines
Rebecca Lieb @lieblink, Analyst, Altimeter Group
Bruce McDuffee @brucemcduffee, Senior Manager, Content Marketing, Boeing
Jesse Noyes @noyesjesse, Senior Director of Content Marketing, Kapost
Alan Porter @alanjporter, Content Marketing Manager, Caterpillar Inc.
Rick Short @RickShort21, Director of Marketing Communications, Indium Corporation
Paull Young @paullyoung, Director of Digital, charity: water
Jascha Kaykas-Wolff @kaykas, Chief Marketing Officer, BitTorrent
As we take our Content Marketing World attendees "beyond storytelling" – and delve into a deeper content marketing framework complete with content marketing strategy, workflow, content curation, ROI, audience development and visual content event tracks (just to name a few – visit our agenda page here for a complete list of sessions and tracks)
Big thanks to TopRank Online Marketing for partnering with CMI to create this new series of eBooks for Content Marketing World 2014. We hope this inspires you with new ideas, strategies, and applicable, practical content marketing advice.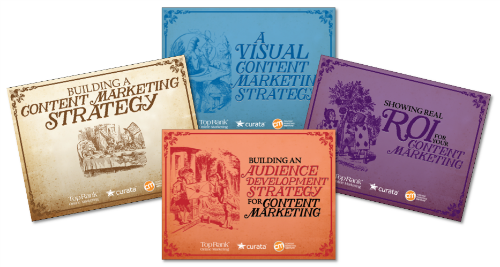 Building a Content Marketing Strategy is the first in a series of 4 Content Marketing eBooks featuring a selection of the 2014 #CMWorld speakers.
Following Building a Content Marketing Strategy, the next #CMWorld eBook in the series publishes on Monday, August 11: Building An Audience Development Strategy for Content Marketing featuring content marketing expertise from experts like Ann Handley, Jeff Rohrs, Scott Abel, Scott Stratten, Scott Monty, Brian Clark, Heidi Cohen, Leigh Blaylock, Adele Revella and Jonathon Colman from Facebook. A new eBook will be published every Monday in August. 
Thank you to Curata, sponsor of this year's #CMWorld eBook series. Curata is a leading provider of business grade, content curation software that enables marketers to curate the most relevant and highest quality content as part of a successful content marketing strategy. 
See the collective 40 eBook contributors and many more at Content Marketing World in Cleveland, OH Sept 8-11, you can save  $100 off of your registration with the code "TopRank."
Posted August 6, 2014 in: Event by Cathy McPhillips
---