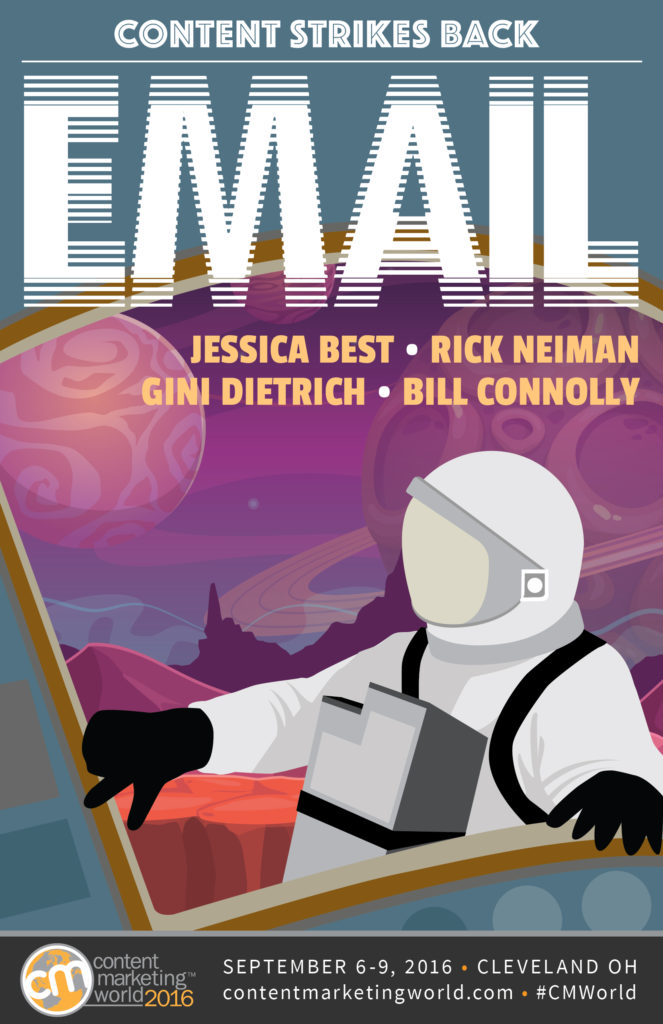 Email
While a communications transceiver let the Iskalonians in the water speak with the so-called airbreathers who stayed in their self-contained underwater city, email is much simpler. But that doesn't mean it's any less valuable. Join up with these sessions to learn how to take your email 'transceiving' to the next level. From increasing your ROI and measuring through automation to email campaigns that just work, attending these sessions can make you the email Jedi of your dreams. Check them out:
6 Proven Tactics for Rockin' Email Marketing ROI
Jessica Best
Everyone's doing email marketing today, but some are doing it much better than others. Once you've knocked out the basics of email marketing and are sure you're getting into the inbox, join this session to learn the tactics that are proven to help you rock email marketing and get results. What kind of results? How about campaigns making $20+ for every $1 you invest? Yeah, those results. In this session, you'll:
See actual creative and campaign examples that are earning more than a $20 ROI
Learn how to apply these tactics to your own marketing strategies
Learn how to prove your own email marketing ROI
Learn how to test new ideas — and how much to invest in seeing if they work
How to Measure the Value of Your Email through Marketing Automation 
Rick Neiman
Of course, B2B marketing professionals can use email and marketing automation to generate and nurture leads through the buying cycle resulting in bigger, faster, smarter content marketing efforts. But knowledge is one thing, and execution is another. In order to deliver the content that will move each individual lead closer to a decision — exactly when they need it — you have to continuously analyze your leads and measure the impact of your email marketing. To understand all of that, you need to attend this session. Here's what you'll learn:
Review the ways brands use marketing automation to help measure the effectiveness and value of their email marketing initiatives
Understand how brands quantify the value of this marketing investment
Email DRIP Campaigns that Work
Gini Dietrich
Email newsletters are a great way to communicate with your clients and prospects, but there's one tiny flaw: new subscribers only see new emails. People new to your list never see the previous emails you sent and can never catch up to those who subscribed before them. A great email drip campaign will not only level the playing field for all of your subscribers, but compels them to action. Sound good? This session will show you how to:
Build an email marketing program that brings new subscribers up-to-speed
Create content specific to your email audience that not only educates and informs, but drives toward action (free trial, sign-up, purchase)
Segment audiences and deliver specific (and automated) content to each
Take templates and swipe copy and get to work
You've Got Mail: How Consumer Photos Breathe New Life into Email
Bill Connolly
Think email is old school? Triggered emails generate 152% more click-throughs than traditional email and 75% more revenue than one-size-fits-all campaigns. But with the volume and variety of emails that consumers and potential buyers receive, brands still need to do more to spice up their campaigns and stand out. This session will show you how to:
Enrich the email experience by tapping into the wealth of authentic visual consumer-generated content that's being shared by your social communities
Understand how this "earned" content not only feeds the demand for relevant content, but has proven to drive increased engagement, sales, transaction value and customer loyalty
Please consider joining one or more of these great sessions at Content Marketing World 2016 as the content strikes back! And if you haven't registered yet, there's still time. Use the code EMAIL100 to save $100 today! And the first five people to comment on this post will win an autographed poster at #CMWorld 2016!
Posted July 23, 2016 in: Event by Mike Myers
---