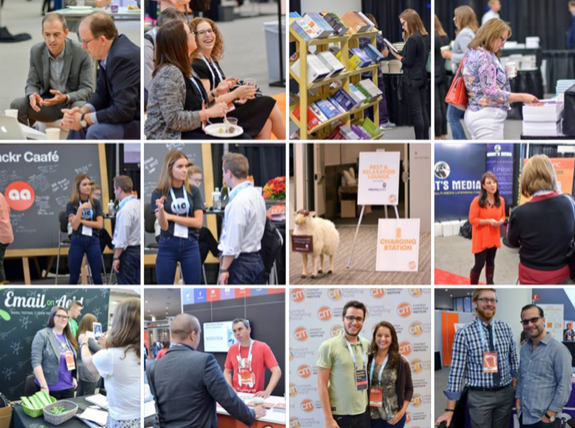 We seemingly can't say enough great things about the Expo Hall at Content Marketing World each year. While looking through photos from Content Marketing World 2015, one of the things that stood out to me was the collection of photos of sheer happiness, laughter and fun taking place in the expo hall. Which leads me to believe a couple things:
Content Marketing World is fun. (Obviously.)
Our sponsors are staffed with great people to run their booths, and are ready to have great conversations with attendees.
Attendees want more than free stuff, they want great information, insights and ideas.
Which is thrilling to us. We want to set all of our attendees and sponsors up for success, but many of you have just helped make it even better by getting right in there by starting engaging conversations and building new relationships.
What do we have in store for 2016? We're thrilled to welcome back our two platinum sponsors, NewsCred and Trackmaven.
From the NewsCred website:
NewsCred is on a mission to help marketers create content people love, and prove that great storytelling will drive long-term business growth. As the world's leading content marketing platform, we're powering marketing technology for the future – helping brands transform the way they connect with people, build brand love, and win more customers.
From the Trackmaven website: 
Our mission is to make marketers more effective through data that is understandable and actionable. At TrackMaven, we think that doing great things is difficult; it takes guts and the brightest minds giving it everything they've got. We believe our team should be full of Mavens: people who are absurdly talented and passionate but also a little bit goofy.
Additionally, Manifest returns as our Platinum Agency.

From the Manifest website: 
We create memorable experiences that power measurable business results. Brands are fighting for intimacy in an age of disruption, so we purpose-built Manifest to help brands understand people better than anyone else.
And those are just our platinum sponsors! Our gold sponsor, PulsePoint, our silver sponsors, Skyword and ion interactive, and our specialty plus sponsors, Searchmetrics, Conductor and Brightcove also all have great events and fun planned for you.
Find out more information on our other sponsors including our bronze sponsors and media sponsors on our website homepage. Scroll to the bottom for complete lists.
For a look back on the Content Marketing World 2015 expo hall, visit our Facebook album. If you see yourself or your company, be sure to add a tag!
Have any feedback or thoughts for our sponsors? Let us know in the comments! Would you like to be a sponsor at the largest content marketing event on the planet? Email Peter Loibl for more information. 
Posted April 7, 2016 in: Event by Cathy McPhillips
---