September 3 will mark my sixth visit to the orange-hued halls of the Huntington Convention Center of Cleveland, which I guess makes me a bit of a CMWorld veteran.
One of my favorite things about going to this show each year is just how open and friendly the members of our community are. Everyone is excited and eager to learn. You can practically feel the energy and enthusiasm reverberating all around the convention center, and all throughout the city.
The busy, collegial atmosphere is ideal for making new connections, sharing ideas, and learning from the experiences of our fellow content marketers – which is fantastic for those who love to put their networking skills (on social media, within the event app, and in-person) to the test.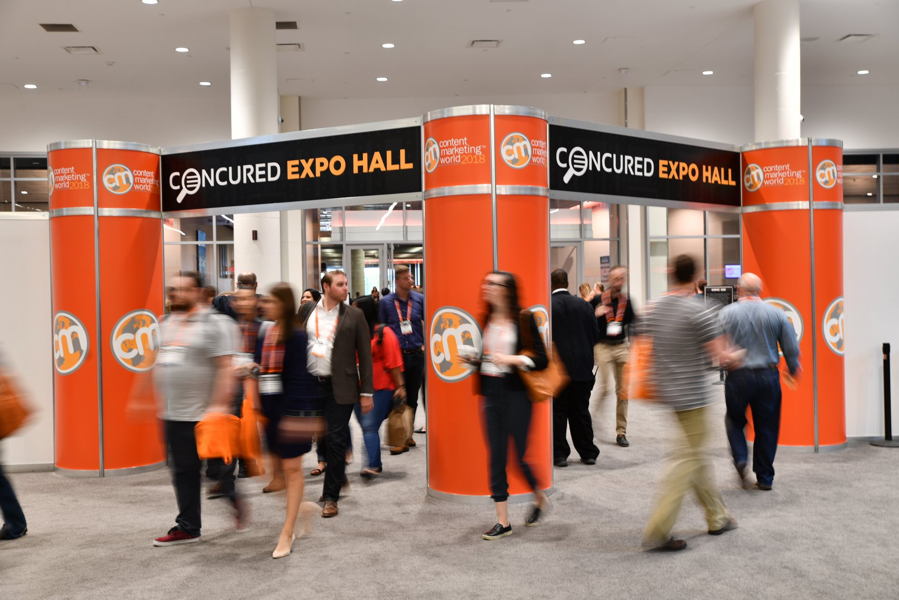 But even in a connection-driven industry like ours – where the more attention you can draw and the more conversations you can start, the better – you're bound to encounter an introvert or two – those of us who are a little less comfortable with the social spotlight and prefer just to focus on learning everything we can to get better at our content marketing craft.
When you're an introvert, navigating even the friendliest of social environments can be a bit intimidating – not only do we have to function outside our comfort zone, we might need to (gasp) interact with at least a few of our 4000+ fellow attendees. And, for those who have never been to Content Marketing World (or to Cleveland, for that matter), finding your footing in an unfamiliar environment can sometimes drain your mental energy faster than a cell phone set on roaming mode.
Not to fear – introverts are my tribe, and I've got you covered. If you're looking to ease your way into the CMWorld experience, here are some tips to minimize the stress of awkwardly engaging with large groups of people and make your time in Cleveland more satisfying and productive:
Meet a CMWorld sherpa:Not a social butterfly? Dip your toes into the networking pool by joining the CMI staff at our team meet and greet. This low-key, casual gathering takes place on Monday night – while the huge crowds of attendees are still making their way into Cleveland. It's the perfect opportunity to get the inside scoop on what's happening throughout the week, ask questions, or just get a little face-time with the fun folks whose job it is to make sure every attendee has a positive, memorable time at the show.
Learn the lay of the land:Not sure what to expect, or what sessions will best help you accomplish your educational goals? Make sure you hit the Getting the Most From CMWorld 2019 intro session on Tuesday September 3. Pop in to this panel while you are picking up your badge and you'll get some helpful tips and tricks for navigating the conference and expo that will leave you feeling like it's a small, intimate event created just for you.
Recharge your mental and physical energy supplies:On Wednesday and Thursday, you can start your day with some mindful meditation at our early-morning group yoga session. Or, if you're looking for a more heart-pumping activity, join CMI's creative director Joseph Kalinowski as he leads attendees on a three-mile fun run through Cleveland's cityscape (you can also choose to join the 1-mile walking version). These purposeful activities can help give you a sense of belonging – without requiring you to actually talk to anyone (that still counts as social, right?).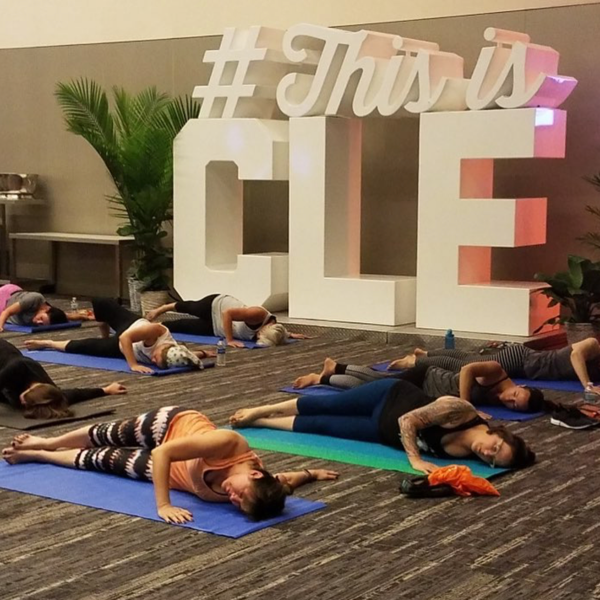 Make some 4-legged friends:Feeling overwhelmed by the frenzy of human activity? Slow your roll by stopping by our YappyHour event on Wednesday. Pet lovers will adore this opportunity to fetch some treats (both people and pup variety) and take some time to shower attention on a bunch of friendly rescue doggos. This event also helps raise money for some worthy local causes, so it's a great way to make an impact on others in the community before you head out for your evening's entertainment.
Commune with nature: Want an alternative to spending your lunch break staring at your phone, pretending to work? The Huntington Convention Center manages The Real Farmville, a sustainable on-site farm that supplies the fresh organic produce, honey, herbs, and eggs used in the catering staff's menu items. Park yourself in the sunny atrium located near our main breakout ballrooms or take a walk around the north side of the Huntington grounds and you might catch a glimpse of the farm's honey bees and egg-laying chickens, as well as the pigs and goats that are there to graze on much of the food waste produced by the convention center's visitors.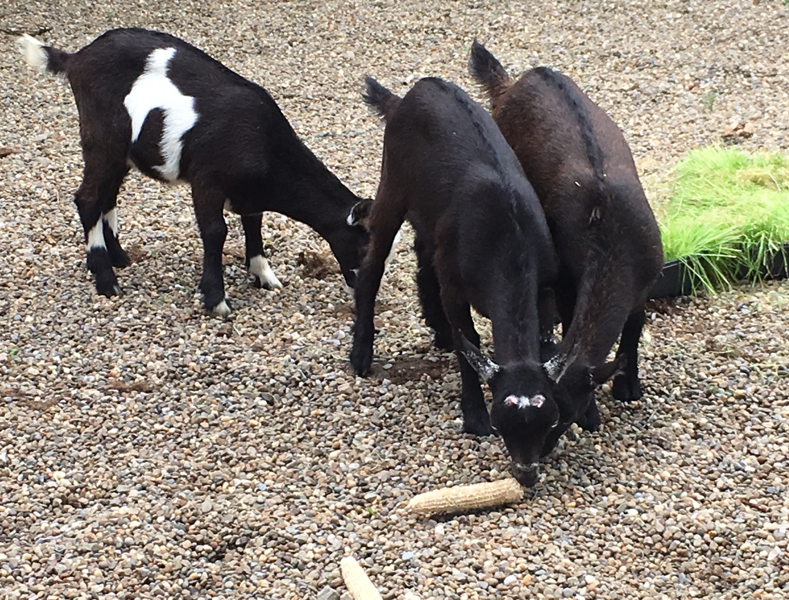 (photo credit: Huntington Convention Center of Cleveland)
Get inspired by the patron saint of self-motivation:Performer, activist, and CMWorld keynote speaker Henry Rollins is living proof that content creators can amass a tremendous following on their own terms, conquer tough challenges, and give back to their audiences in meaningful ways. Whether you're a long-time fan or just want to gain a new perspective on the impact your work can have on the world, I promise Rollins' session will leave you feeling energized and empowered.
By the way: I may be an introvert, but that doesn't mean I don't love to meet and talk with my fellow CMWorld attendees. In fact, quite the opposite is true. If you see me sprinting back and forth across the show floor, at our booth in the expo hall, huddled in a corner at our social events, or just wandering around Cleveland (I get lost REALLY easily), I'd love it if you'd say hello – I'll be the one with the purple hair, trying hard not to look awkward.
Editor's note: Jodi Harris is Consulting Director of Editorial Content and Curation Content at CMI. She'll gladly talk content with you. But if you'd like to make her really happy, ask her about her favorite bands or her dog, Mugsy.
Want to meet people before the conference? Tweet with us Tuesdays during our weekly #CMWorld Twitter chat. Join our community as we discuss the latest content marketing trends with event speakers.
Posted July 15, 2019 in: Event by Jodi Harris
---