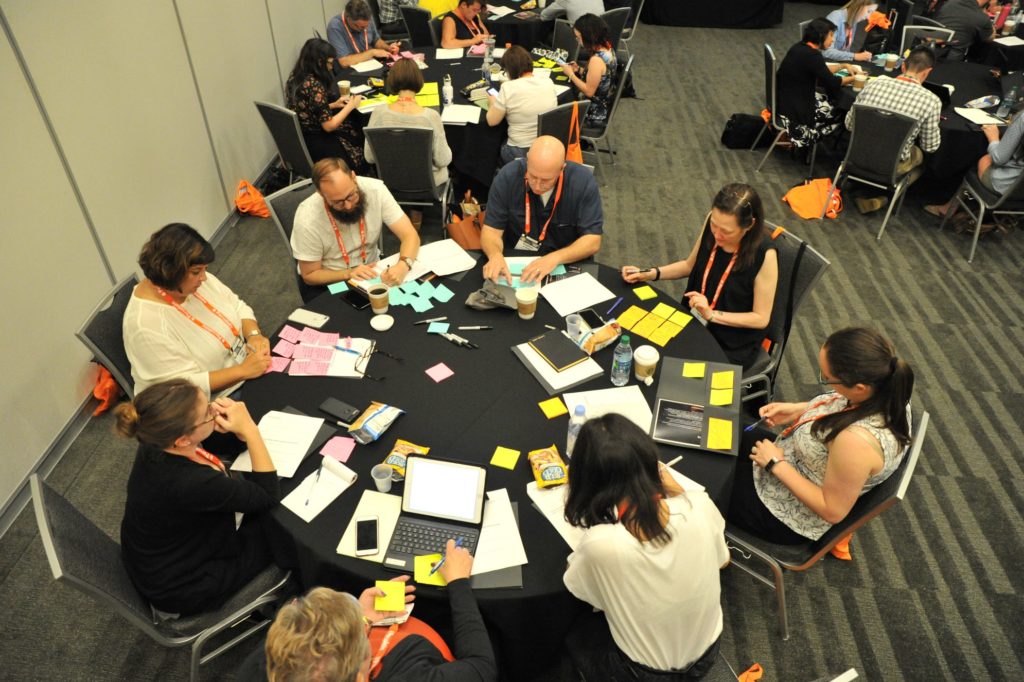 Ah, written content. The backbone of content marketing, the cornerstone of our careers, and the most fundamental reason many of us are attending Content Marketing World. Well—that and the parties. And the community. And the networking. And… Wait a minute.
Real talk: CMWorld packs so much good stuff into a single week that it can be tempting to say to ourselves, "Content schmontent… this event is about having fun!" And while younger, more rambunctious me still wholeheartedly agrees, more sensible and career-driven me is going to pull a page from the book of improv comedy and say: "yes and." As in, "Yes, I can't wait to get back to Cleveland to whoop it up with my marketing peeps… ANDlearn some new things while fine-tuning my existing skills."
I may or may not—but definitely did—have this exact conversation with myself the other day, when I started looking at the conference agenda. After a bit of browsing (and fretting that I can't be in multiple places at the same time because #FOMO), I felt electrified. The event is going to be a prime opportunity for attendees to level up their excellence in every arena of the content marketing industry—starting with the written word.
Hone your craft. Write like a boss.
Whether you're a Jaime-of-all-trades writer, a highly specialized expert, or direct a team of content producers, quality content is the foundation of success—both for your organization and for you personally. Most of us have been writing for so long that it has become somewhat automatic. But even if you've been around the block a few times (or *ahem* more than a few), there's always room to improve your writing skills.
How so, you say? So glad you asked. You could go about it in several ways: updating your approach in areas you feel strong, strengthening your abilities in areas you feel less-than-awesome, or taking in a fresh perspective on content as a whole, just to name a few ideas.
Whether you specialize in long-form content, emails, landing pages, or other types of storytelling, here are just a few of the many sessions happening at CMWorld that can help you write like a boss.
Tuesday
Marketing Writing Masterclass
Time slot: 1:00 PM – 4:00 PM
If you're ready to re-examine and refresh the way you look at marketing writing, jump right into this masterclass with Jonathan Kranz of Kranz Communications. Appropriate for beginners and experienced attendees alike, this participatory, exercise-driven workshop will help you crystallize how you frame your products and services, make your benefits clear, and motivate your audience to action.
Wednesday
Creating Emails and Landing Pages That Convert
Time slot: 10:15 AM – 11:00 AM
For those who followed a journalistic or creative writing path into marketing, the art and science of writing with conversion in mind can feel like a guessing game. Demystify the process by learning some solid tactics from Chris Dayley,  VP of Testing & Site Optimization at Disruptive Advertising, who will offer actionable advice about the kinds of emails to send, landing pages to create, and testing you should perform to increase click-through and conversion rates.
Thursday
In Other Words: What Children's Books Can Teach us About Simplifying the Complex
Time slot: 10:15 AM – 11:00 AM
Translating narrow, deep, subject matter expertise into relatable and accessible narrative is one of the key challenges marketing writers face—and let's be honest, we don't always stick the landing. But what if we looked at things another way? Venetta Linas Paris, Senior Manager of Global Content Marketing at Aon and CMI's 2018 Content Marketer of the Year, draws from her experience as a mother (and a polyglot) to illustrate how children's books use words and visuals to communicate important messages—and how B2B writers can leverage that magic in their work.
Content Marketing in an Era of Saturation
Time slot: 12:20 PM – 1:05 PM
Content marketing is now the industry rule (rather than the exception), which means… Well, you know what it means: we're all swimming in a sea of content—and so are the people you're trying to reach. In this session, Storyation's Head of Content Lauren Quaintance will address how to create "radically different" content that finds its niche, cuts through the noise, and delivers ROI for your organization.
How to Transform Your Tired Blog Into a Powerhouse Brand Newsroom
Time slot: 2:50 PM – 3:35 PM
Blogging is a vital component of any content marketing strategy, but the constant demand for fresh content can leave even the most enthusiastic writer feeling burned out and depleted. If you're looking for a way to breathe new life into your blog, Dan Hatch and Sarah Mitchell (founders at Typeset) will turn their audience's attention to an industry where content has always reigned supreme: journalism. Join the session to learn how to think like a journalist while planning your content, build your audience by adding editorial value and credibility to your work, and get access to templates and checklists that will make the whole process run smoothly.
Join us in Cleveland
The sessions I listed above are only a few of the many available for our content marketing friends to refine and geek out with others who share their passion. Hitting Content Marketing World with a writing track in mind is kind of like letting a kid loose in a candy store (or a bunch of greased weasels loose in a room full of balloons… so I hear): endlessly entertaining and possibly a little overwhelming. My advice? Plan ahead so you can make the most of your days—and still fit in lots of socializing with friends, both old and new.
Register for Content Marketing World today to secure your place in Cleveland. (Pro tip: use my discount code, JANN19, to get $100 off your registration fee.)
Why wait for September to get to know your content comrades? Start the great conversations now—follow #CMWorld on Twitter to chat with your fellow attendees before the show.
About Maureen Jann
Maureen Jann is a veteran B2B marketer whose career in digital media has grown up with the Internet. A self-described jill-of-all-trades, she enjoys the daily challenges of driving business results in unexpected ways. She is currently the Founder and Managing Director of SuperDeluxe Marketing, a marketing and content agency focused on B2B technology, marketing industry, learning and development as well as startups. Maureen has a Bachelor of Art from San Jose State University and her side hustles have earned her an MBA from the School of Failed Startups. A frequent guest on podcasts and panels, she is passionate about unusual shoes, crafts, and delicious cocktails. In her carefully-guarded free time, Maureen loves exploring the beautiful Pacific Northwest with her daughter and husband.
Posted July 16, 2019 in: Event by Cathy McPhillips
---