Content Marketing World is part of the Informa Connect Division of Informa PLC
This site is operated by a business or businesses owned by Informa PLC and all copyright resides with them. Informa PLC's registered office is 5 Howick Place, London SW1P 1WG. Registered in England and Wales. Number 3099067.
#CMWorld Fun – See your Twitter Handle on Downtown Cleveland Billboards!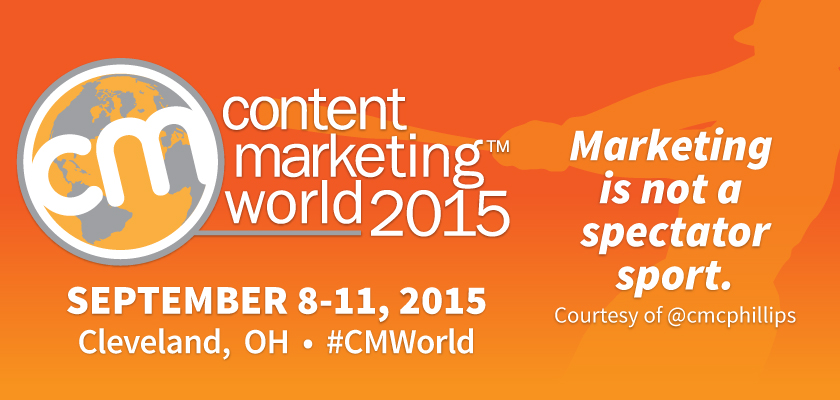 April showers are upon us in Cleveland, and before the May flowers arrive, we have two big events hitting the North Coast:
Cleveland Indians Opening Day, April 10 against the Detroit Tigers, and the Rock & Roll Hall of Fame 2015 Induction Ceremony taking place on April 18.
You know how CMI loves all things Cleveland, so we have five digital billboards downtown during the month of April to pay tribute to baseball and rock and roll – things we love ALMOST as much as the color orange.
Get involved!
Do you want to see your quote and twitter handle on billboards in downtown Cleveland? We'll be changing up our creative every few days, and would love to hear what you have to say.
How?
We're looking for your thoughts on marketing, as related to baseball or rock and roll
Send your idea to @CMIContent anytime between April 6-April 30
Make sure it includes the #CMWorld hashtag
Watch for a tweet from us if we use your idea! Clevelanders can drive and take a look, and out-of-towners will have to watch twitter for us to post photos, but your ideas are welcome!
We can't wait to read your fun ideas. Thanks for participating!
Not on twitter? Email us!
Content Marketing World is 20 weeks away – can you believe it? We have our early bird prices ending on May 31, 2015. Register before then and also use code CMI100 for an additional $100 off. 
Posted April 6, 2015 in: Event by Cathy McPhillips
---
UP