It's another big month for the CMI and CMWorld teams. March has been an exciting month, and  we're continuing our full force conference planning mode. Here's peek behind the orange curtain on some of the things we're working on in the office:
** Disclaimer: These opinions are my own, so when I say things like "Kelley is the best event planner in the world," I do think so. And really hope you do too, of course! **
Joe Pulizzi
Joe has been working on the biggest job of all – hand-selecting all of the speakers for the entire event. A job not taken lightly, and a job that (we think) differentiates CMWorld from other events. This is personal to Joe, as you've likely heard him say so himself. With over 400 submissions this year, the balance of B2B, B2C, marketing practitioners, leading content marketing influencers and so on, will be our best year yet. Our speaker list is rolling out on our website now, and the agenda will be going up soon as well. Check back to our website often – and start thinking about which sessions you'd be interested in attending, as we'll be sending out session selection emails in a few months so you can lock in the sessions you'd like.
Kelley Whetsell
Kelley is our event planner extraordinaire. She's been knee-deep in site visits, logistics, and hundreds – maybe thousands – of details that wouldn't have ever crossed my mind. Right now, with visits down to FirstMerit Convention Center (same location, new name!), Kelley is working out all of the details that make CMWorld so great. She's secured our musical entertainment for one night of the event, and she's been in discussions with some people for our closing keynote. A fun, but exhausting job, to say the least!
Joseph Kalinowski
JK loves Content Marketing World. And JK loves sci-fi. Which means this year's theme of Content Strikes Back has JK a little extra thankful for his job. He's been working on some fun images to set as the basis for our entire event, and then he's starting to think about track posters, speaker images, convention center signage, our event program, name badges, and so much more. The list of assets that JK works on never ceases to amaze me!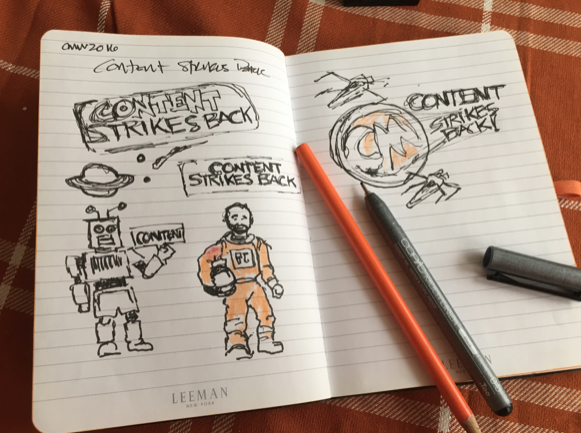 Our PR and Marketing Team
Monina, Amanda, John and I have been busy sending out press releases, chatting with all of you on social, sending out emails with registration news, updates and discounts, and making sure that you know all the ins and outs of the event. Monina has been tweeting up a storm with members of our #CMWorld community – both new and old – getting ready for September. Under 180 days, my friends!
Our Editorial Team
Our editorial team has been busy continually delivering content to you, our audience, based on CMWorld 2015 feedback, interests and needs, and in turn are watching trends and responses to current posts so that our speakers can cater to your current interests and challenges.
This is just a small bird's eye view of what's happening over at Content Marketing Institute. Stay tuned for more behind-the-scenes updates from CMI HQ in the coming weeks. Suffice it to say, we're giddy with excitement for September to arrive, and are doing everything to make sure it's our best event yet. We can't wait to see you!
Not yet registered? That's OK! But…don't wait too much longer. Very soon we'll open up session selection, meaning that our current registered attendees will get first dibs on securing a spot in their sessions of interest. Don't get locked out of sessions you want to attend! Book early! As an added bonus, use code BLOG100 to save $100 off of main event and all-access pricing!
Posted March 18, 2016 in: Event by Cathy McPhillips
---