Have you ever seen an image depicting the iceberg that sank the Titanic?
The visible fragment, cresting above the chilly Atlantic, seemed so modest and unintimidating. But of course, it was the sizable mass beneath the ocean's surface that tore through the ship's hull and triggered its demise.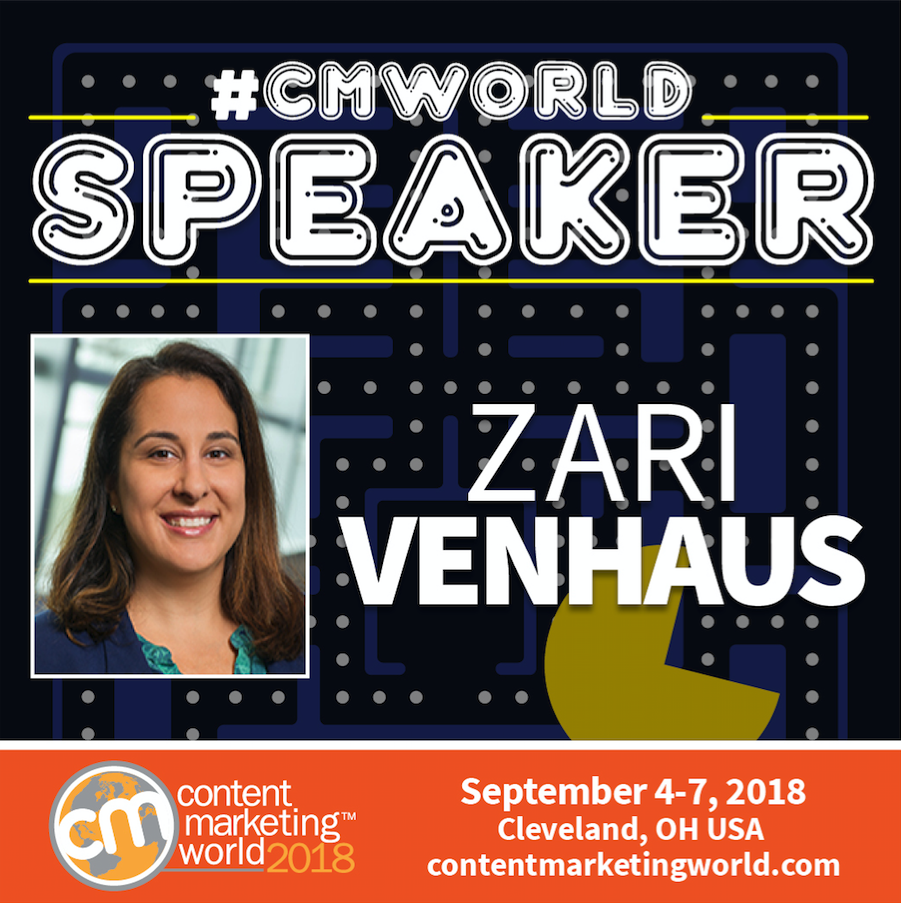 When interviewed in advance of her upcoming session at Content Marketing World, Zari Venhaus referenced the "branding iceberg" model used at Eaton, where she serves as Director of Marketing Communications. Under this framework, a company's public-facing brand assets represent that visible chunk of ice jutting through the waves, with the more subtle and functional components of the customer experience comprising the underwater bulk.
Hidden from plain sight and too often overlooked, these vital aspects can sink a marketing ship.
When she takes the stage in Cleveland this September, Venhaus will focus on "Developing your message: Getting business buy-in and driving customer engagement." She'll talk about how content marketers can consult various units throughout the organization — from sales to R&D to operations and beyond — to create alignment and ensure that every crevice of the branding iceberg is strategically accounted for.
Cruise forth to learn more of her thoughts on prioritizing your audience, message maps, and thinking globally.
What does your role as Director of Corporate Marketing Communications at Eaton entail? What are your main areas of focus and key priorities?
As the leader for our corporate marketing communications team, my role is focused on enterprise positioning. Defining how we articulate who we are and why we matter in a way that will engage our current and potential customers across our large enterprise. To build a foundation of messaging our businesses can leverage to drive brand familiarity. From brand standards to driving best practices for content creation and outreach to defining the best ways to engage on different channels, our key priorities are focused on creating, deploying and promoting engaging content to meet business objectives and drive growth.
You've risen through the ranks in Eaton's marketing department over the past 15 years. What are some of the most important things you've learned along the way?
For me, there are two things that are part of my philosophy that were developed as I matured in my career at Eaton. 1) Having energy and passion for the work you do has no match. If you can come into work every day with energy, with the intent to work through any hurdles, to make things happen, people take notice. It makes them want to work with you and gives you the ability to grow, inspire and lead. 2) I don't agree with the phrase never say no. Sometimes no is the right answer. BUT, don't walk away from discussion. Be prepared with alternatives or best practices to help your customer meet their objective.
With so much content and so many channels out there today, what should marketers be prioritizing in order to break through?
Everything we do should be about our audience. There is no way to say that one style of content or one channel will work for all customer types. Prioritize your audience. Understand them – what they are looking for, where they are looking for it and why they are looking – and that should drive your content and channel strategy. In the content game, it's about content relevance (quality), not quantity.
In your CMWorld presentation, you'll be talking about the "message map." What is this, in a nutshell?
You'll have to come to my presentation to find out! But really, the message map is a tool we use at Eaton to help us get a group of stakeholders aligned on customer-focused messaging to key markets or audiences. It is the output of cross-functional workshops we run that get to the heart of what customers care about and using that to help drive differentiated value statements that become the foundation for any content creation or outreach to our target audiences. I'll be talking in my session about the right kinds of questions you can ask to drive alignment in messaging for maximum customer engagement.
Why should content marketers be thinking more globally with their strategies?
The world is more interconnected than ever and customers don't see country lines anymore when it comes to buying behavior. Everything, it seems, is just one click away. It's so important for brands to acknowledge this, understand the equity of their brand around the world and build their marketing and content strategies with that in mind.
Lots of companies talk about upping their customer engagement and customer experience. What do you see as some true ways to differentiate in this regard?
It's all about the experience. I think companies that put the customer at the heart of how they make decisions are going to move faster in today's markets. It's easy to say you're about the experience, but unless you look holistically at your pre-sale, the sale itself and post-sale process and align around what gives the customer the best experience, customers won't believe you. And this is not an easy thing to do, particularly inside large companies with a lot of functions, silos, etc. At Eaton, we have a graphic we call the branding iceberg, and it's basically the idea that "brand" is often thought of as the types of things above the waterline, i.e. the logo and the color palette and your marketing materials. But brand is about the complete customer experience and that includes everything from your warranty policies, ethics and compliance, your customer service, etc. It's the whole iceberg that is the experience and the companies that recognize that will be able to differentiate themselves.
What's the biggest mistake you see content marketers widely make in the early stages of their programs and campaigns?
I think every content marketer makes mistakes on every campaign! I don't think we've ever seen the "perfect" campaign, but what's exciting about that is that there are so many ways to innovate and while there are tried-and-true strategies, there are also opportunities to try new things. Test and optimize. Overall, I'd say the biggest mistake is creating content that is all about the company and not having a deep enough understanding of what customers care about. Creating brand content is important, but it's thinking about it through the lens of the customer and what will drive their decision-making that will drive engagement. The other big thing is not promoting your content enough – if you build it, they will not come, unless you have great SEO and promotional strategies to drive traffic to your site.
Which speaker presentations are you looking forward to most at Content Marketing World 2018?
I don't even know where to start. Well, um, Tina Fey of course! I always love Ann Handley. And last year Jay Acunzo killed the keynote. I also think Noah Brier at Percolate has some great thoughts on the content bottleneck and how technology can help us continue to move forward. And there are many more!
Full Steam Ahead!
Big thanks for Ms. Venhaus for steering us in the right direction. We're excited to see her bring these insights to new depths at the Cleveland Convention Center on September 5th.
Until then, you can navigate a sea of content marketing tips and pointers from her and other CMWorld speakers in the Ultimate Guide to Conquering Content Marketing:
Registration for Content Marketing World 2018 is open! Use code CMWBLOG at checkout to save $100!
Posted July 19, 2018 in: Event by Cathy McPhillips
---