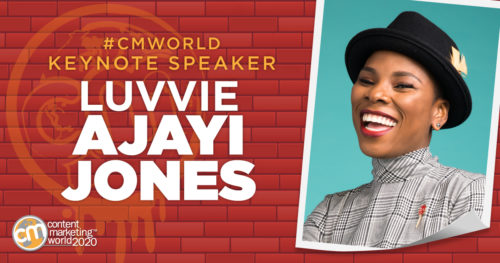 Are you ready to hear the truth?
Are you willing to "get comfortable with being uncomfortable?"
Are you ready to have your mind blown at Content Marketing World 2020?
We're thrilled to share the news that Luvvie Ajayi Jones, New York Times bestselling author and sought-after speaker, will be joining us for Content Marketing World 2020. Luvvie thrives at the intersection of comedy, justice and professional troublemaking, three pillars we know our CMWorld audience will love and appreciate.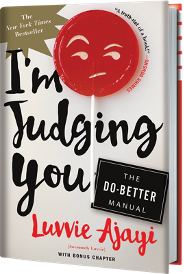 Her debut book, I'M JUDGING YOU: The Do-Better Manual, was released to critical acclaim, hitting the New York Times bestselling list at #5.
Her second book, The Fear-Fighter Manual, is slated to be released in 2021.
Shonda Rhimes calls it "A truth-riot of a book," and it topped lists in Washington Post, USA Today, Goodreads, Redbook, and Good Housekeeping.
A 17-year blogging veteran, Luvvie writes on her site, AwesomelyLuvvie.com, covering all things culture with a critical yet humorous lens. That same razor-sharp voice spurred her wildly popular TED talk "Get Comfortable with being uncomfortable" to over 5 million views.
Do you know what line got me? "There are too few people willing to be the domino. Too few people willing to take that fall." I love this! We all need a little productive discomfort in our lives.
Luvvie is an internationally recognized speaker who takes on dozens of stages every year around the globe, and has spoken at some of the world's most innovative companies and conferences, including Google, Facebook, Amazon, Twitter, MAKERS, SXSW.
Luvvie connects with her audience through her social network, LuvvNation, where she is the go-to source for elevated conversations about all things buzzworthy and doing better at life. It serves as a safe space in a dumpster fire world, currently with over 13,000 members.
She has received numerous accolades including being chosen by Oprah Winfrey as part of her inaugural SuperSoul100 list as someone who "elevates humanity." Her alma mater, the University of Illinois at Urbana-Champaign, honored her with the Outstanding Young Alumni Award and the Council of Urban Professionals presented her with their Breakthrough Award. Her work has been featured in outlets such as The New York Times, NPR, Forbes, Inc, Fortune, Essence, Chicago Tribune and more.
She hosts a podcast called Rants & Randomness where she shares her most pressing rants, raves and faves while interviewing some of the most interesting people you know (and some you might not).
Check out Episode 44 with Dr. Yaba Blay, and subscribe to hear all the episodes:
And if all of this wasn't keeping her busy enough, Luvvie is also a co-founder of #ShareTheMicNow, launched earlier this summer on June 10, a movement to amplify the voices of Black women all over the world. On June 9, #ShareTheMicNow's Instagram account stated, "When the world listens to women, it listens to white women. For far too long, Black women's voices have gone unheard, even though they've been using their voices loudly for centuries to enact change. Today, more than ever, it is NECESSARY that we create a unifying action to center Black women's lives, stories, and calls to action. We need to listen to Black women. This is why we created #ShareTheMicNow. Tomorrow, Black women will speak from the Instagram accounts of white women.
The intention of this campaign is to magnify Black women and the important work that they're doing in order to catalyze the change that will only come when we truly hear each other's voices."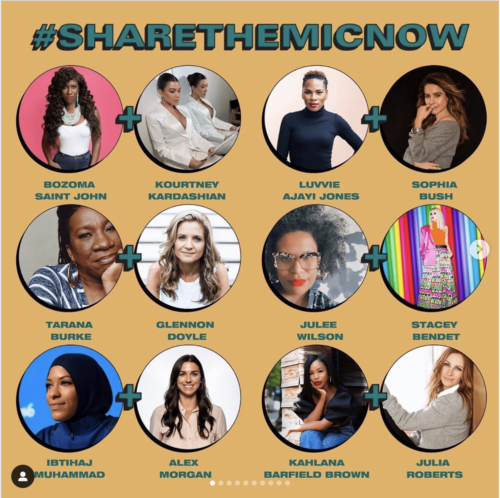 Shortly thereafter, Luvvie and Bozoma Saint John were both interviewed by ESSENCE Assistant Fashion Editor Nandi Howard to talk about #ShareTheMicNow. Luvvie says, "We wanted to model what sisterhood in action should look like." This initiative has given black women and their important messages and unique perspectives access to new platforms and audiences, and this continues with #KeepSharingTheMic. And it's given the rest of the world visibility to some incredible women who we can all learn from.
Writing, storytelling, community, breaking rules and getting uncomfortable for progress…sounds right up our alley, CMWorld community, doesn't it? We hope this amazing opportunity to hear Luvvie speak at Content Marketing World excites you as much as it does us.
Learn more about Luvvie on her website and Twitter, and follow #LuvvNation on Twitter and Instagram.
Not yet registered? There's still time! Visit our website for the agenda and registration details.
Posted September 1, 2020 in: Event by Cathy McPhillips
---