At first, virtual events seemed fun and exciting but now speakers like Jay Acunzo, and many of you, are sharing the sentiment that there's something to be said about making connections sans a computer screen between us.

We're right there with you.
We're less than 100 days from the biggest content reunion of the year, Content Marketing World, and we couldn't be more excited! After months of uncertainty, isolation and too many Zoom calls to count, we're ready to put the emphasis back on making connections, which just so happens to be the theme of the event.
"The ability to see friends and colleagues and meet new ones is a privilege no one will take for granted for a long time," shared Stephanie Stahl.
To put it bluntly – you aren't going to want to miss it.
We challenge you…
We have people attending from 32 states, but our goal is to see each of the 50 states represented at CMWorld this year. We're looking at you Montana, Wyoming, Nevada, North and South Dakota, Arkansas, Louisiana, Mississippi, South Carolina, West Virginia, Delaware, Connecticut, Rhode Island, Vermont, New Hampshire, New Mexico, Alaska, and Hawaii! 👀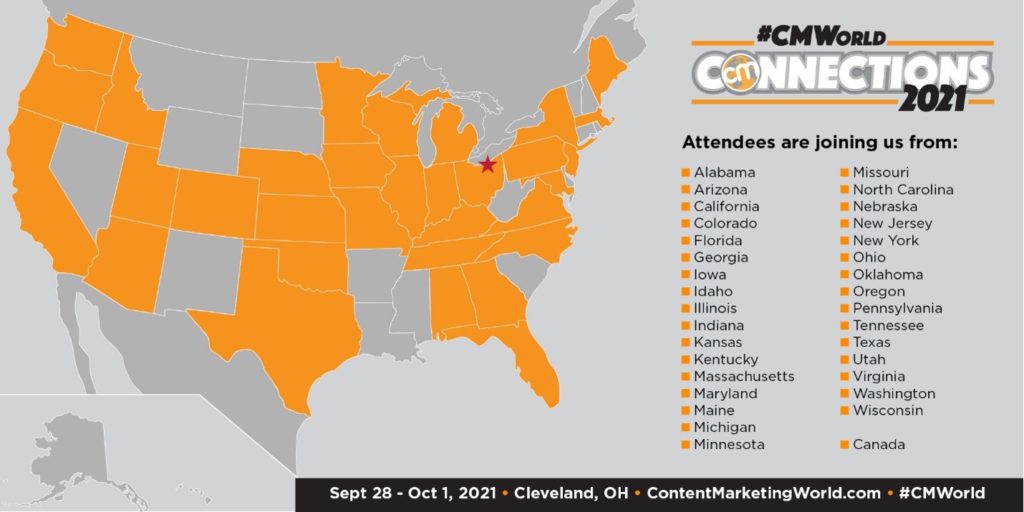 We'll even sweeten the deal – if you're the first registrant from one of the unrepresented states we'll give you an exclusive discount offer to attend. All you have to do is send an email to CMWorld Community Manager Monina Wagner letting her know you're signing up from your state and she will send you a code.
Your state already lit up in orange? You can still help. Share our map far and wide and encourage your friends, family, co-workers, and followers to attend CMWorld this year. Who knows, you might even form a new connection from it all.
Safety first!
We don't take it lightly that Content Marketing World may very well be your first flight, first in-person meeting or first real interaction in the post-pandemic world. We're dedicated to doing everything we can to set your mind at ease. That's why we've implemented a range of health and safety measures to ensure everyone involved is able to enjoy a safe, productive event experience.
See you soon
When you walk through those conference hall doors on September 28th, we hope you feel just as excited as we do. But more than that, we hope you feel like you're coming home. This year is going to be a reunion party like no-other and we hope you, our family, will be able to join us.
We would love to see you in Cleveland but if travel isn't an option, we are still offering flexible package options. This allows you to change your pass from virtual to in-person, or in-person to virtual anytime between now and August 27, 2021.
We can't wait to see you! Have additional questions? Leave us a note in the comments.
Posted July 5, 2021 in: Event by Ashley Baker
---