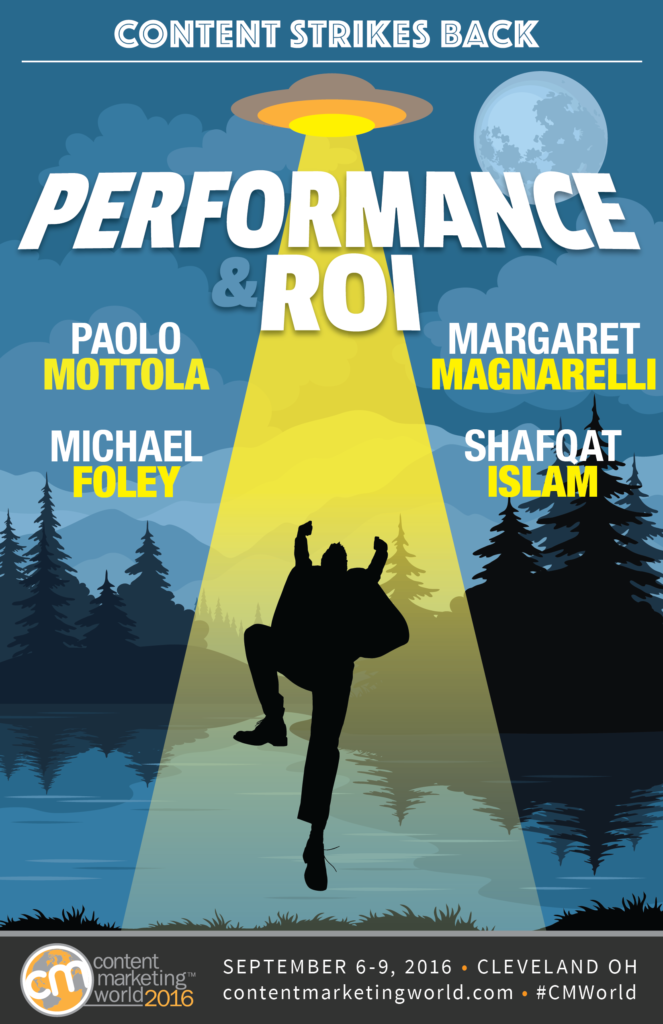 In some ways, return on investment (ROI) is the marketing world's equivalent to Return of the Jedi: it's important, it's somewhat misunderstood and, at one point or another, everybody has been talking about it. Attend these sessions to learn all about ROI – from proving that your content drives results and finding ways to be different to marrying creativity with data and supercharging your KPIs – and soon you'll be a content ROI master. Here are the details:
Building a Successful Content Strategy: How to Drive Real ROI for your Business with Content Marketing
Shafqat Islam
People engage with 11.4 pieces of content before making a purchase. Of course, we know this is no coincidence: content drives business results. But how do you prove it? During this session, delivered by the CEO of NewsCred, you'll learn how to keep your audience engaged with a content strategy that is uniquely differentiated from the rest and make content marketing the most valuable department in your organization. Sign me up! Here's what you'll learn:
Connect content to revenue, focus on the right business goals, and prove ROI
Create content your audience actually wants and will read again, and again
Develop owned properties that matter to convert an engaged audience
Long-Form Content for the Win at REI
Paolo Mottola
Ever hear people say you should zig while others zag? It means being different in order to stand out. While short and micro-format content have been a focus for many B2C brands due to the fight for attention and influence in leading social networks, outdoor retailer REI does something completely different (and it works). REI leverages long-form content to express their belief that a life outdoors is a life well lived. And, while we're not sure if there will be sample running trails or fresh air available, you'll want to join this session just in case. Of course, you'll also learn:
A different way to win by investing in immersive, long-form content, including: podcasts, articles and short films
How to enhance engagement with your customers and prospects
EMC and Moneyball Marketing – The Secret Details Behind EMC's Data Group
Michael Foley
Is it better to be creative or immerse yourself in the data? Actually, it's best to do both. But how do you blend creative thinking and an intense data science capability across media to make your brand relevant and get the most out of your video marketing campaign? That's easy, come to this session. EMC's Marketing Science Lab consists of a team of data scientists working on a unified analytics platform – called a Business Data Lake – that enables the team to use predictive analytics to: a) segment and target marketing campaigns, b) datamine social media for marketing ROI, customer careabouts and sentiment, and c) visualize data for marketing decision support using both structured and unstructured data. Sound like fun? Actually, it is. Here's what you'll learn:
Creativity: Find – or create – that one magical moment
Virality: Make it viral with the help of influencers
Data Science: Use data science to generate new business leads to sustain, build and monetize your marketing effort
Reporting & Analysis: Quantify and track your performance
How, Now and Wow: The three pillars that can supercharge your content KPIs
Margaret Magnarelli
Want to improve your SEO, earned media and social media? Come learn about three pillars used by Monster.com to do just that: How, Now and Wow. Using this strategy, they've been able to increase pageviews to content by more than 1 million, session duration by 31% and pages per session by 7%, while also helping to support earned media and boost social engagement. If any of that sounds good to you (or great to you), you need to come to this session. Here's some of what you'll get:
Show your audience "How:" Assess where you have permission to play in utility content that will help your target audience in some way related to your product/service
Give them news they need "Now:" Develop a brand newsroom that is able to be responsive to the day's headlines, trends and flashpoints
Make them say "Wow:" Create content that will resonate on social media (and learn how to elicit other departments to help you create multimedia content if you don't have dedicated resources)
Please consider joining one or more of these great sessions at Content Marketing World 2016 as the content strikes back! And if you haven't registered yet, there's still time. Use the code ROI100 to save $100 today! And the first five people to comment on this post will win an autographed poster at #CMWorld 2016!
Posted August 4, 2016 in: Event by Mike Myers
---