It's that time of the year again…Content Marketing World. With our event being virtual this year, we'll miss logging our 10,000+ steps walking the halls of the Huntington Convention Center of Cleveland, and we'll definitely miss our CMWorld Running Club early mornings together.
3 years ago, I founded the CMWorld Running Club after years of waking up on the days of the conference to head out for my morning run and seeing other attendees doing the same thing. I figured it was about time for us to unite, for me to help provide a safe and scenic running/walking route for those who were new to Cleveland and to use our combined passion of staying active and healthy as a way to network outside of the convention center.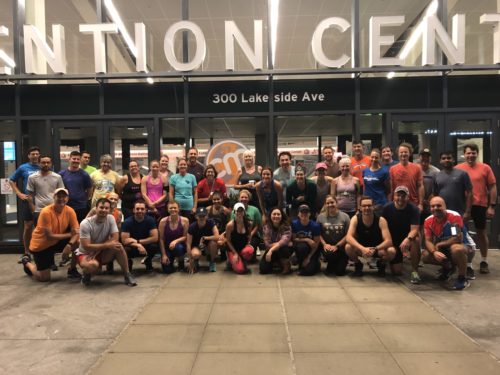 Even though we can't be running side-by-side, we've planned runs in different time zones and would love for you to be involved. You can participate in one, two, or all three runs! And walking counts too. Because we're sitting on our computers so much during CMWorld week, it will be a great way to get the body moving.
Tuesday, October 13 – East Coast Sunrise Run – 7am EDT
Wednesday, October 14 – West Coast Lunchtime Run – 1pm PDT
Thursday, October 15 – European Mid-Day Run – 12pm GMT+1
Share your running or walking photos in our private Facebook group, or on Twitter or Instagram using the #CMWorld hashtag. After the event, we'll compile them all into our official Content Marketing World 2020 Running Club official photo.
In addition to joining us for our virtual run/walks, how about doing it for a good cause?  If you're running anyways, consider getting involved in our Walk The World event hosted by our parent company, Informa. We're raising funds for The Orange Effect Foundation. OEF focuses on empowering children with speech disorders to effectively communicate through consistent speech therapy or technology. Over 200 grants have been awarded to children in 33 states. It is a cause near and dear to many of us here at #CMWorld, and I hope you consider registering or supporting one of the team members.
Sign up, raise a little bit of money, and help some families in need. It's not required for being part of the CMWorld Running Club, but it's just another way to help.
Posted October 7, 2020 in: Event by jkalinowski
---