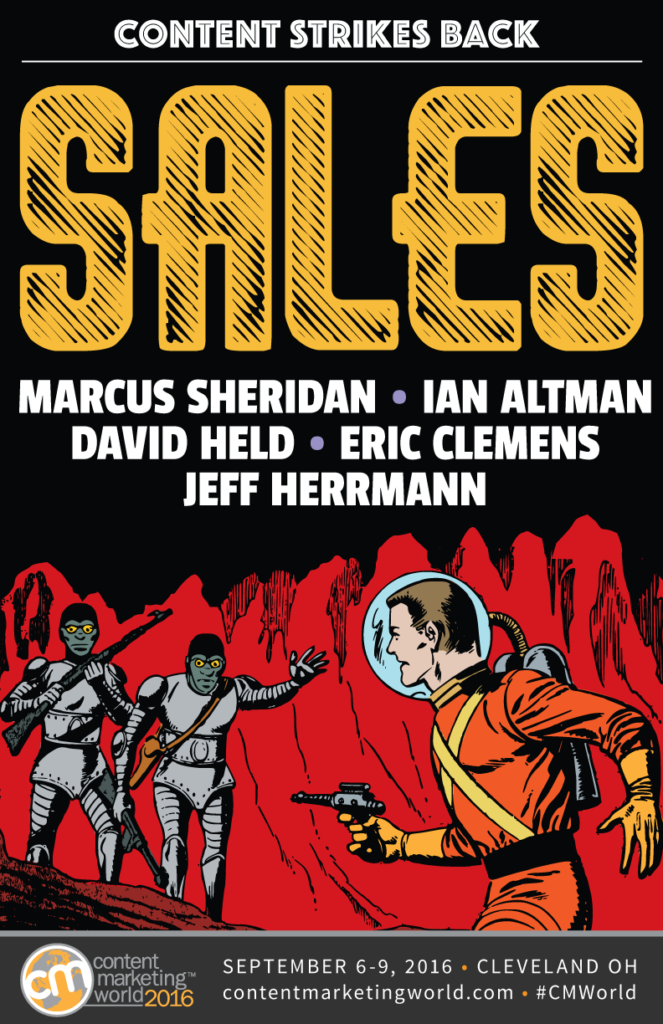 Sales
The days when sales felt like the Galactic Empire and marketing felt like the Rebel Alliance are long gone. Today, sales and marketing must work together to win. These sessions, led by sales experts in their own right from across the galaxy, will help you tear down those silos, empower your sales force, make sure your sales partners have the content they need when they need it, and ensure it's all aligned with your brand. If you want to help your sales force sell more (and who doesn't?), you should check out these sessions.
How to Tear Down Sales and Marketing Silos: The Secret to Developing a Culture of Content Across the Entire Organization
Marcus Sheridan
Remember back in the day when sales and marketing didn't talk to each other very much and it didn't matter? Times have changed. Because marketing teams have such a significant impact on the buying process today, companies must do whatever it takes to eliminate the marketing and sales silos and leverage both departments to engage today's digital consumer and get the results they're looking for. Come hear from someone who's done it. In this session, you'll learn how:
Other companies across diverse industries have managed to eliminate these silos
Have a major impact on your brand, your business and your bottom line
The Right Content to Accelerate Sales 
Ian Altman
Do you know how your would-be customers make decisions? Your marketing and sales efforts can be wasted if they are not aligned with how your customers think. Discover how to use content as part of the sales process to entice interest, qualify opportunities and uncover urgency in customer decisions. Here's just some of what you will learn:
What our research shows are the three questions executives ask when making and approving decisions
When and how to use content marketing as part of the sales process
The counter-intuitive element you should not include in your content because it erodes trust
CRM + Content Marketing: Sales as "Micro-Marketers"
David Held
Time is the most valuable asset for your sales team, and they are increasingly handling their own content. It's time to allow your sales team to function as "micro-marketers" by ensuring your customer relationship management (CRM) platform is tightly integrated with well-stocked and relevant content libraries that they can use to effectively close business. Here's what you can learn:
A well-stocked CRM is a necessity not a luxury to minimize non-selling time
Connect content strategy to sales execution through the use of sales playbooks
Develop a feedback loop to ensure sales is involved in the content creation process
Social Selling 101: 3 Methods to Enable a Social Savvy Sales Force
Eric Clemens and Jeff Herrmann
Is your sales force on social media? (Of course they are). Have you heard about Social Selling and want to know more? You'll want to check out this session and learn the methods to empower your enterprise sales force with effective Social Selling strategies, goals and guidance — all tightly aligned with your documented content marketing strategy. Here's what you'll learn:
Content Marketing's critical role in governing the social selling process to position the organization for success
How to foster authenticity, creativity and passion while maintaining brand integrity
How to drive engagement and capture social signals to evolve client intimacy
Please consider joining one or more of these great sessions at Content Marketing World 2016 as the content strikes back! And if you haven't registered yet, there's still time. Use the code SALES100 to save $100 today! And the first five people to comment on this post will win an autographed poster at #CMWorld 2016!
Posted July 19, 2016 in: Event by Mike Myers
---