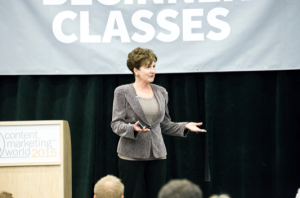 That other Adele may know a thing or two about singing and songwriting. But, if you want to know about buyer personas — and all of us marketers certainly do — you'll want to listen to Adele Revella.
This Adele has learned to use buyer information to guide marketing strategies over a 30-year career while helping technology brands, like Apple, develop specific insights that revolutionized the way marketing creates demand.
This Adele is a well-known speaker, author and CEO of Buyer Persona Institute who has made it her life's mission to improve the work of the marketers she helps. Her 2015 book, Buyer Personas, is all about helping marketers do what they do, only better. When asked about the purpose of her book recently, she was very clear about sharing her experiences:
"I wanted to show [marketers] how to use those insights to make better marketing decisions, which is the only reason to build them in the first place," she says.
Chances are that other Adele doesn't even know what a buyer persona is.
And it's true that this Adele isn't the only person talking about buyer personas today. Many people are. But, as she mentioned in a recent podcast — that's right, she does audio, too — this Adele believes a buyer persona needs to be driven from an insight that specifically helps to sell something, rather than nice-to-know information.
"Because that's the job we're in," Adele says. "We're marketers and we're companies selling things. We've got to know what it's going to take to persuade you to choose what we're selling. That's got to be our primary goal."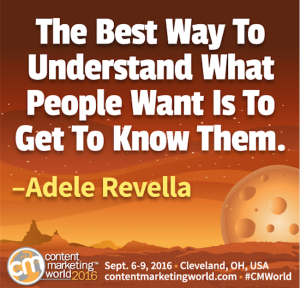 And if you think only the other Adele makes videos, you're in for a pleasant surprise. Here's this Adele talking about how marketers have difficult choices to make in her Content Marketing World 2015 presentation, Stop Making Stuff Up:
If you believe your marketing should be targeted at a buyer persona rather than at "Someone like you" and you want your content to say more than "Hello," come see this Adele at Content Marketing World 2016.
To connect with this Adele, you can find her on Twitter, check out her LinkedIn profile or visit her company's website today!
Rumor has it you may be ready to sign up. Why don't we just jump on over to the Content Marketing World 2016 registration page to learn more and get started? BLOG100 saves $100!
Posted April 5, 2016 in: Event by Mike Myers
---