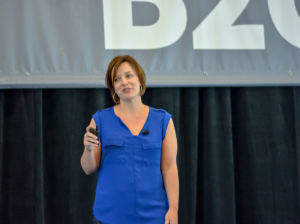 So, you're thinking about using content marketing, but aren't sure where to begin. I get it. Content marketing can seem quite complex and many of the examples are from big brands with lots of money like Coca-Cola and Red Bull.
Let's face it, getting started with content marketing can be intimidating.
But — what would you say if I told you there's a content marketer out there who's created a program at a brand that people literally only go to when they're sick? This brand has no products to sell and they are forced, by regulation, to provide services regardless of whether a customer can pay for them.
Yet this content marketer, let's call her Amanda, was able to increase blog traffic from 300,000 monthly visits to 3 million in less than 18 months. And, today, more than 1.5 million people like the brand on Facebook and they have 550,000 followers on Twitter.
You'd want to know more, am I right?
You should meet Amanda Todorovich, Content Marketing Director at the Cleveland Clinic. In a recent interview, Amanda talked about how her brand uses content marketing.
"Content marketing is really about relationship building and it gives you an opportunity to create conversations and have a dialogue with customers, even when they're not necessarily looking for your product," she said.
Exactly. But, just in case your boss asks (and she will), you need to know how this content marketing thing will help your business. Amanda has an answer:
"People flock to brands that help them solve problems…and content marketing let's you do that in a meaningful way. When they feel like they can trust you…and when they do need your products or services, you have a much higher likelihood of being in their consideration set."
Now, that makes sense. So let's say you're given the green light on this content marketing thing…how will you find the right people to target? Here's what Amanda's team did:
"Think about who's most likely to engage with your brand? Give her a name, keep her top of mind. What does she wear? Where does she look for information? What does her family look like?"
Ah, building a persona. Good advice. What's next?
Amanda and her team did something not all brands do. They looked at the content they already had (FAQs, blog content, all of it) and watched how people interacted with it — this told them what people were looking for in terms of information. They watched what content people engaged with most online, asked people what health-related questions they had at events and even asked their own doctors what patients were asking them about.
Bingo.
Let's think about this: if content marketing can help a highly regulated business that no one wants to visit garner the attention of millions of people, just imagine what it can do for you.
And that's the best part, you don't have to imagine because Amanda is speaking at Content Marketing World 2016 in September! Amanda and more than 100 other industry experts will be at the world's largest content marketing event to do one thing: help you become a rock star at content marketing.
And let's face it, things don't get any less intimidating than that.
To connect with Amanda, you can find her on Twitter, check out her LinkedIn profile or visit the Cleveland Clinic blog today!
Ready to learn more about how content marketing can help your brand? Why don't we just jump on over to the Content Marketing World 2016 registration page right now and get your registration started! BLOG100 saves $100 off of current pricing
Posted March 24, 2016 in: Event by Mike Myers
---