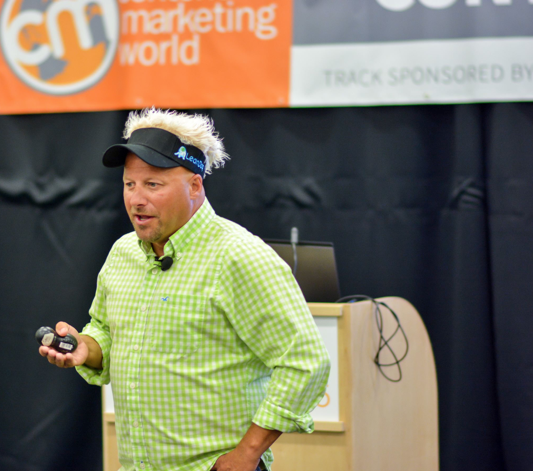 I can tell you from experience that attending Content Marketing World is a lot of fun. But I'm not sure there's another person at CMWorld — except for our hosts from the Content Marketing Institute, of course — who has more fun than Jon Stahl does.
Jon is President of a company called LeanDog that focuses on helping companies form high performing teams through Agile and Lean methodologies. He and the rest of his LeanDoggers like to say they are always ready to supercharge cultures and experiences.
Sounds like fun, right?
They do most of their work from a 120-year-old floating office on the banks of Lake Erie in Cleveland, Ohio. That's right, I said floating office. That equals fun for sure.

If you've ever been to northeast Ohio in the winter, you know that Lake Erie completely freezes over, so the heating system must be strong on that moored vessel. And, if working on a century-old boat on a lake everyday weren't fun enough, Jon likes to describe the methodologies his firm uses as similar to being in kindergarten.
It's probably better if I just let him describe that fun to you himself:
Now, in case you don't remember — kindergarten was a blast! At that age, school was still fun. Kindergartners got to mostly do what they wanted, including great things like snacks and naps (no word about whether either of these happy events are encouraged on the LeanDog boat, but here's hoping).
Of course, we should point out that Jon and his company have been quite successful, so there must be a lot of great benefits in the lean and agile methodologies. And, in fact, it's true.
As you may know, Lean methods got their start in Japanese manufacturing and have since been heralded the world over for creating efficient workplaces and teams by reducing waste. The Lean Institute describes Lean this way: "A lean organization understands customer value and focuses its key processes to continuously increase it. The ultimate goal is to provide perfect value to the customer through a perfect value creation process that has zero waste."
You know, that sounds a little bit like content marketing to me.
Agile, on the other hand, is a method that started in the 1950s as an iterative, flexible process for creating software. Today, Agile methods can be used to enable many different business processes and some have even suggested using the model to raise children.
Whether that works for you or not, we won't speculate.
But we will speculate that you can learn a lot about Agile and Lean methodologies at Content Marketing World 2016 by following our Intelligent Content track with content strategy and intelligent content experts like Scott Abel, Ann Rockley and Charles Cooper, and of course Kristina Halvorson on the main stage.
Who wouldn't want to come back from CMWorld 2016 with tons of great knowledge to share about these all-important methods (and be appreciated for it)?
Only those who like to have fun need apply.
If you're ready to learn more and have fun at the same time, why don't we just jump on over to the Content Marketing World 2016 registration page and get started right now? Don't forget: BLOG100 saves $100 off of main event and all-access passes!
Posted April 21, 2016 in: Event by Mike Myers
---