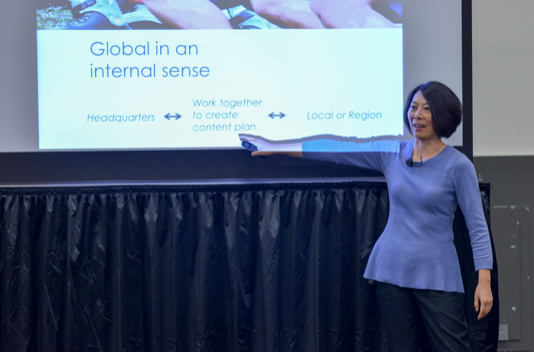 One way to get started on your global content marketing journey is to begin at home.
In a recent blog post, global content marketing expert Pam Didner suggested one place to start is to apply the spring cleaning philosophy to the content you already have.
Pam is an adjunct professor at West Virginia University and is also a Senior Marketing Consultant, author and speaker at a firm called Relentless Pursuit. She was formerly Global Integrated Marketing Strategist for Intel Corporation.
I guess you could say she wrote the book on global content marketing (because she did).
So what advice would she give a brand just starting out on a global content marketing journey? Keep things fresh.
"If you think about it, creating content for your company or yourself is like buying clothes; you can't keep adding to your wardrobe without assessing what you already have," she says. "Some clothes can be worn differently and still look stylish. Some are simply out of date and need to be thrown out."
This keeps content relevant and also helps maintain your search engine optimization (SEO) performance, too. And she encourages brands to make it part of a regular cycle so teams aren't taxed or rushed (when they may not do as good a job).
Pam also cautions that just throwing everything away isn't a solution, either.
"…deleting content from your website is fairly simple. The hard part is finding content replacements and updating content with new product information. In a way, these content requirements need to be evaluated and prioritized as part of your content planning. Some may be easy to refresh, others may require budget and headcount to get them updated."
To summarize, Pam suggests keeping your content fresh and up-to-date, getting rid of the old and outdated and make it all part of an ongoing process. Sounds like great advice for any brand.
And you don't have to wait until spring to do it.
In fact, if you want to learn more this fall, I have a suggestion: Pam will be speaking at Content Marketing World this September. So, while spring may be the best time to clean out your closets, fall is a great time to learn about global content marketing.
In this year's presentation, How to Build a Global Content Marketing Team, you'll learn the value of having global and local teams and get tips and tricks from an expert in the field.
Because, even if you're Pam Didner, no one can do it alone.
To learn more about Pam, you can follow her on Twitter, check out her blog or connect with her on LinkedIn.
And, now that you know the value of cleaning up your content closet, why don't we just jump on over to the Content Marketing World 2016 registration page right now and get your fall cleaning plans started! BLOG100 saves $100 – so register today!
Posted June 24, 2016 in: Event by Mike Myers
---