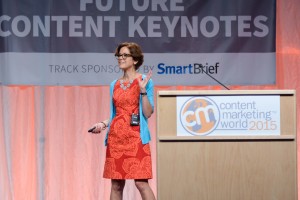 Have you ever met someone who knows just the right thing to say at just the right time?
Oh, then you've met Ann Handley.
Well, just in case others haven't, I'll continue. Ann is a digital marketing pioneer, author, speaker and is perhaps best known as the world's first Chief Content Officer (CCO).
She started her career as a business journalist and editor and co-founded ClickZ, one of the world's first sources of interactive marketing news and commentary. These days, she's CCO at MarketingProfs, a firm that offers education for modern marketers through events, seminars, classes, research and more.
But what's perhaps most telling about Ann is that you can often find her writing in her tiny house she built in her backyard. With all of her success, she remains committed to continuing to write and help others do the same.
Her books, most recently Everybody Writes and, before that, Content Rules (with CC Chapman), are indicative of her desire to help. You'll notice, she's not writing about how to create a digital startup (which she's done) or how to get recognized as an industry-leading blogger (which she is) or even how to write a book (which she's obviously done).
Instead, she writes about how to help others write well.
Her Blog, aptly named Annarchy also shows her commitment to helping the world do this writing thing a little bit better. Recent blog posts include 5 keys to developing a strong tone of voice and Eight writing tools I use everyday. But, in a completely expected turn of events, you'll also find some very human stories here, like Love rolls downhill, which captures perfectly how a parent feels as the nest empties (I can vouch for the feels here).
Ann Handley is more than an industry expert or speaker. She's a teacher and a motivator and an inspirer (yes, that's a thing). And if you have the opportunity to hear her speak, you should jump at it.
Find an opportunity to hear, learn and be inspired by Ann.
You can connect with Ann on Twitter or check out her LinkedIn Influencer profile or just drop by her tiny house. Well, that last one might be a bit creepy. Better call first.
Jump on over to the Content Marketing World 2016 registration page now to learn more and get started! Registration is now open, and code BLOG100 will save you $100!
Posted January 14, 2016 in: Event by Mike Myers
---