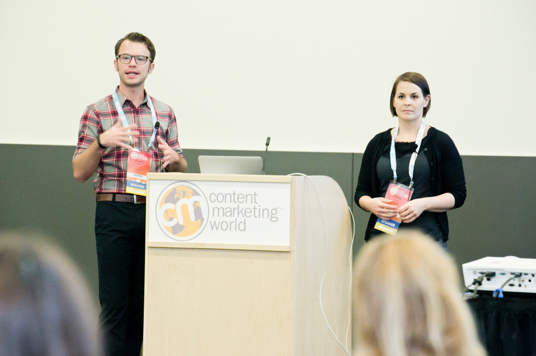 Content strategy and social media are like a pair of fraternal twins. Hang on, you'll get what I mean in just a minute.
While most people think of twins as identical, the reality is that fraternal twins are twice as common. And, while they aren't identical by definition, fraternal twins have a special relationship only they can understand.
In that way, they are just like content strategy and social media (see, I told you it would make sense…eventually). While these two critical fields aren't often thought of together, they, too, have a special relationship. In fact, Anna Hrach sees the relationship between the two as symbiotic.
Content strategy needs social media and social needs content strategy.
Anna is Director of Content at Ethology and is Founder of Togetherly, both based in Phoenix, Arizona. She also is a co-organizer of the Phoenix Content Strategy Meet-up, so she knows a thing or two about content strategy and social media.
Okay, she knows five.
In a recent podcast with her teammate and Social Director at Ethology, Benjie Pressman, Anna talked about how content strategy and social media can create the ultimate win-win for a brand and their consumers.
How to Integrate Social Media and Content Strategy [ethology webinar] from Ethology on Vimeo.
Most people can see how social media is better with a content strategy — to help keep things organized and heading in the right direction — but, Anna says, it works both ways.
"Content strategy needs social, too. We need to validate our strategy and tie execution back to objectives," she said.
She also mentioned that social media helps take a brand's strategic thinking out into the daylight.
"Social is the place where we get to have genuine, one-to-one interactions with our customers," she said, "…and those interactions lead to meaningful connections and produce the outcomes desired by both brands and customers." This is exactly what she's talking about when she says content strategy and social media can be the ultimate win-win.
Continuing on the theme, Anna and her teammate then discussed the five steps of integrating content strategy and social media. Specifically, these are:
1. Who: the duo said this is audience intelligence
Who are we speaking to; what are their needs?
2. Why: this is content strategy
Why are we creating content in the first place; why will they care?
3.How: this is social strategy
How will content be distributed; how will people react?
4. What: this is editorial execution
What are we going to create; what is the schedule?
5. Where: this is execution reporting
Where did we succeed; what opportunities can be found?
Of course, Anna knows much more than just five things about content strategy. And the good news is that there will be a lot of content strategy covered at Content Marketing World 2016. If you want to learn more about how content strategy can help your brand win with customers, you should join us in September.
And, by all means, bring along your twin if you have one — I'm sure CMI would be willing to create some kind of twin discount just for the two of you!
To learn more about Anna, you can follow her on Twitter, check out her blog or connect with her on LinkedIn.
And, now that you and your twin (or doppelgänger) are ready to learn more, why don't we just jump on over to the Content Marketing World 2016 registration page right now and get those two registrations started! BLOG100 saves $100 – so register today!
Posted June 9, 2016 in: Event by Mike Myers
---